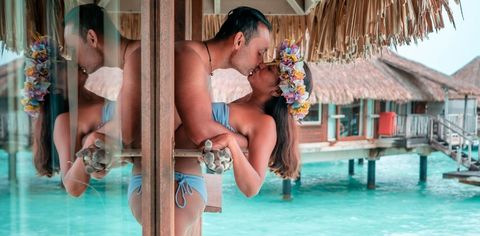 Just back from Jamaica, this travel couple has been on an unending honeymoon. Heerali and Milan began travelling soon after they got married, as they learnt its one of the finest ways to spend time with each other. From secluded islands and incredible sunsets to pristine beaches and iconic destinations, their travel content is awe-inspiring. They share their journey with us. By Srushti Kulkarni
T+L: How did you two meet?
Heerali: We met on Shaadi.com back in 2014. I was on Shaadi.com for about a week and he was on it for about 2-3 years. He was the first guy I met as well and for about a week we kept texting and then we met up, the rest is history.
Milan: Heerali seemed like a sweet girl with a kind soul. Although, on our first date she was very quiet and shy and I had to get her to talk a little bit but I felt really comfortable around her. That sealed the deal for me.
Heerali: He was a gentleman! He walked me to my car, he opened the door and those little things attracted me to him. It wasn't all about the looks but more about the way he treated me.
T+L: You have been travelling for a long time. How did you catch the travel bug?
Milan: It all started with our honeymoon. We travelled to Bora Bora Island of the French Polynesia and when we came back, we said we need to book another trip. I generally asked her where should we go next and imagined it would be once in a two- or three-years thing but Heerali said let's do it. I have always wanted to see Peru so six months later we were in Peru.
I have travelled quite a bit but always with my family and never had a chance to explore any place solo. I have always enjoyed travelling because I got to experience a little bit of the world. Heerali hadn't travelled much. Six months after Peru, we planned a trip to Greece for our anniversary and as occasions kept coming up, we kept travelling every six months. T+L:
What led you to become travel influencers? You mentioned that you both left your healthcare jobs, but you're not 
becoming full-time travellers?
Heerali and Milan: We didn't plan it, turning into travel influencers was an organic process for us. We had all these photos from our trips and we realised we aren't doing anything with it. We made the blog for our own memories and decided to post it on Instagram as well. As we kept posting our profile grew, we got collaborations and offers and ultimately, we turned out be influencers.
If we got an opportunity to work remotely then we would love to do it full time but I don't think that's our travel style. As much as we love travelling, we also love the comfort of our home, a place to decompress from the trip and look back on it. That's what keeps us on our toes for the next trip.
Heerali: I used to be a scientist but I didn't really enjoy that so I changed my profession to Quality Assurance Management. Here I can work more remotely and have a much more flexible schedule.
Milan: I was in the medical field where I worked as a physician assistant and I got burnt out by it. With everything going on in the world with COVID it got harder being tied down to a hospital. I thought to myself if I will be happy doing this for the rest of my life and decided to quit. I am actually finishing up school for software engineering and I hope that it can be more remote and dynamic, with more freedom.
T+L:
Do you think social media is demanding? How do you approach it?
Heerali + Milan: Yes, definitely it is. We are kind of burned out by it, with some of our recent trips especially. Before the reels and the vlogs, Instagram was just a photo-based app and you click a photo, post it and move on. When we travel, we don't want to be behind a camera but enjoy our trip too. That cannot happen with the demands social media has these days, you have to constantly keep posting multiple times a day. One minute you are on Instagram and the next on TikTok and after a point you forget why you are there in the first place. We try to divide the tasks as much as possible to deal with the demands.
T+L: What role does travel play in your relationship?
Heerali + Milan: A big one actually. We got married pretty quick. We didn't have much time to get to know each other because we were distracted by our wedding plans and other family stuff. When we began travelling, we were two different kinds of travellers. We had our differences and our arguments about it but now we are on the same page. We had to go through the learning process. Travel has played a major role in how we handle situations, approach things, learn to compromise and work together. T+L:
What comes to your mind when we say #TravelIsLove?
Heerali + Milan: Travel brings us together. It gives us time to disconnect from our day-to-day activities and just be together. It gives an opportunity to be able to experience life together from hikes to romantic dinner dates. When we are out travelling it's just us together and all the worries back home just disappear.
The more you travel around the world you realise that everybody on this planet want the same things. We just want good people, good company and a good conversation by the end of the day. Its only when you travel you experience the love of other people, the culture and connect with them.
T+L:
Milan, as a photographer, what are the places on your to-capture list?
Milan: (laughs) You would think that the list is going to get shorter over time but it keeps getting longer. I have been wanting to go to Canada for a while, even though we live in the US we haven't been there. Another place is Mount Cook in New Zealand and we also want to capture all the wonders of the world.
T+L:
Getting proposed to before the Eiffel tower is a dream of many, and yours came true. Did you have an idea about the proposal or were you taken by surprise?
Heerali: Oh, it was amazing! I didn't see it coming. I still remember that moment when he got down on one knee, I was at loss of words with tears streaming down my face. I was so emotional; I never thought a guy would propose to me in Paris. I always just saw it in the movies but when he did, I was on cloud nine. I keep telling him that we need to go back to Paris one day and experience it together again.
T+L:
How do your cultural backgrounds (Indian/American) shape your relationship?
Heerali + Milan: Honestly, it's not a cake walk. It's a big cultural change and a generational jump. We are also like the oldest in our respective families and trying to walk the same line as our parents who still respect the traditional ways is not easy. We try our best keep strong ties with our families and traditions. Heerali is more traditional and takes interest in following the culture so she balances us out. T+L:
If you could go back in time, which ancient empire would you like to explore?
Milan: I am pretty fascinated by the Egyptian empire. I have grown fonder of their mythologies, culture and folklores when I visited Egypt. I would love to go to back in time and explore that era.
Heerali: Rajasthan has a beautiful collection of palaces. I would go back in time, wear the grand Indian couture and live a little in those times I guess.
T+L:
What is the most adventurous thing that you have done on one of your trips?
Heerali: Our most recent trip to Iceland was very adventurous, we have already been there twice and we love it. There is so much to do in Iceland, we were lucky to witness the volcanic eruption of Mount Fagradalsfjall, we went up to the artic circle and got to gaze at the northern lights for three days straight.
Milan: I have Thalassophobia since childhood and we got an opportunity to revisit the French Polynesia for our latest trip. When we got there this time, we were unaware that it was the whale watching season so we signed up for a whale watching excursion. I finally faced my fears and dove into the ocean among the humpback whales. Watching them in the wild like that was an overwhelming experience.
T+L:
What kind of souvenirs have you hoarded on over the years? 
Heerali + Milan: There are three things that we usually collect. We get postcards, one for each day we have been in that place and pen down what we did that day. I also pick-up fridge magnets and iconic statues from different countries. Another thing I love to do is collect sand in little containers from every country we visit.
T+L:
One travel tip you'd love to share?
Heerali + Milan: If you are travelling to numerous countries, a global entry always comes in handy. Especially when you are jet-lagged and exhausted from the long hours in the air, you can save a couple of hours at immigration and spend that time recharging yourselves instead. T+L:
Your IG pictures always look so perfect. How do you do it?
Heerali + Milan: That's the whole point of Instagram, isn't it? To be at your A-game all the time. It's not always glamourous as it looks on the pictures. You only see what we are trying to show you on our Instagram photos, just that one angle. You are unaware of the long line of people waiting behind me to click the exact same picture or the other things we try to crop out. The pictures become perfect after a lot of experience, it just comes to you with time.
T+L:
What are the places on your bucket list for 2022?
Heerali + Milan: A lot actually, with COVID you never know what happens but we are working on a few things. We have Canada, Dubai, Norway on our bucket-list. We like to mix it up and not travel to the same kind of country back-to-back.
Related: #TravelIsLove: This Indian Couple Is Currently Living The Van Life With Their Dog In America
Written By