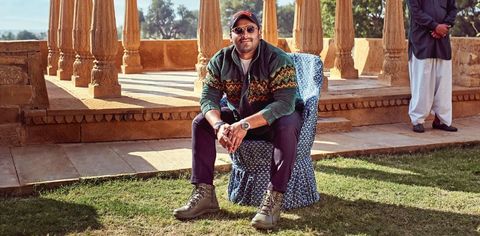 Meet Chaitanya Raj Singh, the 44th Maharawal, or king, of Jaisalmer. The 28-year-old royal takes T+L India & South Asia on a drive around his city, in the soon-to-be launched Volvo Xc40 Recharge. We also get exclusive access to his family's ancestral summer palace, Moolsagar. By Rashima Nagpal
Produced by Aindrila Mitra
Photographed by Mayank Sharma
Styled by Tania Fadte
Locations: Jawahar Niwas Palace and Moolsagar, Jaisalmer
Wheels partner: Volvo XC40 Recharge
On the horizon of the Golden City of India, Jaisalmer, I see something of a renaissance. In 2021, the erstwhile princely state in the heart of the Thar Desert coronated its first millennial king, Chaitanya Raj Singh, son of Raseshwari Rajya Laxmi and Late Maharawal Brijraj Singh. Two decades ago, at the turn of the 21st century, the city became the site for one of the world's largest operational onshore wind farms, Jaisalmer Wind Park. It's the first thing I notice from the airplane moments before we land in Jaisalmer. In a fitting coincidence, earlier this year Swedish car brand Volvo collaborated with Travel + Leisure India & South Asia to reveal its first pure electric compact SUV in India, the Volvo XC40 Recharge, in Jaisalmer. We invited the young king, Chaitanya Raj Singh, to take the vehicle for a spin. A car enthusiast—and a firm believer and promoter of living life sustainably—Singh feels electric automobiles are the way ahead. "I know 'sustainable' is a difficult word to define, but as humans, we have lived sustainably before and it's on us as a global community to come together and achieve the various goals that have been set by governments for their countries," he says. Much like Volvo is committed to safety and environmental sustainability, Singh too has a vision for Jaisalmer. He opened up to us about his journey so far and plans for the future in a candid conversation.
T+ L India: Is this your first cover shoot after the coronation? Chaitanya Raj Singh: Yes, this is my first cover shoot post coronation. I tend to be a little private, [and] the last cover shoot I recall being talked into was in 2018. Things have been fairly busy in the last year, but I'm grateful that we were able to make time to show the T+L team around Jaisalmer. Our visit to Moolsagar was especially memorable—this 400-year-old home is one of our private summer palaces and one of my favourite places in Jaisalmer.
T+ L India: It's been exactly one year since the coronation. How has your experience been so far? Chaitanya Raj Singh: Honestly, it's been a surreal experience so far. The role of Maharawal is such an inextricable part of the 868-year-long history of the Jaisalmer Riyasat, and there is so much goodwill and responsibility attached to the role. I have had the good fortune of spending a fair amount of time in Jaisalmer while growing up, and I have always loved it here. I feel strongly connected to the people, and this role, and my time here over the past year, has felt like a natural fi t. Promoting the socio-economic development of Jaisalmer has been a priority, and we are off to a strong start with the Rajkumari Ratnavati Girls School and Women's Economic Centre (the Gyaan Centre) being operational already. While the past year has come with its fair share of responsibilities, I feel like the time I've spent in Jaisalmer has made me feel lighter, and younger, in many ways!
T+ L India: What does it feel like to be a millennial and a king? Chaitanya Raj Singh: That's a great question! It's definitely a rare position to be in. But I feel lucky to have the chance to use the many opportunities and resources of being a millennial, to discharge the many responsibilities that come with being Maharawal. I feel an intensely personal connection to Jaisalmer, and this connection inspires me to work towards bridging the past, present, and future of Jaisalmer—by honouring the past, building the present, and facilitating the future.
T+ L India: What do you like to do when you're not working? What is your idea of fun? Chaitanya Raj Singh: Well, for me, working passionately towards my goals has always been really fun. It's fulfilling to involve myself fully in projects that are achievable and meaningful. On a lighter note, though, there is a really fun—and somewhat unexpected—tradition that my grandfather started in Jaisalmer, which I love to keep up. He would ride our horses into the Gadsisar Lake and ride them as they swam! I am extremely fond of the horses in our stables today—I've grown up with a lot of them, and some of my favourite memories revolve around this fun (albeit rare) activity.
T+ L India: Could you talk a little bit about your parents? What is a quality that you'd like to imbibe from each of them? Chaitanya Raj Singh: My parents have been my closest friends. They have always been fairly open, available, and upfront about sharing their perspective on all things with me. Their presence in my life has come with huge doses of love! I would definitely want to imbibe my father's style of being authentically himself, and of living life to the fullest. I would feel privileged if I am able to cultivate my mother's immense grace and her extraordinary skills in the fields of art and literature, which have inspired me throughout my life.
T+ L India: What is your fondest memory of growing up in Rajasthan?
Chaitanya Raj Singh: Having the opportunity to play cricket in, and captain, the Jaisalmer cricket team at the state level during my school years was an extremely formative experience. It gave me the chance to travel all over Rajasthan, and to form cherished memories with people from every part of the state!
T+ L India: We believe people make places. What are your thoughts? Chaitanya Raj Singh: People make places for sure, but I feel the place defines the individual [too].How different is living in Jaisalmer from living in London? Both these cities feel like home to me and have shaped me, and in that sense, there is little difference between them for me. Historically, Jaisalmer was a part of the Silk Route and attracted people from all over the world. Till date, it has a remarkably accepting, open-minded, and diverse charm, which has felt really easy to be in.
T+ L India: What are some lesser-known facts that our readers don't know about you? Chaitanya Raj Singh: These are lesser-known for a reason!
T+ L India: Fair enough! What is your vision for Jaisalmer?
Chaitanya Raj Singh: Jaisalmer has grown and prospered with every new generation. My hope is for it to flourish socio-economically. I continue to do everything in my power to facilitate Jaisalmer's attainment of the Sustainable Development Goals set by the United Nations. I also intend to focus heavily on the cultural preservation of Jaisalmer Riyasat's rich heritage, by seeing as many conservation initiatives through as I am able to. A personal goal that I have set for myself is to interact with as many residents of the district as possible—I believe that this will help me immensely in discovering new ways to serve and cherish Jaisalmer.
Royal Picks
Music artist: Mehdi Maloof
Bucket-list destination: Zanzibar
Essential travel accessory: My backpack
Related: #TravelIsLove: Milind Soman & Ankita Konwar Share How Travel Makes Your Relationship Stronger
Written By