Dia Mirza is so much more than an actor. Humanitarian, the United Nations environment goodwill ambassador for India, producer, director, and a champion of sustainable living, our November cover girl shared why a homestay is the best way to discover any destination and why Goa will always be special. By Aindrila Mitra How was your experience at your Airbnb home in Goa?
Goa is all about nestling into a space that offers you the beauty of wilderness. Being able to wake up to birdsong, see colourful butterflies fluttering around, sit by the pool with a book, do nothing really, take a snooze in the afternoon—the way homestays have opened up the opportunity of experiencing a place for what it truly is, I don't think the hotel industry can. I really love the intimacy and privacy of a homestay. When we travel to a beautiful place, so many of us wish that we had a home there. Now with the choice of homestays, we don't have to wish for it anymore. I brought in my birthday in a Goa homestay last year. We went to Barcelona for a Coldplay concert, and booked a homestay [with Airbnb] that I didn't feel like leaving. It's the personal touch that a host puts in to your experience that makes all the difference.
RELATED: Airbnb's All-New 'Plus' Rentals Can Give Any 5-Star Hotel A Run For Its Money What are your first memories of a holiday?
We were a bunch of teenagers when we did a road trip to Coorg. There were two sets of parents and eight kids; we pooled into two cars. It was magical driving through the cold valleys, staying in an old colonial guesthouse, going for long walks, stargazing, and [listening to] the chatter of crickets at night.
RELATED: 10 Destinations In India That Are Perfect For A Fun Family Vacation How has travel shaped you as a person?
For me, travel is discovery. It's about seeking wider horizons. I've learned more from travel than from any textbook I've read. But above all, I think travel would be insignificant if not combined with a question—it's important to be curious and seek something. I can never go to a place and just be. I've visited so many places in the world—Turkey, Middle East, Africa, Europe, and North America. But I think my first visit to the forest as an adult did more to my mind and perspective than anything possibly has. Just being in the jungle, amid the wilderness, and watching the animals, birds and trees—I'm always seeking nature. Which destinations would you recommend to a wildlife lover?
There's nothing as beautiful as diving—the beauty you see underwater is nothing like above
the land. I would definitely recommend people to visit Africa, the Mother Continent. India's
forests are incredible as well—Kaziranga, Pench, Kabini, and the forests in Kashmir.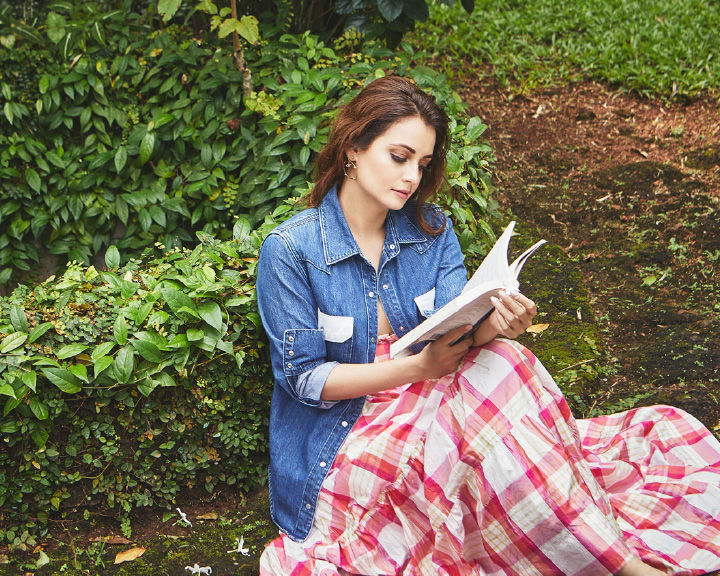 Destinations on your bucket list?
Peru and the trek to Machu Picchu, Leh, and I want to see the aurora borealis. I also want to visit Cambodia and see Angkor Wat before it disappears. Then there's Croatia, Poland, Finland… the list is endless! I have always had a special place for road trips. My father did a road trip from Munich to India in the 1970s. He was a photographer and documented the whole trip. In every country that he stopped, he did exhibitions of his art. One day, I'd like to take that same route. DIA'S FAVOURITES
Cuisine – Thai
Restaurant in Goa – Gunpowder
Book – The Silk Roads: A New History of the World
Destination – Africa