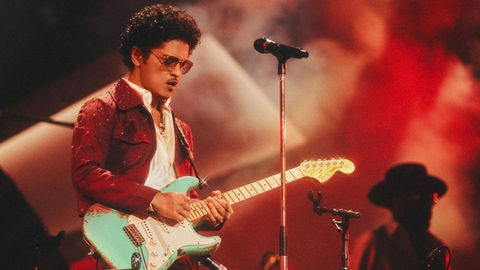 There can be no denying that after a rough patch attributed to global COVID-19 restrictions keeping live entertainment in the back-burner, concerts have returned to full swing, as evidenced by the concerts in Southeast Asia that have been held since 2022.
In India alone, we've seen some of the biggest global entertainment names such as Imagine Dragons, Jackson Wang and Diplo filling out stadiums once more, with others announcing their imminent arrivals on local shores in the coming months.
Be that as it may, the fact stands that India isn't always going to wind up on the tour schedule for our favourite singers or bands. In this case, the best alternative is to look beyond our borders and check out the concerts that are taking place across Southeast Asia! From pop to R&B, here are some of the biggest concerts in Southeast Asia happening in the second half of 2023.
Concerts in Southeast Asia happening in the second half of 2023
NMIXX Nice to MIXX You Tour Debuting in February of last year under SQU4D, a sub-label of entertainment conglomerate JYP Entertainment, South Korean girl group NMIXX's splash on the K-Pop landscape has since led to sizeable ripples across Asia, winning them a considerable legion of fans.
View this post on Instagram
This is courtesy of their genre-blending approach to music, which they have dubbed as 'Mixxx Pop', combining two distinct genres into a single, addictive composition. And with the success of their debut EP, Expérgo, being certified platinum thrice by the Korea Music Content Association, it's safe to say that they're off to a good start.
Bangkok (June 4)

Jakarta (June 9)

Singapore (June 23)

Manila (June 30)
Agust D aka Suga D-Day World Tour To those unfamiliar with Agust D, you may perhaps know him by his alternate stage name of Suga. Yes, the very same Suga from the South Korean mega-boy band BTS. While he has seen unparalleled commercial popularity as a member of the group, Min Yoon-gi has enjoyed a considerably successful career by releasing music as a solo artist, granting him a greater sense of creative autonomy over his output.
View this post on Instagram
After a series of projects under his solo alias, he eventually released his first debut album as Agust D in April of this year, entitled D-Day, to the tune of over 1 million units sold on its first day.
Bangkok (June 9, 10 & 11)

Singapore (June 16, 17 & 18)
RINI Past the Naked Eye 2023 Asia Tour Australian-born Filipino singer-songwriter RINI is part of a new generation of R&B conduits that work on a velveteen bedrock of sensual, leisurely sound. Rising to prominence among intrepid listeners with notable tracks including My Favourite Clothes and Meet Me In Amsterdam, he was further catapulted into wider recognition with the release of his debut five-track EP, After The Sun.
Singapore (June 17)
Manila (July 19)
Bruno Mars 2023 Tour Retro showman Bruno Mars is easily one of the most memorable names to have emerged from the 2010s, what with the sheer range of genres that he has introduced to considerable commercial popularity. Standing at over 130 million albums sold, Bruno also bears the enviable distinction of being one of the best-selling musical acts of all time.
View this post on Instagram
His most recent output was released in collaboration with American rapper Anderson. Paak under their Silk Sonic collaboration in 2021, which saw the release of the Grammy-winning single, Leave The Door Open.
Bulacan (June 24 & 25)
The Boyz Generation Tour Although the 11-member boy band The Boyz has been a fixture in the South Korean music scene since their initial debut back in 2017, it wouldn't be until 2021 that they gained wider commercial appeal through their fifth EP, Chase, and it's lead single, The Stealer. This would be followed by two full-length albums, entitled Reveal and Breaking Dawn respectively, which granted them further exposure after their runner-up win on the Kingdom: Legendary War reality show.
Manila (July 15)

Singapore (July 20)

Jakarta (July 29)

Bangkok (August 5 & 6)
Buy your tickets here.
Sabrina Carpenter emails I can't send Tour Expertly weaving between both worlds of the screen and the stage, 24-year-old Sabrina Carpenter already holds a considerable list of credits to her name.
View this post on Instagram
With a career that was jump-started from her participation in The Next Miley Cyrus Project hosted by none other than Miley Cyrus herself, she went on to feature as a recurring character in Law & Order: Special Victims Unit and a clutch of Netflix-backed projects. Music-wise, her debut 2022 album Emails I Can't Send spawned two wildly popular singles, Because I Liked a Boy and Nonsense.
Quezon City (July 25)

Singapore (July 27)
dhruv Live in Asia You'll be surprised to know that London-born Dhruv, otherwise known as Dhruv Sharma, has strong ties to the Southeast Asian region. For one, his family moved to Singapore when he was just two, where he would spend most of his time in, before eventually moving Stateside to pursue an education at Yale University.
View this post on Instagram
But as the fates would have it, his 2019 single, double take, gained viral traction online, charting a position in the top 5s in Singapore, Thailand, and Malaysia. In 2022, he released his first full-length album entitled Rapunzel.
Singapore (July 27)
Twice Ready to Be World Tour A stalwart name in the K-pop circuit, girl group Twice has gone from strength to strength after making their formal debut with their 2015 EP, The Story Begins, featuring their now signature bubblegum pop sound.
View this post on Instagram
Named the next 'Nation's Girl Group', their popularity quickly transcended beyond the Asian market and into America, becoming the very first South Korean female act to top the Billboard World Albums and World Digital Song Charts simultaneously. Most recently, the group released their 12th EP, Ready to Be, in March of this year.
Singapore (September 2)

Bangkok (September 23)

Bulacan (September 30)
Kodaline LIVE IN BANGKOK One of the most recognisable musical exports to hail from Ireland, Kodaline first made its initial debut into music under the name 21 Demands. While experiencing some amount of traction for their music within Ireland, the band would only see a much wider fanbase for their work after making the decision to change their sound and consequently, name.
View this post on Instagram
They are most often remembered for the distinctively lilting chords and introspective themes of their 2013 single, All I Want.
Bangkok (Sept 16)
Sam Smith GLORIA the tour As an artist, Sam Smith has embarked upon an evolutionary journey that has defied both expectations and genres. Debuting on the international stage as the soulful vocalist behind Naughty Boy's 2013 hit, La La La, he would go on to pivot into one of contemporary music's most recognisable names after the release of his debut album, In The Lonely Hour.
View this post on Instagram
Since then, he has won five Grammy awards and performed the title track for the 2015 James Bond flick Spectre, in addition to dropping three other studio albums. His latest output, Gloria, has been especially controversial upon the release of its lead single, Unholy, with Kim Petras.
Bangkok (October 3)

Pasay (October 21)
This story first appeared here.
Feature and hero image credits: @samsmith/Instagram, @brunomars/Instagram
Related: This Summer, Visit These Music Festivals And Concerts Around Asia
Written By