Gliding into the fashion industry with style, each thread of Indian designer Masaba Gupta's being is crafted to stand out. From weaving a fashion label under her own name to now foraying into the world of OTT platform with her upcoming Netflix series, Masaba Masaba, this diva strives to be authentic in every sphere, seamlessly dressing the world in eccentric garments along the way. In a freewheeling conversation, she gives us an insight into her quirky mind, unravelling layers of her design inspirations, travel-loving avatar and more.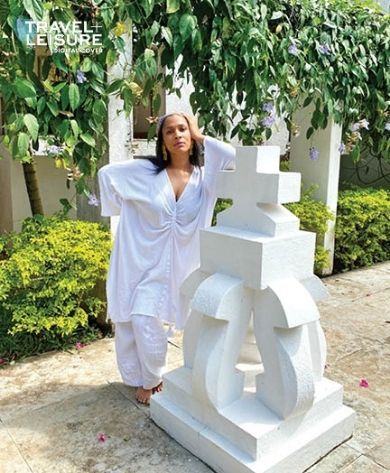 1.
You've grown up holidaying in different countries, owing to your father's [Viv Richards'] career in cricket and mother's [Neena Gupta's] in the film fraternity. What are some of your fondest travel memories from then?
My earliest memories are from a trip to Africa when I was eight or nine. My family and I went to Nairobi and Masai Mara. Being born and brought up in Mumbai, and stepping out to a place like Africa really helped expand my horizons. Even though it's a distant memory, the fact that I still have visuals from the trip speaks a lot about it. I remember the safari was great, and we saw a lot of migrations as well. All three of us [Masaba and her parents] even had fresh orange juice. It was great!Apart from that, my trip to Orlando as a kid was great. Visiting an amusement park as a child is the best thing ever, especially as a small kid growing up in a small home in Juhu for whom the idea of space is so nice. I would also enjoy visiting New York every summer. I loved the city because it was so free and you could walk around.
2.
When travelling, how do you incorporate nuances of a destination in your designs?
Africa has inspired me for sure! I feel what one sees as a child becomes a part of the person's aesthetic, and the tribes and colours of Africa did that for me. Since a young age, I've never shied away from colours. The whole tribal aesthetics, mixed with Indian stitches became such a big part of my design journey. The beauty, according to me, is that I didn't go around searching for it. I think when you go looking for it, it hides from you. When you go with a very open childlike mind without expecting anything to show up in front of you, that's when these things stay in your mind. It came to me, stuck around, and has now become a part of who I am and what my brand depicts.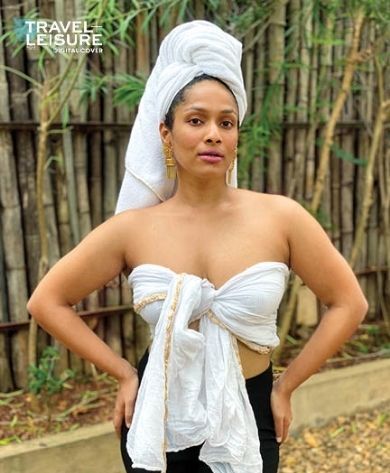 3.
Over the years, we've seen traditional motifs and elements in your designs. What inspired you?
It was a very conscious decision since it's not something that I gravitate towards naturally. It was purely something that we [the brand] had to do for the business. We have such a large set of consumers. One set loves the quirky designs, while the other prefers traditional. With us, the motifs may be traditional but we treat them differently. Frankly, I find it really hard to design with conventional motifs because I'm always trying to make it more kitsch. 
4.
What compelled you to include accessories and fragrances as part of the House of Masaba brand?
I am crazy about makeup and fragrances, and I feel brands tend to stop at just clothing. I felt including accessories and fragrances for an easy-going brand like mine was the perfect thing to do. I wanted a range of affordable beauty for young girls who can't otherwise afford my clothing. I think they'll feel happy owning a piece of the brand in some way or another. 
5.
There's a segment of people that believe that fashion brands aren't always inclusive in terms of the audience they cater to or the body type they cater to. How do you try incorporating that in your work?
I look at the girls who work in my office, and I feel that if each one of them can't wear something from my collection, then it's a big point. Whenever we shoot a campaign, we try to ensure there isn't just one conventionally tall, skinny model. Although they are there too—after all, she is a certain body type and we must celebrate that too—we also include somebody who is slightly shorter, voluptuous, dark-skinned, or even fair-skinned. When thinking about inclusivity, I think brands today are focussing more on being politically correct. But I feel it's more a matter of common sense and brands should have done so 20 years ago! By not being inclusive, you're simply blocking out potential customers. For me, it's more about making the consumer feel accommodated. It's not even about inclusivity anymore.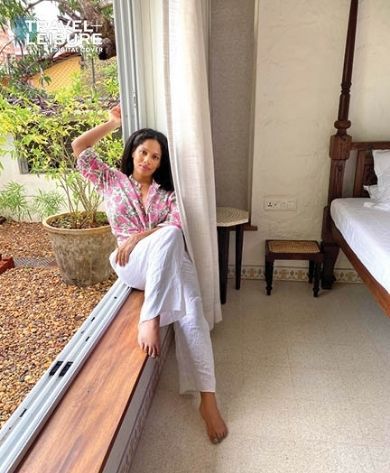 6.
When being inclusive and creating designs for all, there's always a battle between being more sustainable as well. How do you incorporate the same in your collections?
It's really tough, I have to say. One, it's very expensive because of the amount of time it takes. I think, as a brand, we've achieved it to a certain extent, but being 100 per cent sustainable is not possible unless you have big pockets. Two, it becomes challenging because it requires you to completely overhaul your design ideologies, how you work, where you work, how you package, etc. We've managed to eradicate plastics from a lot of places. Our e-commerce boxes are a little bit more sustainable now. Eventually, the world will have to be more sustainable, and fashion is the biggest polluter. There will be a way out, but it's a long long way to reach there.
7.
In a work that involves constant creativity, how do you deal with a designer's block?
In fact, as we speak, I'm bang in the middle of a creative block right now, and I've been in one ever since the lockdown started! One way to deal with it is to not force creativity. The second thing is to keep your eyes open. I think when one goes through a creative block—or at least when I do—I start fearing and doubting myself, because of which I start to shut off. That's when it becomes important to start looking instead of pushing yourself to be inspired. Your job is to have a keen eye, open mind, and be like a sponge absorbing all that you can see. Pay attention to conversations and keep in touch with people. That's when sparks light up and you can take it from there. And if you don't feel like creating, don't! Creative people tend to slip into a gloomy mind-space when we don't find inspiration. Sometimes, the best thing in life is to be uninspired.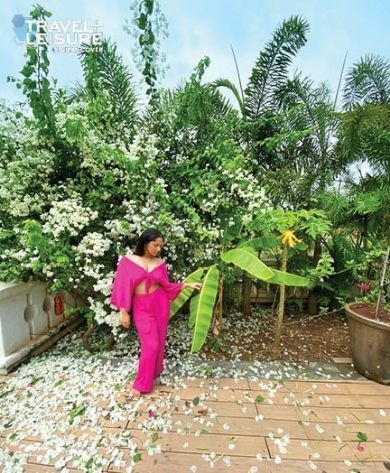 8.
You mentioned conversations and meeting people help you in your work. Any such instance where you interacted with a person or some culture, and it resonated in your collections?
There's so many! Mostly when I travel, my fellow passenger itself is an inspiration. My friend, Nimish Shah from Shift and Bhaane has inspired me during our conversations. We don't talk about designs, but instead, we talk about practicality and everyday life. I'm inspired because he has so much clarity of thought, and how unapologetic he is about his work. It's been very inspiring for me because, at one point, I was trying to fit all the boxes.
9.
Having spent a lot of your time in Mumbai, which other city do you think is the most similar?
Probably New York because it's a melting pot of cultures and never makes you feel like an outsider. Besides that, it's a city that never sleeps, and on any given time, you'll find people aimlessly walking. That reminds me of Mumbai.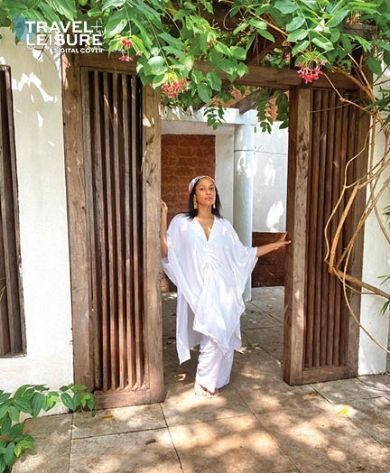 10.
If you had to choose one fashion capital of the world – apart from London, Milan, Paris and New York – which international destination would it be and why?
Copenhagen. I follow this photographer who does street-style photography in Copenhagen during the Fashion Week to capture the shows and the people who come from all the world to watch these shows. And the people of Copenhagen are most impeccably dressed! They're actually far ahead than the French or the Italians in terms of style. In fact, a lot of big trends and new-age designers come out of Copenhagen.
11.
If you had to redesign your entire wardrobe, where would you go shopping and why?
There's a Jaipur-based brand called Yashu e Prem by these amazing designers from Sardinia Island, Italy. I'd happily buy everything from their store. They have something for every kind of day, mood and colour. And the clothes are super comfortable!
12.
Where were you during the lockdown, and how did you spend your time?
I have been in Goa since March 17. I wake up, have hot water, workout and then start working. I'm on calls all day, having a working lunch most of the time and done with dinner by 6:30 pm. I try squeezing in a phone call to a friend if I feel like it. In the evenings, I chill, sit outdoors and look out into space, and am fast asleep by 10-10:30 pm. I even speak to my mum every day.
13.
People often see Goa as a party-place. What is your perception of the place?
People perceive Goa as the party-place where people are just drinking or doing Goa, but I've seen a completely different side. The beauty of Goa is that it lets you be anonymous, and it even lets you be a hardcore party animal. I chose the former because I was in that headspace. I love how Goa calms you down. The place makes your mind work better and more efficiently. Goa has lovely food, enough and more to drink and see, clean air, and the people are very sweet. If you give Goa a chance, it can show its true self to you.
14.
If, as tourists, we had to explore one hidden gem of Goa, where should we go?
There's this lovely, untouched pond with a little chapel next to it in Aldona. It even has a cute bridge. Only a bunch of fishermen visit it, so you can sit there quietly for hours.
15.
As per trends, road trips are expected to be on the rise in the post-Corona world. If you had to choose one such vacation, where would you go? Who would you take with you?
Maybe Hampi because I've never been there. I've heard so much about it and it's been on my list for a really long time. I would take my mom because I haven't seen her in really long and I think she'll also fancy going to another place right now.
16.
Once restrictions ease, where would you go internationally?
I'd go to Italy because I think they've had it so bad with the Coronavirus. Considering they're known to be foodies who love being outdoors, I want to see how their life has changed now and what their mind-space is like. 
17.
Do you foresee a change in the fashion industry in the post-COVID-19 world?
The magic of this virus and this awful time is that we don't know what to expect, and I think that's what the universe wants us to do: stop stressing about what the future holds and instead focus on the present. Having said that, fashion will change and consumers will understand value very differently. Impulsive buys might take a backseat.  
18.
Your top 5 fashion must-haves while travelling?
You know, the joke is that I have only five pieces you clothing gear in Goa! A pair of loose, linen pants in white or beige; at least two oversized white, cotton tops; one night-suit; a sling bag; and a gold necklace with a pendant.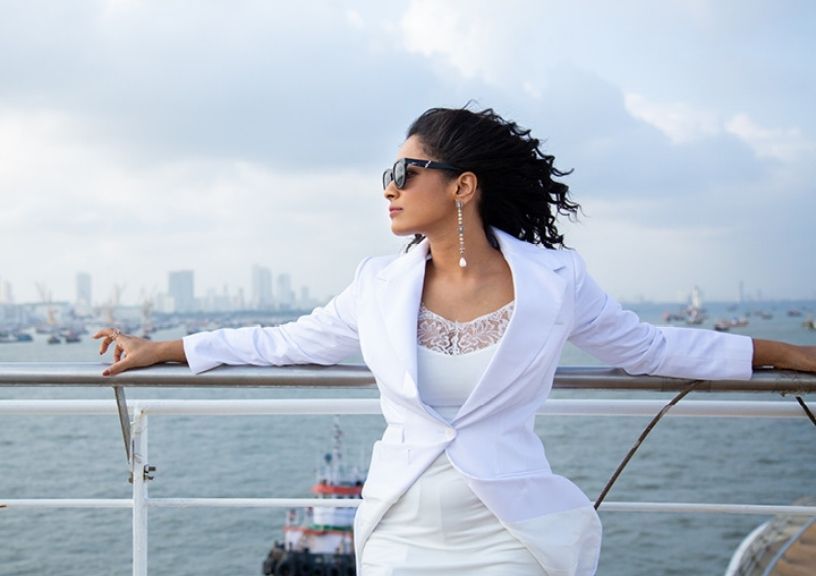 19.
Now to your upcoming show. What is Masaba Masaba about?
Masaba Masaba is a fictionalised series that takes some inspiration from my life as I navigate various aspects like family, friends, dating and career. It's a light-hearted series that will hopefully show women that no matter what comes our way, we can always pick ourselves and bounce back.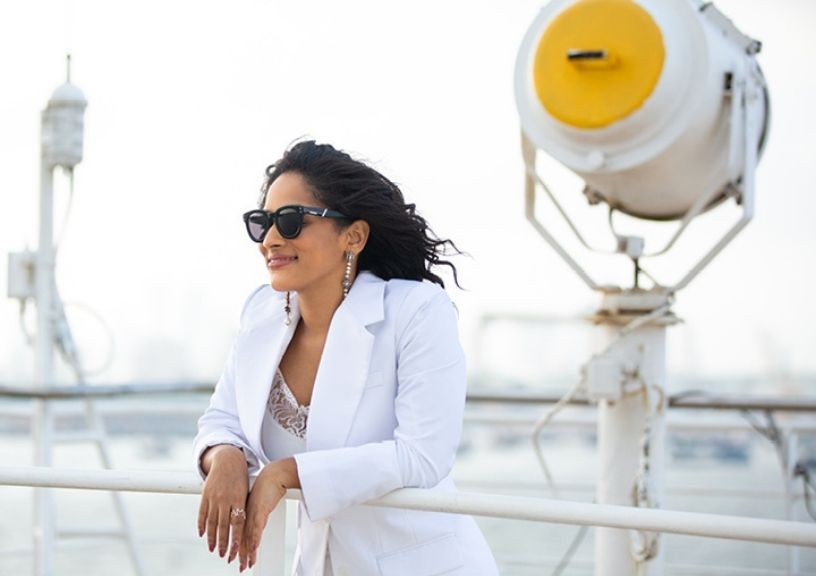 20.
The show marks your acting debut. Do you plan to continue acting going forward?
Masaba Masaba will always be a special series, and I'm thrilled and honoured that Netflix not only decided to make a series around my life but also to cast me in it! Reliving key moments from my life, even though fictionalised, took me down memory lane. Plus, sharing screen space with my mom was quite an experience. If I get more opportunities that are just as exciting, why not?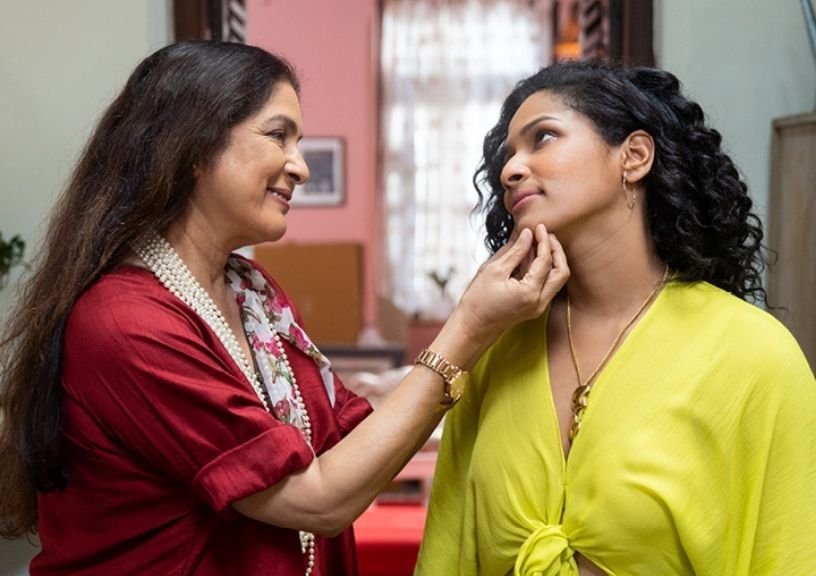 21.
What was your experience like working with your mother?
It has been fun being on set with mom because she constantly feeds me, making it feel like home. I remember on the first day, I was a bit nervous because mom is extremely serious when it comes to acting. I, on the other, was scared to give a bad shot and would stress over what she would say. Surprisingly, she didn't say much and instead helped me streamline my thoughts. She even taught me tricks on acting without using dialogues.
22.
What should your fans expect from Masaba Masaba?
Fans can definitely expect a rollercoaster ride of fun and emotions! It is a relatable, light-hearted watch, so I'm sure people will enjoy it. The series is packed with drama, laughter and romance all rolled into one!