Be it parties in foreign lands or long road trips, singer-songwriter Guru Randhawa's songs tend to accompany every journey. As the Punjab-born pop star gears up for his acting debut, he speaks to Travel+Leisure India & South Asia about his musical journey so far. By Bayar Jain
Produced by Chirag Mohanty Samal
Photography Assistant: Rajat Verma
Artist PR: Kush Pr & Brand Strategist
Music is integral to Indian culture. Our lands echo tunes in every nook; our movies come packed with actors dancing to every beat; and every road trip comes paired with a dedicated travel playlist. Understanding this pulse and vibe to the T is singer-songwriter Guru Randhawa.
Hailing from a quaint town in the Gurdaspur district of Punjab, Gursharanjot Singh Randhawa (or fondly Guru Randhawa) gravitated towards music from the age of seven. After clinching a degree in Master of Business Administration, the young man quickly shifted gears to immerse in the entertainment industry full-time. Not long after, Guru Randhawa catapulted to top-spot on Indian billboards.
Armed with the trademark laid-back style oozing relatable ease, Randhawa has now become a household name. Since his debut in 2012, the multi-hyphenate musician has over 50 songs credited to his name — many of which have found a dedicated space in parties worldwide. But that's not all! Guru Randhawa has also sung at the opening ceremony of the Indian Premier League, an annual men's T20 franchise cricket league of India; and at various national and international stages. Today, the lyricist has 33 million followers on Instagram (one of India's most followed singers on Instagram), and has earned record-breaking views on his music videos on YouTube. Take Slowly, Slowly—a collaboration between Randhawa and Pitbull—for instance. The song's music video received 38 million views on YouTube within 24 hours, becoming one of the world's all-time most-viewed music videos in 24 hours. In 2021, Doob Gaye crossed 50 million views on YouTube within three days, while Nain Bengali became the first song to cross 70 million views in 24 hrs.
But Guru Randhawa's thirst to go global has not subsided yet. Ahead of the release of his debut film, Kuch Khattaa Ho Jaay, the star takes a breather in New Delhi for our digital cover shoot at Shangri-La Eros Hotel.
Excerpts from the interview with Guru Randhawa:
1.
How did you foray into music, particularly indie pop?
I was introduced to music when I was a kid. There were a few regional channels along with DD National in my village, Gurdaspur. I used to listen to and hum old folk and pop music that were on television. I stayed close to the India-Pakistan border and was an avid listener of Punjabi and Pakistani artists. Over time, I started writing songs too. In my 20s, I released my own songs and eventually worked and collaborated with amazing musicians. It has been a great learning experience!
(On Randhawa: Jacket, Dhruv Kapoort; Shirt, Almost Gods; Pants, Six5Six; Sneakers, Nike x AMBUSH; Sunglasses, Dolce & Gabbana)
2.
From debuting in 2012 to collaborating with international artists like Pitbull–what has the journey been like for you?
I was exposed to some great musicians at a young age. I've grown up with Gurdas Maan and Babbu Maan from Punjab and Sajjad Ali and Abrar-Ul-Haq from Pakistan. I've had the chance to work with some great musicians too. I believe I'm still learning every day. Some of the biggest achievements in my musical career so far have been taking the risk and releasing my music on YouTube and collaborating with talented musicians—in India and internationally. Once you take the leap, it all works out eventually.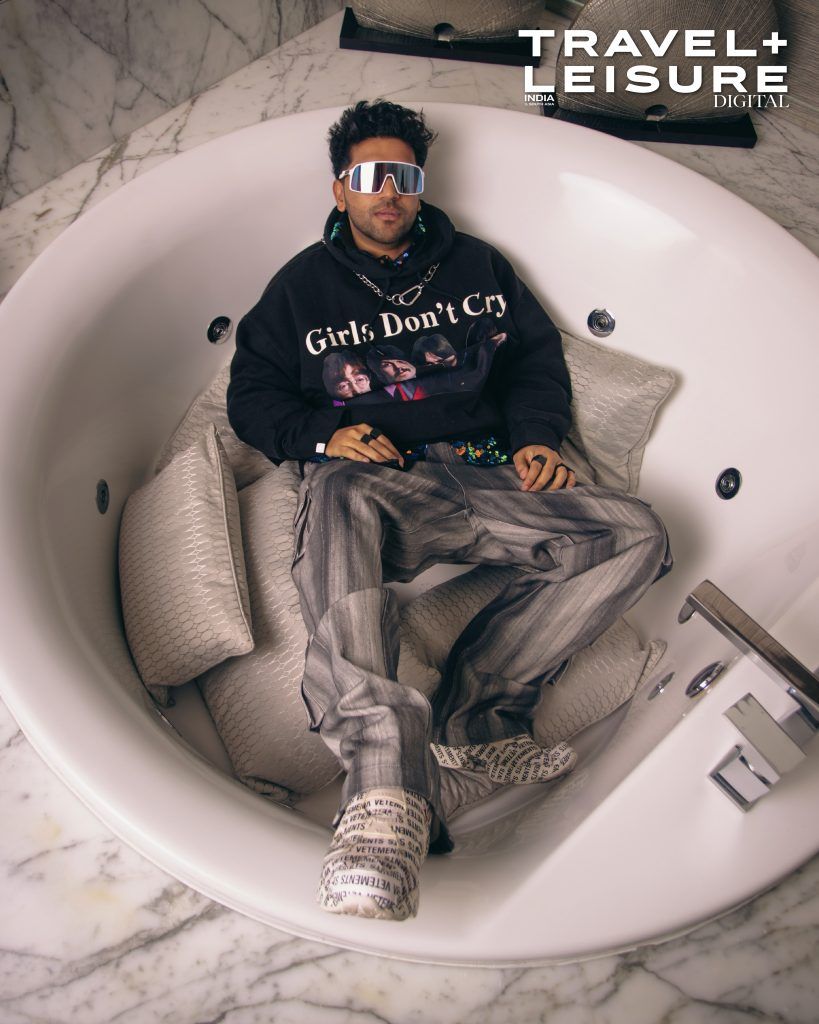 3.
Being from Gurdaspur, what was it like to adjust to life in a big city?
Honestly, with the support of my team and blessings of my parents and God, adjusting to a new environment has not been tough for me.
(On Randhawa: Shirt, Bloni; Pants, SIX5SIX; Jumper, Vintage; Sneakers, Vetements x Reebok; Sunglasses, Oakley Eyewear)
4.
You've had your share of hits and misses. How do you cope with criticism?
I just focus on my work and don't think much about other things.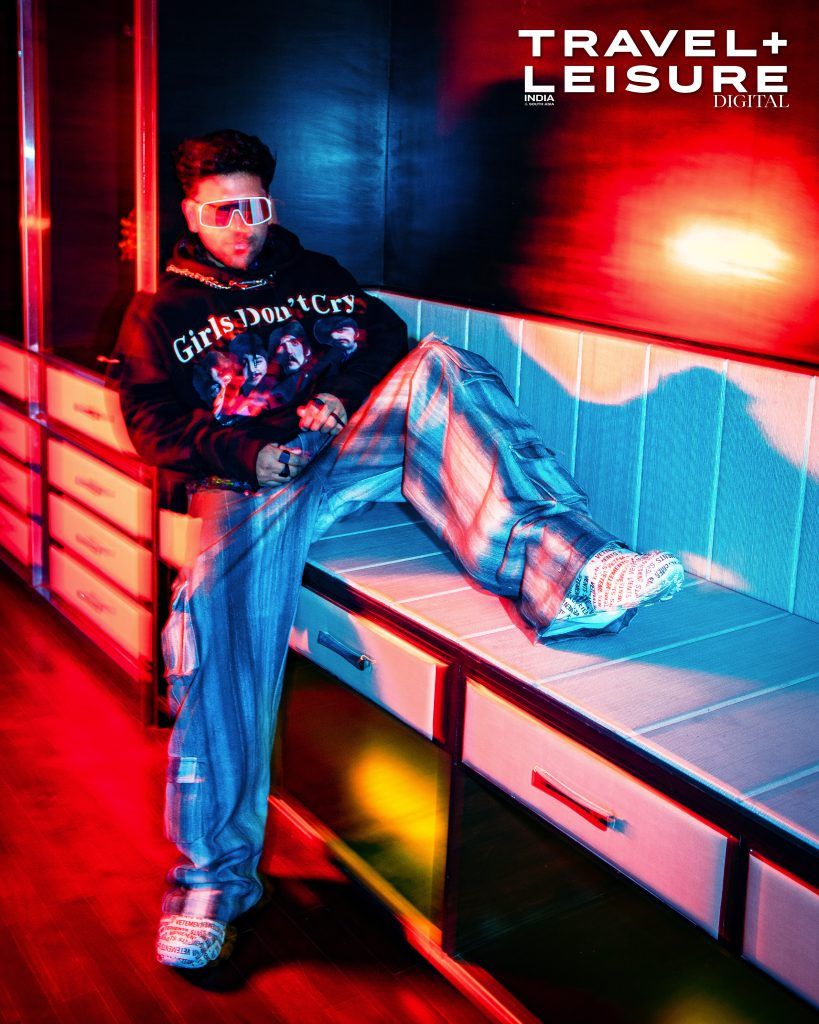 5.
In 2019, you won the Dada Sahib Phalke award for Most Trending Singer. Do you see that as an added pressure?
No, but as an artist, I would love to grow and excel at my art. That has always been my effort.
(On Randhawa: Shirt, Bloni; Pants, SIX5SIX; Jumper, Vintage; Sneakers, Vetements x Reebok; Sunglasses, Oakley Eyewear)
6.
You'll soon be debuting in Bollywood as an actor. What motivated you to turn towards acting?
It was all very instinctive. There wasn't a fixed process. Rather, it was a series of events that led to this particular big event. I'm quite excited about exploring new horizons and I'm looking forward to this new journey. When the project came to life, I felt confident that I'd be able to put in my hard work and effort after years of acting in music videos. It felt like the right time and opportunity.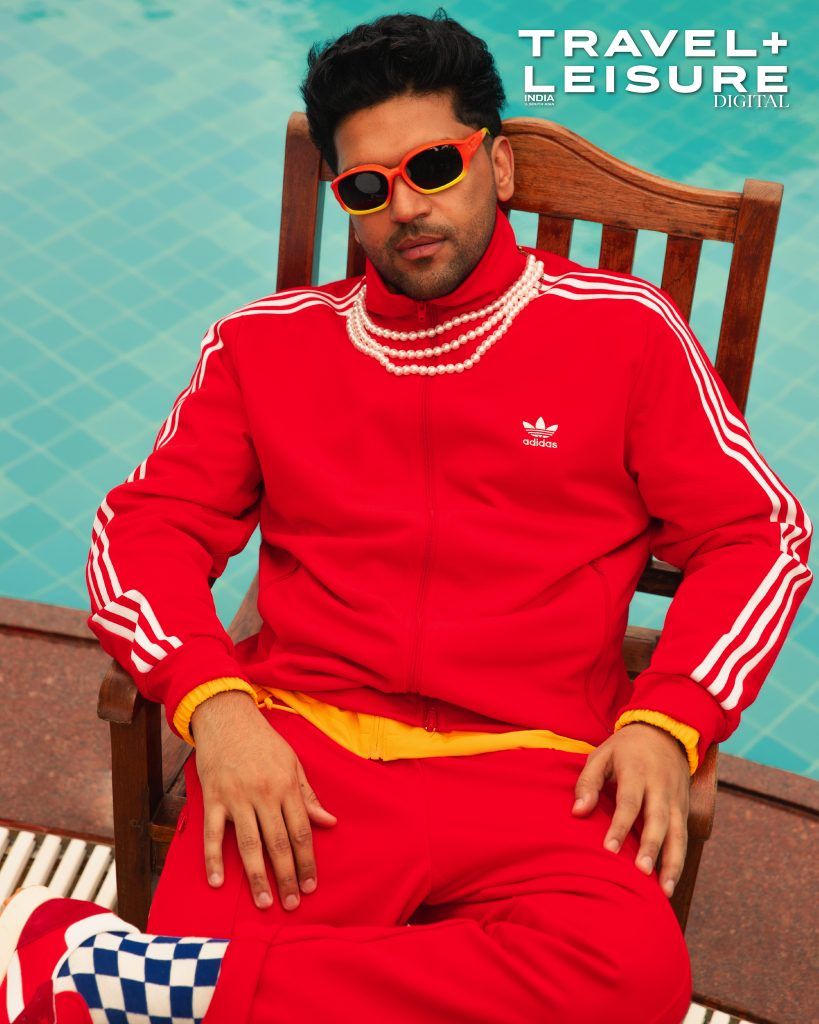 7.
How did you prepare for your role and acting in general?
Over the years, I have been playing different roles for my three-minute-long music videos. That duration will increase, the rest remains the same. The hard work and effort remain constant and will always be. I've lost close to 15 kilograms [for the role] and have been training hard. Also, I've learnt so much from actresses Mrunal Thakur, Nushrratt Bharuccha, and Nora Fatehi [who I worked with] in my songs. I'm always looking for things I can learn from other artists.
(On Randhawa: Pants, jacket, shoes, Adidas Originals; Sunglasses, Burberry; Shirt, Asics)
8.
You've been very vocal about your fitness journey. How do you maintain your fitness routine while travelling?
I have a personal trainer who guides me with the right diet, eating, and workout patterns. Usually, when I travel, there is a gym nearby. I try to work out there and follow my trainer's instructions.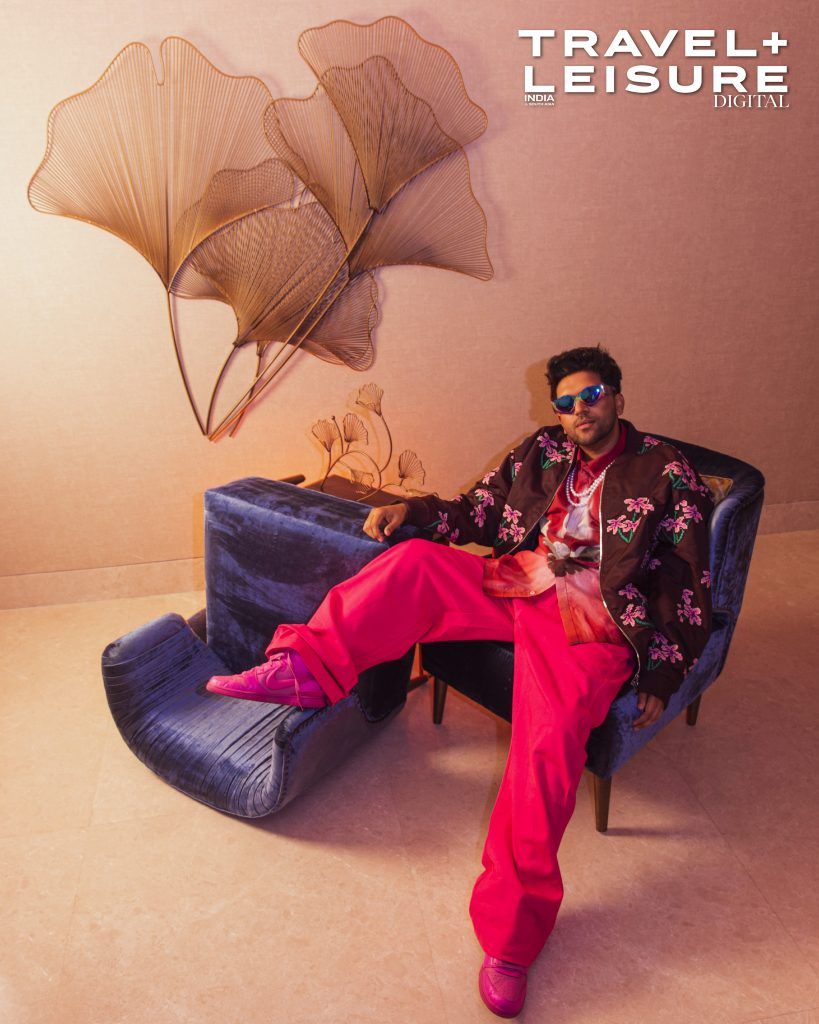 9.
How does travel inspire your music?
When a person travels, they see something they have never seen before —new places, people, cuisines, cultures, and a lot more. I think these things inspire an artist to create something new. For example, I wrote my song Lahore while in Dubai, where I saw girls from Lahore and different parts of the world.
(On Randhawa: Jacket, Dhruv Kapoort; Shirt, Almost Gods; Pants, Six5Six; Sneakers, Nike x AMBUSH; Sunglasses, Dolce & Gabbana)
10.
What are some of the most interesting places you've travelled to for work?
Dubai, New Zealand, Switzerland, California, Miami, Maldives, and many more.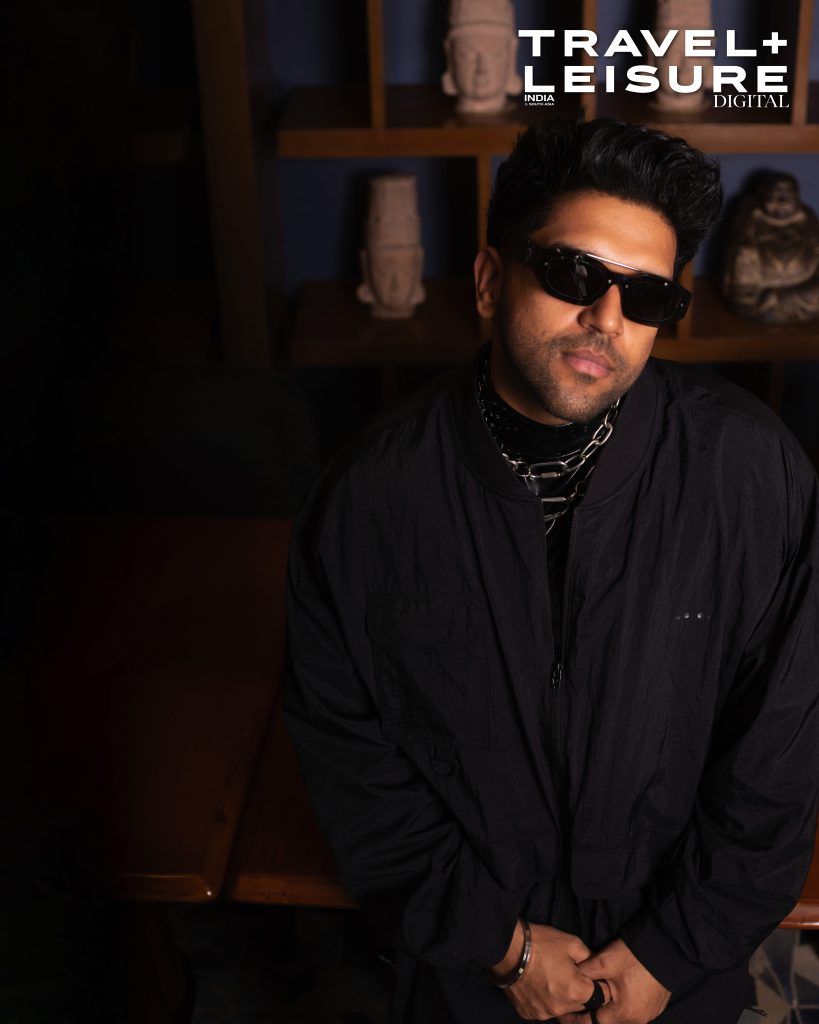 11.
Which is your favourite destination in India and why?
I love India. If I had to choose one place here, then it would be my home. There is no place like Gurdaspur!
(On Randhawa: Jacket and pants, Adidas Originals; High-neck, Bloni; Sunglasses, Versace Eyewear; Shoes, NIKE x Fear of God)
12.
What kind of traveller are you?
I like to try new cuisines, meet new people, and explore new places.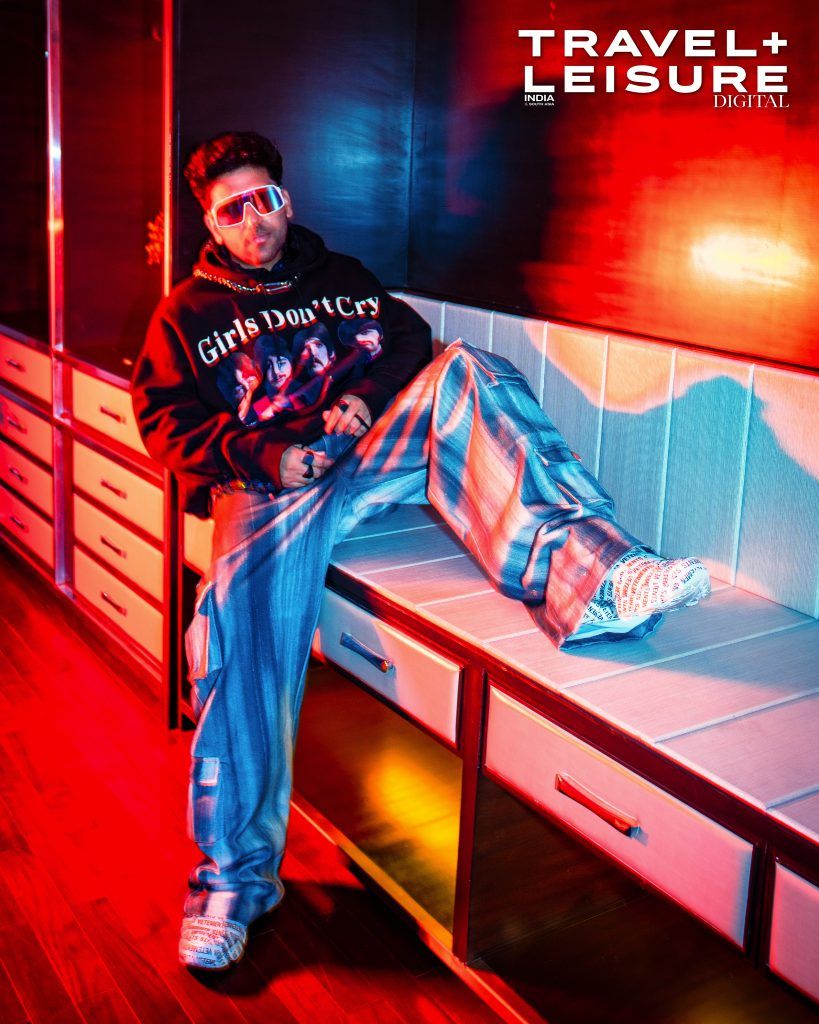 13.
Where will you be travelling next?
I'll be going to the US for a show, followed by an Australia tour with Nora Fatehi in October.
(On Randhawa: Shirt, Bloni; Pants, SIX5SIX; Jumper, Vintage; Sneakers, Vetements x Reebok; Sunglasses, Oakley Eyewear)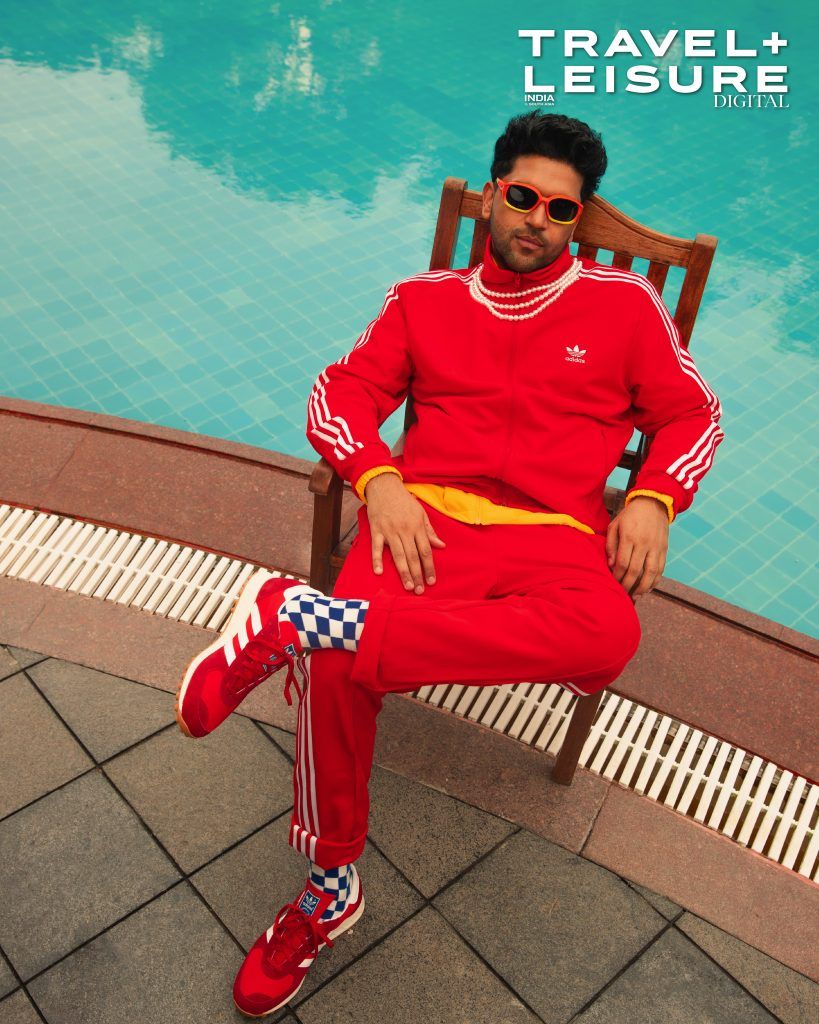 14.
What is your advice for budding musicians?
Never be afraid to dream big and never doubt yourself. You are as unique as you can be.
(On Randhawa: Pants, jacket, shoes, Adidas Originals; Sunglasses, Burberry; Shirt, Asics)