Chef Himanshu Saini's restaurant in Dubai, Trèsind Studio, bagged the second spot on Middle East and North Africa's 50 Best Restaurants 2023 and is ranked number 11 on The World's 50 Best Restaurants 2023 list. The twice Michelin-starred chef talks to Travel+Leisure India & South Asia about his journey to success and the evolving food scene in the metropolis.
Editor-in-chief: Aindrila Mitra
Produced by: Ishika Laul and Bayar Jain
Fuelled by curiosity and a desire to put desi dishes on Dubai's culinary map, Chef Himanshu Saini repackages familiar flavours in a new avatar at Trèsind Studio, an immersive dining experience that crafts modern Indian cuisine. These dishes, however, come with its own share of theatrics. With each bite, diners take a trip through the country's many regions, tracing the journey of India's varied tastes and palates. This drama is dialed up as the 20-seat restaurant plunges into complete darkness for a course or two, amping the focus on food.
Chef Himanshu Saini's personal journey to the culinary world has been just as dramatic. An accidental chef who plunged into the hospitality industry partly by chance and partly by subconscious planning, his culinary artistry has skyrocketed over the years — with no plans of slowing down any time soon! Post a rigorous training period at the famed Indian Accent in New Delhi, Chef Himanshu Saini–along with Bhupender Nath​, founder and managing director of Trèsind–toyed with the idea of bringing a slice of India to Dubai. In the process, the dynamic duo set up a progressive dining space that quickly went on to win every gastronomic title — two Michelin stars, making it the only Indian restaurant in United Arab Emirates to clinch this title twice; spot 11 on the World's 50 Best Restaurants 2023; and number two on Middle East & North Africa's 50 Best Restaurants 2023.
In a conversation with Chef Himanshu Saini, the digital cover star spills the beans on his recipe to success, struggles, and more.
Excerpts from the interview with Chef Himanshu Saini: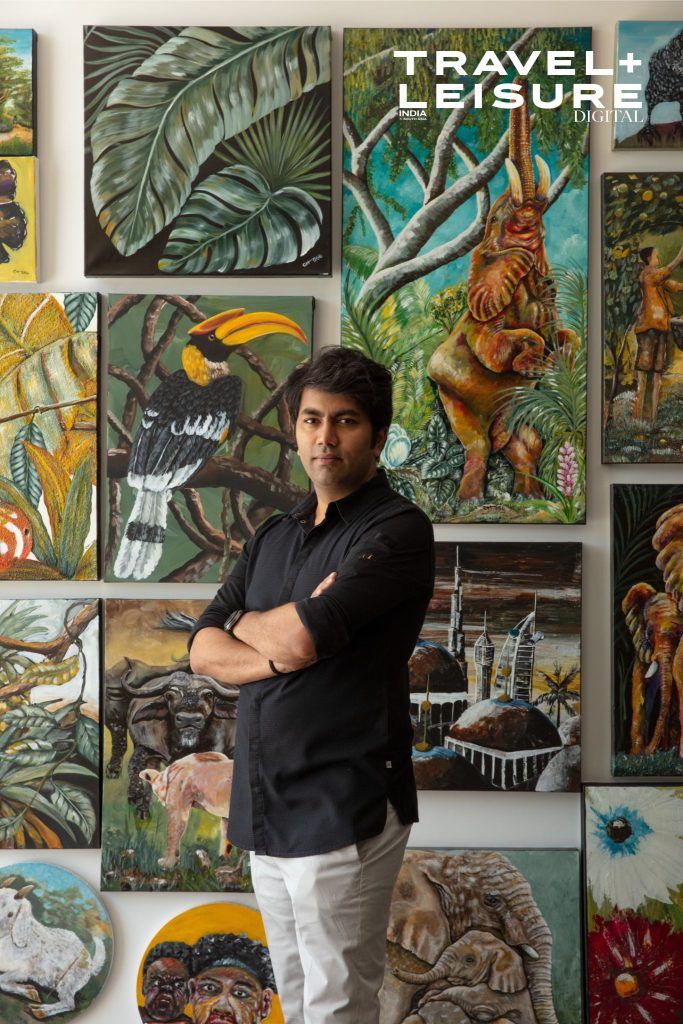 1.
How did you get interested in the culinary world? 
Since I grew up in a joint family with almost 50 people living together, the kitchen was a mini banquet! Someone would grind spices, someone would knead dough, others would pick grains. I would be fascinated by how the kitchen runs; and being a Mumma's boy, I would often spend my time in the kitchen with her.  
I wasn't good academically—to the extent that my parents were embarrassed of me! Coming from a typical Indian household, my parents wanted me to become a doctor or engineer. However, I was only eligible to apply for the hospitality entrance exam. As luck would have it, I cracked the exam and interview, and secured a spot at Indraprastha University, New Delhi. After that, things just fell into place. The industry chose me. 
2.
Being a first-generation professional chef, how did your family react when you first entered the culinary industry? 
Times are changing; people are starting to recognise this as a good profession, too. Now they're all happy. 
When I got admission in a culinary school, my family realised that while I wasn't doing well other subjects in grade school, my grades in culinary school had started to improve. This helped me gain their trust back and they realised that I was starting to enjoy my studies.  
But when I got my first Michelin star, it was difficult for me to make them understand what it means. They couldn't understand how valuable it is and why getting even one star would make me happy! To them, the Michelin star rankings were equivalent to hotel stars – one star is a mediocre rating while five-star would mean luxury. They couldn't fathom why I was overjoyed to be considered, what in their mind, was mediocre! Now they understand it better and have read up on it as well.  
My family has sacrificed a lot for me. As chefs, we rarely get holidays. When the world is celebrating, we're doubling down and working harder. But in the end, it's all turned out well.  
3.
You also trained at Indian accent under Chef Manish Mehrotra's guidance. How did that happen? 
I had joined Old World Hospitality, which has multiple restaurants, including Indian Accent. As part of this group, 12 of us were recruited by restaurants as trainees and circulated internally to gain experience in different kitchens. While I was training at The Manor in New Delhi, chef Manish Mehrotra had flown down from London to do food trials for Indian Accent. During that time, I helped chef in my capacity as a trainee. Two months later when Indian Accent opened its doors, he insisted on getting the same team that helped him during trials. So, in a way, destiny picked me! 
I started as a trainee and left as a sous-chef after five years. Indian Accent has made me what I am today, and I continue to have immense respect for Chef Mehrotra. Although he was hard on us, he often told us that we would understand his strict demeanour once we're running our own kitchens. He instilled perfection in us. Even today, he is the first person I call when I need advice or have any news to share.  
4.
How did you get associated with Trèsind? 
After my stint at Indian Accent, I opened Masala Library, as well as Farzi Café, in Mumbai. During that period, an opportunity to go to New York City and run a restaurant fell into my lap. New York was a dream city for me, and I always wanted to go and work there. I knew a restaurant named Trèsind was to open, but my heart was set on New York.  
However, the city didn't click for me and I couldn't adjust to its fast pace. The two other chefs I was working with were Mexicans, and we'd have a lot of difficulties communicating with each other. I called up Mr. Nath (Bhupender Nath, Founder and Managing Director of Trèsind) and asked him whether the position is still available. At the point, the restaurant was still in its soft launch phase and I came onboard.  
5.
Trèsind Studio is known for serving progressive Indian cuisine. How do you curate the menu and makes it different from others? 
When we opened Trèsind in 2014, Carnival by Trèsind in 2016, and finally Trèsind Studio in 2018, there was no concept of 'modern Indian cuisine.' In fact, Indian food is constantly evolving and getting modernised. Chillies and potatoes, for example, were never a part of Indian cuisine but have now evolved to become a staple.  
At Studio, we create and serve flavours that we would like to eat ourselves. We cook from the heart, and avoid ingredients and dishes that we aren't comfortable with. There is no caviar, truffle, or beef in our menu. By doing this, we organically set ourselves apart from others.  
Through our menu, we trace the map of India by showcasing four dishes from four regions. We're looking to change the narrative of Indian cuisine and break stereotypes through the 16-18 dishes that we serve. That's why there's no breads, rice, or tandoor in the menu. Indian food is so much more than naan and biryani! 
6.
You've been awarded the Michelin star twice. Do you feel that adds pressure to live up to your title? 
It's a feeling you can't quite express in words. As Spiderman says, "with great power comes great responsibility." While the star is great, it keeps my mind occupied. I'm always thinking about food and what the next dish could be. I think when you are obsessed with something, it just becomes a part of your life. I think when you when you are so obsessed with something, it becomes a part of you. 
While I enjoy service and being in the kitchen, it's the other activities like shoots, interviews, promotional campaigns that drain me. I feel like these activities put a lot more pressure on me. 
7.
What do you do to unwind after a long day in the kitchen? 
I think the only thing that can make me leave the kitchen is football. I'm a big Manchester United fan. There's a supporter's club in Dubai. We watch games together. It helps me take my mind off work for some time. Of course, I feel miserable when we lose!  
8.
Where do you meet your fellow football fans? 
There's a pub called Harvester's on Sheikh Zayed Road. The pub also invites ex-players to join. It's a very serious affair! The place has banners and holdings; people come dressed in unit jerseys. It's like watching a match in a stadium.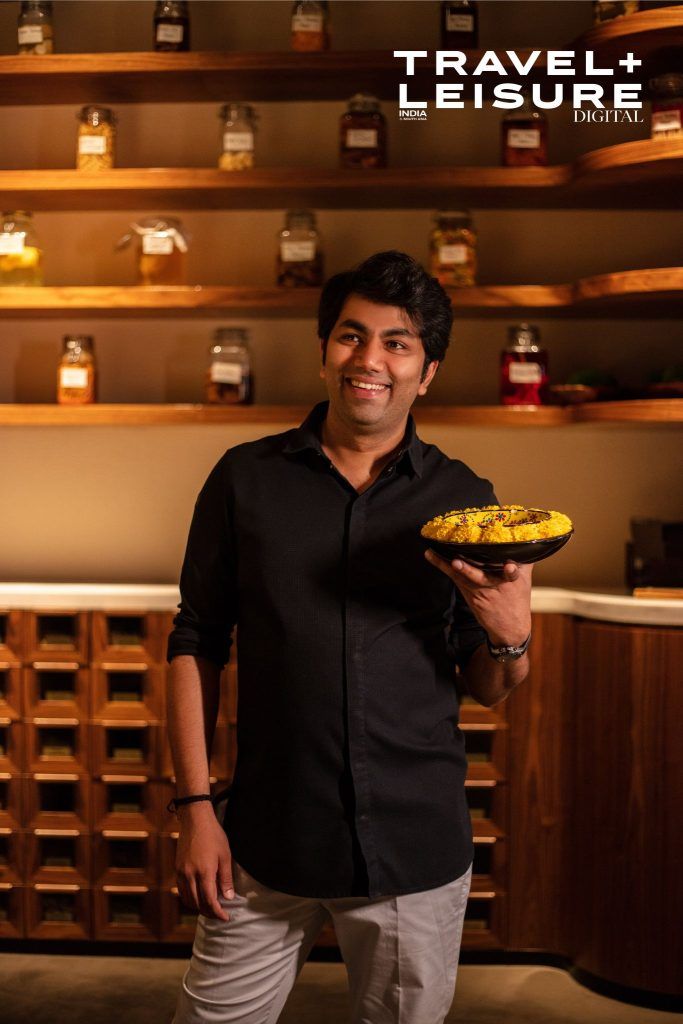 9.
What's your idea of a comfort meal? 
As chefs, we spend a lot of time in the kitchen tasting different dishes so we're often not fussy about we eat at home. My comfort meal is never something fancy; a simple khichdi is all I need.  
10.
What are some of your favourite restaurants in Dubai? 
11.
What are your favourite dishes on the menu of Trèsind Studio? 
It's hard to pick one! But we do a dish called Sadhya, inspired by the Onam sadhya. But we don't do it the usual, multi-dish way because then that would take up the entire course. Instead of serving spoonfuls of everything, we have made a component of all the major flavours from the traditional sadhya ceremony. It is plated in front of the diners. Each member of the kitchen comes adds to the dish – like an orchestrated dance.  
12.
What's your take on Dubai's evolving culinary scene? 
It has matured and evolved a lot in the last two years. There's a lot more flavours. Bringing Michelin to the city was also a big step, and I'm grateful to the government for it. It has pushed everyone to become focussed on creating experiences for diners. 
13.
What does a typical holiday look like for you? 
I like slow cities, maybe somewhere in a small village of Europe where I can spend time with myself.  
14.
Which is a destination you'd like to visit for its food? 
Japan for its precision, perfection, and creativity.  
15.
What's next for Trèsind Studio? 
We want to stick to our principles, theories, and ethos. We got two stars for what we've been doing so far, and we want to continue doing that. We want to continue telling the story of India and keep changing the menu so we can tell this story better.  
As part of Passion F&B (of which Trèsind Studio is a part of), we already have nine restaurants in Dubai, and one in Mumbai. We'll be opening one more in Mumbai soon, followed by New Delhi.  
Related: Chef Neha Mishra: India's Ramen Royalty Reigning In Dubai