Making strides in the male-dominated culinary industry, chef Neha Mishra propelled Kinoya, her izakaya-style restaurant in Dubai, to clinch the Michelin Bib Gourmand and a spot on Middle East & North Africa's 50 Best Restaurants list. Travel+Leisure India & South Asia gets an insight into her passion that resonates so well on every plate.
Editor-in-chief: Aindrila Mitra
Produced by: Ishika Laul and Bayar Jain
Breaking barriers comes easily to Chef Neha Mishra. A self-taught chef who scaled up her supper club to transform into a restaurant–called Kinoya, located on Sheikh Zayed Road, Dubai–worthy of a Michelin Bib Gourmand and spot number seven on Middle East & South Africa's 50 Best Restaurants list, this path-breaking personality is a force to reckon with. At Kinoya, this Indian-born reigning ramen royalty dishes out Japanese flavours with ease. After all, for Chef Neha Mishra, purity, perfection, and precision is the key to success.
No wonder, then, this Dubai-based restaurant comes complete with segregated dining spaces–a ramen counter, dedicated chef's table, two private rooms, an open seating, and a bar — that add to the authentic izakaya vibes. Everyday Japanese flavours such as donabe, onsen tamago, dashi, and omurice are elevated to luxe levels, seamlessly tying in with the experiential narrative that Chef Neha Mishra and her team recreate so well.
The journey towards achieving this excellence, however, has not been an easy one — be it shifting gears to embrace Japanese flavours, despite an Indian upbringing; taking the plunge to set up a restaurant, even without any professional training in the culinary arts; making strides in an otherwise male-dominated industry; or simply busting myths about these Asian flavours, one strand at a time.
In a conversation with Chef Neha Mishra, the digital cover star talks about breaking these barriers, misconceptions, and more.
Excerpts from the interview with Chef Neha Mishra: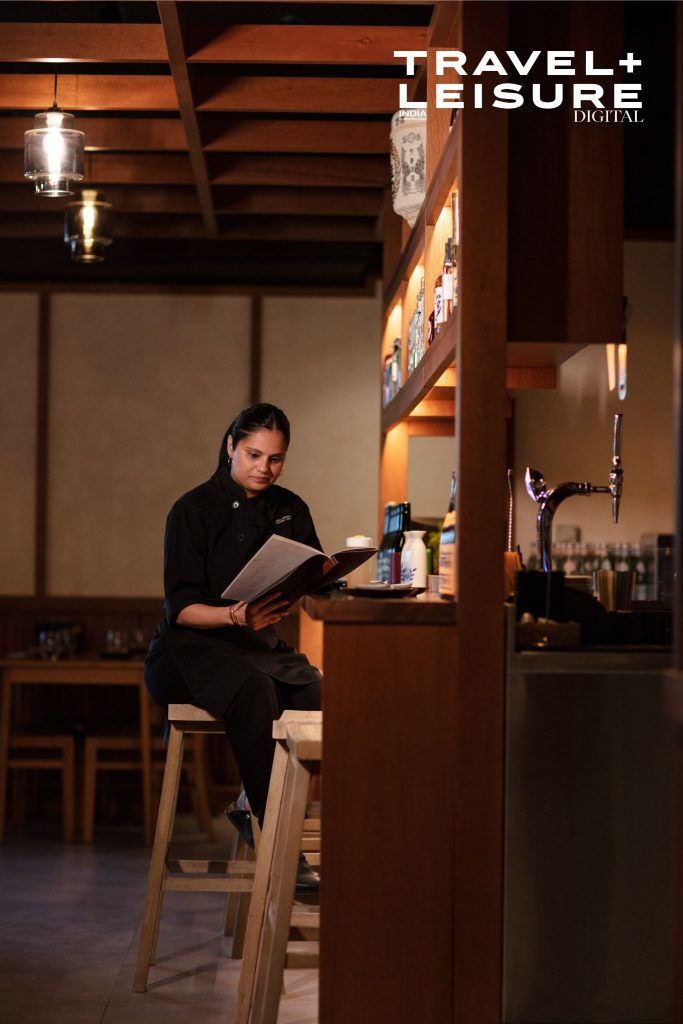 1.
How did you get interested in Japanese cuisine?  
I'm a self-taught chef and during this period, I started feeling strongly about Japanese food. Although the cuisine is hyper-focused, I specifically started enjoying working with ramen. It is one of the few disciplines within Japanese cuisine that doesn't have any rules, so I enjoy free flowing with it.  
Coming from India—a country known for its loud, colourful and bold flavours—I enjoyed the simplicity and purity of Japanese cuisine. The more I got into the depths of the cuisine, the more I wanted to learn about it. It was a rabbit hole! 
2.
Having grown up in an Indian household, was it difficult for you to make the transition towards Japanese cuisine? 
One of the identifying reasons why I wanted to make Japanese food is because I knew how different it is from Indian cuisine. I struggle with fusions. When I transitioned to Japanese, I knew that one [cuisine] and nothing to do with the other. And that is exactly what I loved about Japanese food – that is was the polar opposite of Indian. With this demarcation, it was easy for me to stick to the flavours of each cuisine.  
3.
Tell us about your journey to setting up Kinoya.  
I started with a supper club. Over the span of three-and-a-half years, I had already hosted 7,000 people!  However, as I am self-taught, I had to build some level of confidence to get into that arena. It took me a while to get there but over time, I started realising that I could offer something special, at least in terms of Japanese cuisine. When the business felt viable and I felt confident, I decided to open a restaurant. It was all very organic.  
4.
As an untrained chef, how did you motivate yourself to keep pushing? 
Being self-taught works for me and against me, both. On one hand, I'll always be the chef that doesn't have culinary training. As kind as my peers have been, I have my own imposter syndrome of whether I deserve to be on the same arena as them.  
I think you just need to believe in what you're doing. I may not be trained in what [other chefs] do, but I have taught myself my skill very extensively over the years. You need to own that. When you start something and hone a skill, over time you get more confident.
5.
The culinary industry is a male-dominated space. How difficult was it for you to break through?  
It's competitive. But Dubai has an amazing food community, so I had a lot of support from my peers. Many people were rooting for me. We make street food, but the complexity of it is laborious and knowledge heavy. It is an ongoing process for my peers to take me seriously for that. As a female chef, I was lucky as I opened my own restaurant. I didn't face the same challenges as the women working for a kitchen. In some ways, I had a head start.  
Having said that, the industry is changing. Of course, this opinion comes from the fact that I run my own kitchen. At Kinoya for instance, 40 per cent of the kitchen staff is women. Often, women are not given this first chance. Once you get past that barrier, they have a better chance of getting to the same levels as their male counterparts.
To a certain extent, I have my blinkers on. While the divide exists; at this point, I'm competing with myself.  
6.
Kinoya serves Japanese street food, but in an elevated fine dining setup. How did you conceptualise this fusion and bring it to life? 
People don't know what they want to be given to them, and that applies even more to food. People tend to have preconceived notions about what they think they want. When you give diners something different, they can get pleasantly surprised by it.  
With ramen, specifically, people sort of knew what to expect. From our side, we were already communicating and educating audience. [We had to explain to people that] while this is street food, it is made with a lot of time and knowledge.  
[Having said that] we don't alter the food in a way that pleases audiences. At Kinoya, no sushi has even a speck of mayonnaise – it's not supposed to be there! It was a decision that was made early on that while we want to cook for the diners, it has to be done in a way that feels honest to us.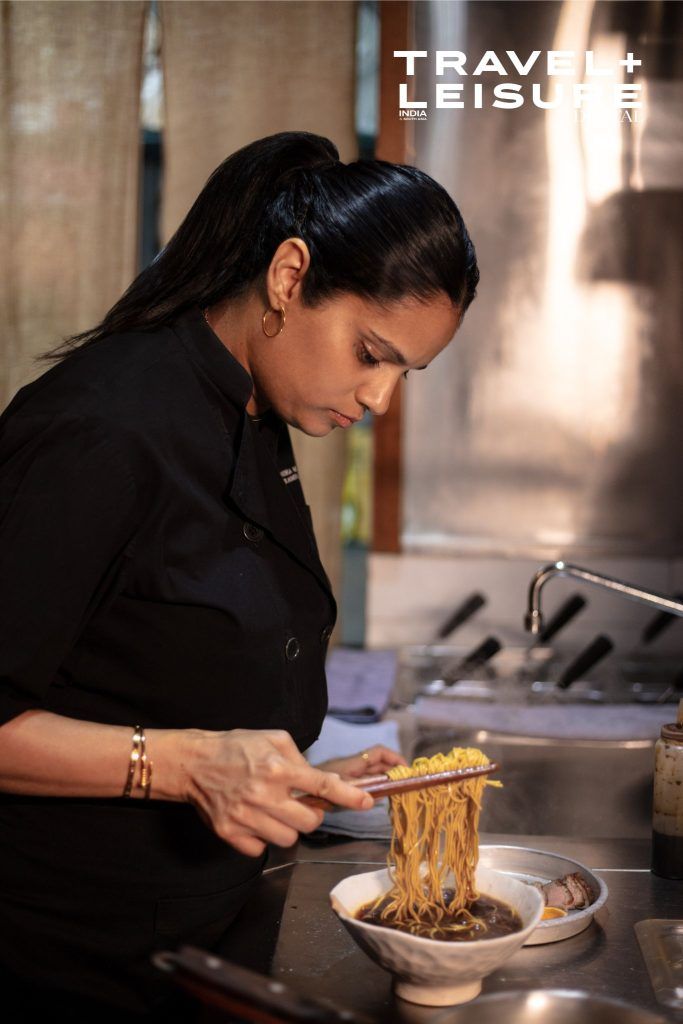 7.
Kinoya is also known for creating an izakaya experience for its diners, with segregated dining spaces. Tell us more. 
We started building Kinoya during the pandemic. At the time, Japan was seeing a new wave of compartmentalised restaurants. Using that as an inspiration, we started creating something that was immersive depending on where you were seated. So, it didn't matter if the rest of the restaurant was empty during COVID, because where you were sitting [in Kinoya], it would be a bit more atmospheric. It started out as practical thinking. 
However, as we offered more than just ramen, we had to think about what else we could create to make it more immersive. That's how the rooms came to be. I firmly believe that ramen should be eaten at counters, so we created those. With this, we wanted to give guests the option of solo dining, much like it is the case in Japan. The main dining is more for families and groups of friends. I wanted to showcase sushi, so we set up a chef's table too.  
8.
You mentioned that Kinoya started in the pandemic. Were there some challenges you faced along the way? 
It's a gamble opening a restaurant anytime, anywhere – especially as a first-time chef opening a first-time restaurant! In a way, the pandemic helped us. We had a lot of negotiating power in terms of getting the best deals on rentals. We opened just as the world was opening, so people were just happy to be out and visit restaurants. It worked out really well!  
9.
Do you feel pressurised to constantly evolve the menu and stick to the latest trends in the culinary world? 
After featuring on the 50 Best List as One to Watch Out For, and winning the Michelin Bib Gourmand, there's a little pressure about what to do next. It's the chef's responsibility to prevent stagnation and evolve for the better. At Kinoya, it gets a little tricky since we're essentially a ramen-focussed restaurant. We have six permanent ramens on the menu, and another rotation of 10. We have to remind ourselves not to change too much because people are coming to enjoy these dishes and flavours. It's important to have your finger on the pulse and think about what the customer wants. But we don't change for the sake of it. In those cases, you're changing out of fear instead of actual innovation.  
10.
What do you think about the culinary scene of Dubai right now? 
It's explosive! You can go from cheap and average Joe-kind of spots to something that's elevated and fine dining. Dubai has a lot to offer right now that you can get spoilt for choice.  
It's very eclectic. People have come from all parts of the world, and that helps brings in so much flavour. The pandemic also made people pursue activities apart from their usual. As a result, people were pivoting, which brought in a lot of fresh ideas and innovations.
Dubai is still forming its identity since it's not an old city or a new. In a space like that, it's very easy disrupt and build identities. It's amazing for growth!  
11.
You've travelled to Japan extensively. What has been the most surprising dish you tried during your time there? 
The day my husband and I landed in Japan, the two of us went to an izakaya. The menu was in Japanese, so we didn't know what to order. We asked the waitress for recommendations, and she said it's fish. We thought it sounded harmless so decided to order it. Upon tasting it, we found that it was fermented fish guts!  
12.
Are there any misconceptions about Japanese food that you'd like to bust? 
The world is changing, and Japanese food is becoming more accessible. People are well-versed with the cuisine. There's more to Japanese food than just sushi! The biggest myth is that ramen is an easy dish to make. It's not! One bowl—from start to finish—can take a whole day to create. That's why I call it slow food-fast, because it's takes so long to make, and it's wiped off clean in seconds. If your ramen does not evoke a different flavour from start to finish, then that bowl has not been thought of.  
Also, not everyone can—or should—make sushi! There are sacred principles around Japanese cuisine, and I wish people would not adulterate it.  
13.
Your favourite ramen bowl in Japan? 
A broth so clear that you can see the bottom of the bowl. But the density of flavour in that is so complex that it makes you think.  
14.
A bucket list destination for its food? 
Mexico. If I wasn't serving Japanese food, it would have been Mexican food instead.  
15.
Your favourite cuisine, other than Japanese? 
South Indian (I can live on idlis!) 
16.
Favourite homegrown restaurant in Dubai?  
17.
We're opening a branch in Harrods in October. We scale very carefully because we don't want to dilute what we're doing. After that, if any opportunities present itself, we'll take it from there.  
The menu will be refreshed from time to time, but the staples will stay. I wouldn't dream of changing that because that's what people come for.  
Related: Himanshu Saini: The Michelin-starred Chef Serving India To Dubai