Our digital cover star, actor-activist Swara Bhasker is much more than what meets the eye. Her latest movie Jahaan Chaar Yaar, shows her in the role of a overworked homemaker out with her girl gang on a trip to Goa. The movie breaks many stereotypes and sends across a strong message. The actor speaks to Travel + Leisure India and South Asia about her 'unusual' girls trip movie, the perils of being famous, and how travel can be a powerful tool to constrain hate. By Chirag Mohanty Samal
Actor-activist Swara Bhasker, doesn't hold back when it comes to sharing her opinion or calling out a spade. Her Twitter bio reads: "A lot less exciting than I seem on Twitter" but that isn't true and I sense it the moment I meet her at Trident Jaipur for our digital cover shoot.
Swara Bhasker emanates a casual and relaxed vibe that immediately puts you at ease. Starry airs are starkly missing. Further, I am surprised by her eagerness to try out new things as she excitedly listens to the stylist who takes her through the outfits for the day. It is this penchant for doing thing differently that got her Jahan Chaar Yaar, a comic caper about four friends on an all-girls trip to Goa, where she plays an overworked homemaker–the quintessential doormat. A role, you wouldn't usually associate with the feisty and fearless Bhasker. But her convincing portrayal of the character makes you aware of her superlative acting chops.
As we get talking about movies and travel (two things that she loves doing), she opens up about her offscreen activities and onscreen roles, her struggles as an outlier in Bollywood, the perils of being famous, and how travel can be a powerful tool to change people's perspective.
Excerpts from the interview with Swara Bhasker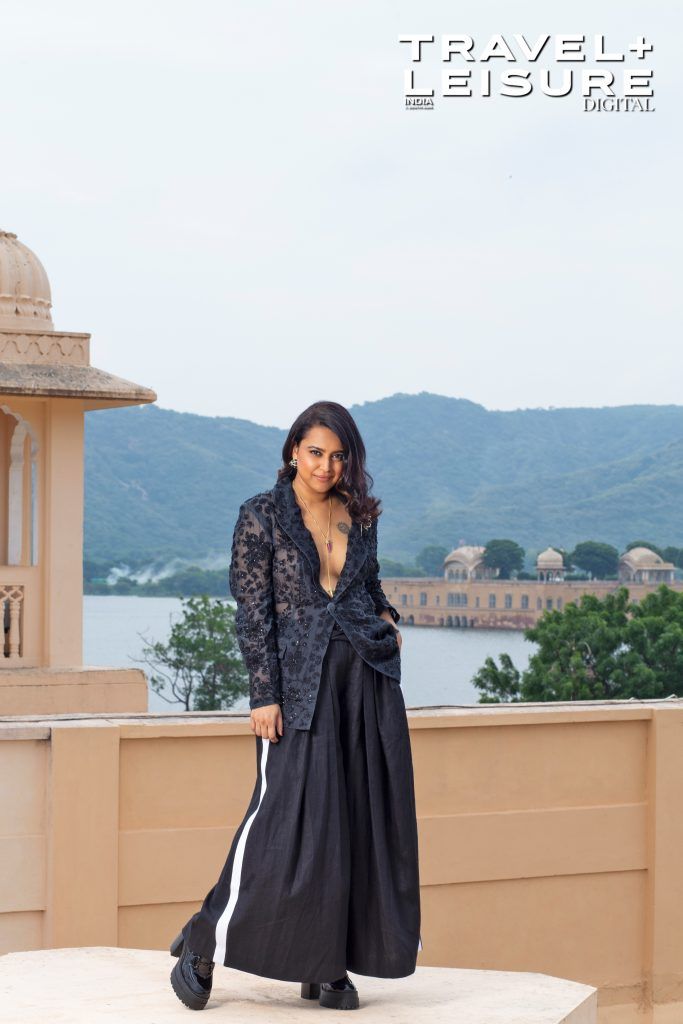 1.
Your latest movie Jahan Chaar Yaar was all about a fun girls' trip. How was the experience working on it? 
In Bollywood you've seen road trips, friendships and coming of age films before, but this is the first time that a road trip film stars the most unlikely candidates—four homemakers and mothers from small towns of India. This is interesting because every time such a film is made, the setting is usually urban with a young set of characters like Veere Di Wedding. This time mainstream Bollywood saw a road trip film with those people who are typically dismissed as behenjis. I like the fact we are re-appropriating that term and flipping it, showing how cool, sassy, bad ass and capable behenjis can be. This film is a real clutter-breaker and working on it was great fun.  
(On Swara Bhasker: Blazer by Rahul Mishra, Pants by Rajesh Pratap Singh, Necklace by Isharya, Earrings and brooch by Viange,​ Shoes by Aldo)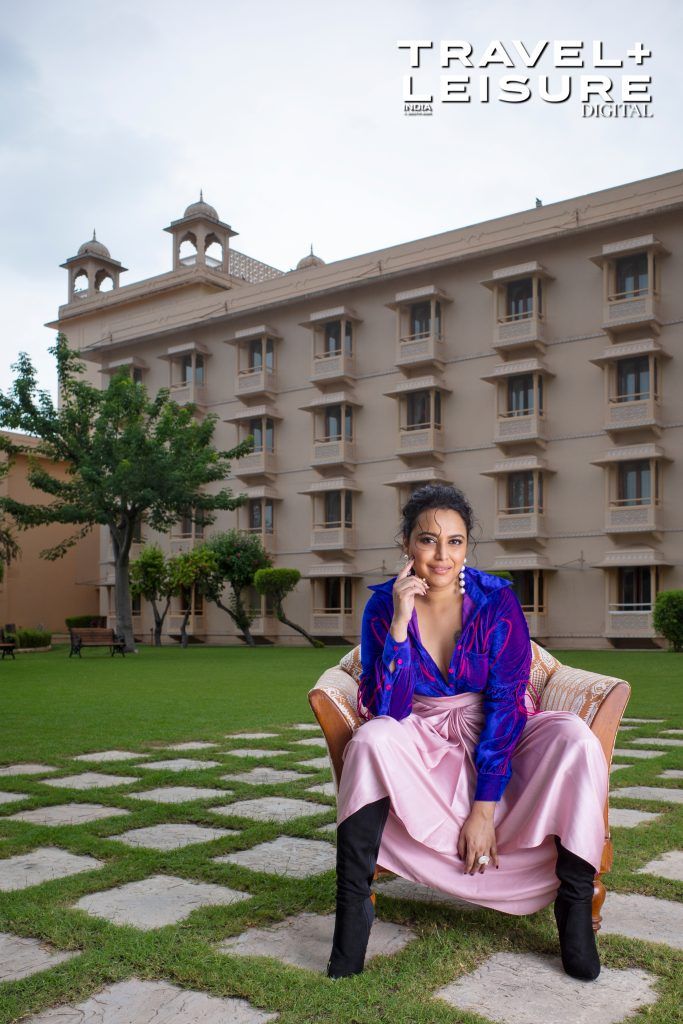 2.
You are known to do female–oriented movies and movies that celebrate sisterhood. Is it a conscious decision? 
Sisterhood has always been the need of the hour. Jahan Chaar Yaar is a film celebrating sisterhood, friendship and freedom. There is a nice message that the movie delivers in an entertaining manner. It is not a propaganda film, but it says an important thing. And I think people will sit up and take notice. 
As far as conscious decisions go, I am conscious about what is it that my film is saying. But you can't control it all the time because actors have limited control. Films are a director's medium. I can give my opinion, control my performance a little bit but I don't even get to choose which shot of mine will be retained in the edit. But that said and done, whatever limited choice I have, I try to make sure that the messaging of my film is not offensive.  
(On Swara Bhasker: Dress by Quod, Skirt by Bloni​, Pearl earrings and ring by Anaash)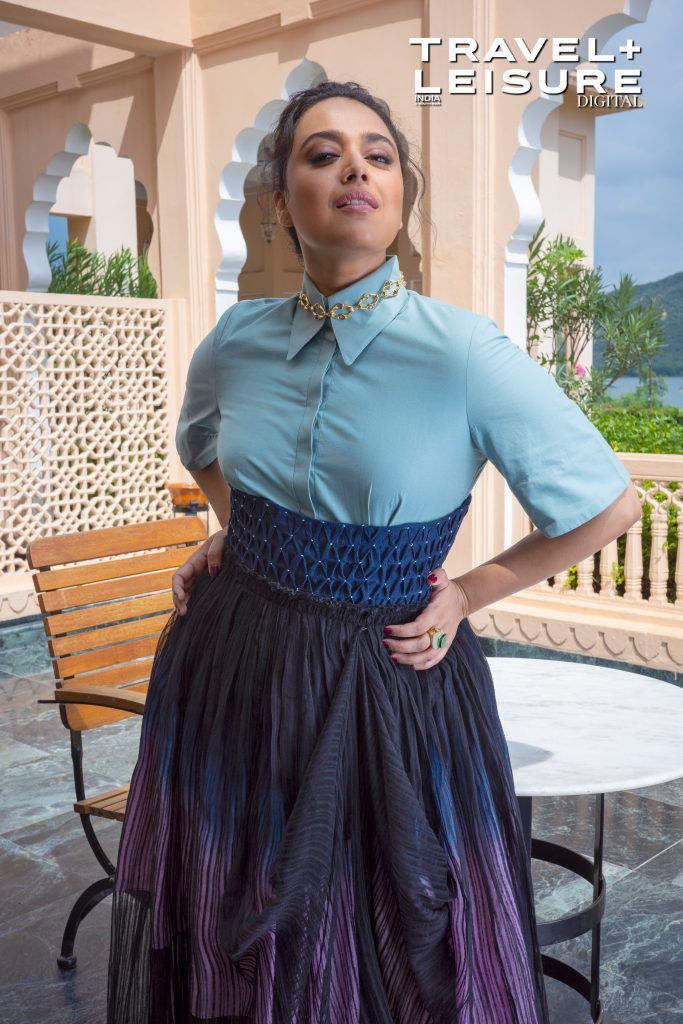 3.
How would you describe your journey in Bollywood so far? 
It's been more than 10 years. My first film released in 2010, it was a film called Madholal Keep Walking that not many people watched (chuckles). My break out film was Tanu weds Manu in 2011, and there was Raanjhanaa in 2013. It has been a wholesome journey so far. I have grown up in this process. I was 22, when I came to Bollywood. Everything I've learnt about being an adult, has basically been here. The person I have become today is heavily influenced by the work I did.  
The journey was hard! I'm an outsider, I never had friends or acquaintances in those insider circles. So, it has really been the slow and steady road for me. It's been slow but fulfilling because it's all my own. For people like us, we have to struggle and earn every little thing. It's been an interesting ride, with lots of rejections and disappointments. But in the end, as long as I keep working, I feel anything can come along and I really don't care.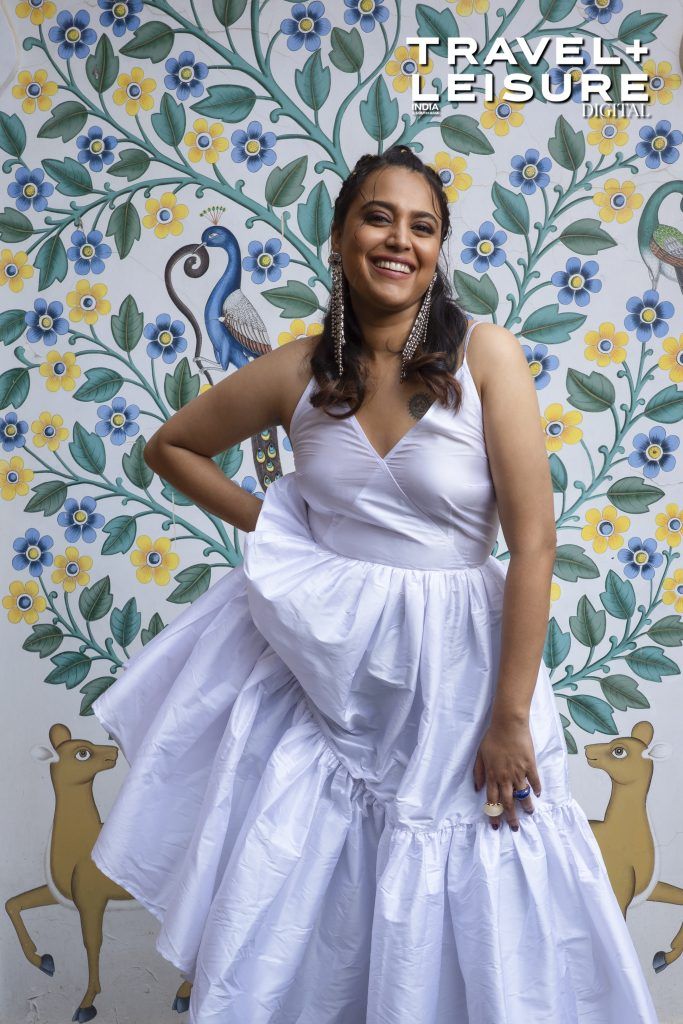 4.
What are the perks and perils of being famous? 
Lots of perks. People are nice to you even though you don't deserve it. Strangers are kind to you, because they kind of recognise you, they have seen you on screen, so that for me is the greatest perk.  
Perils –the concept of privacy just ceases to exist. Even in your most private moments you feel you are being seen. That kind of constant attention and scrutiny does something to your head and your sense of self. The industry forces us to become self-absorbed. Showbiz puts on a pressure on us, which is not normal. You don't have to be very famous to realise that, even someone at my level, having a decent amount of recognition can very palpably feel the effects of that.  
Whether it is scrutiny, the need for validation, or being judged constantly, where anyone can come and say anything to you–you have to spend so much energy to keep yourself sane. 
(On Swara Bhasker: Dress by Bloni,​ Jeans by United Colors of Benetton, Earrings by Amama, Rings by Isharya,​ Heels by Charles & Keith)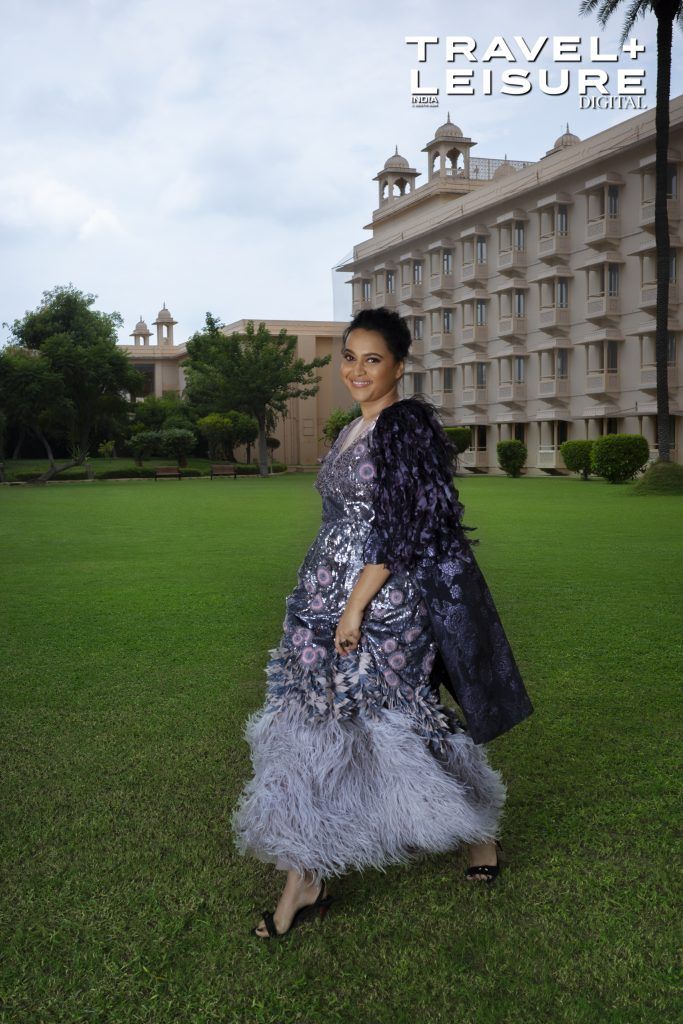 5.
You just did a girls trip travel movie–do you enjoy such trips? What kind of a traveller are you?  
I love travelling. I love and enjoy road trips. I like being able to go to places that I have not seen. I have the soul of a bagpacker and the taste of a mem saab. 
I like going to places that are rich in history, architecture, and culture. I love old cities and monuments. I'm not a big fan of the new age cities with fancy shopping malls and high rises.  
For example, I went to Morocco. I know everyone goes to Marrakesh, which is also beautiful but I went to Fez, which is a small place but it has one of the oldest Islamic universities in the world. I am not scared of crowd, and grime and dirt. I am a chilled-out traveller, I'm not big on early mornings. I love eating, so I love going to places where there is nice food. I've done a fair amount of solo travel but I get very lonely. I like travelling with at least one or two people. And I think that there is no greater education than travelling. Someone who has travelled with an open heart and mind can never be consumed by hate and bigotry. Travel is a very powerful thing.  
(On Swara Bhasker: Dress by Not So Serious by Pallavi Mohan, ​Jacket by Nidhi Yasha,​ Heels by  Christian Louboutin)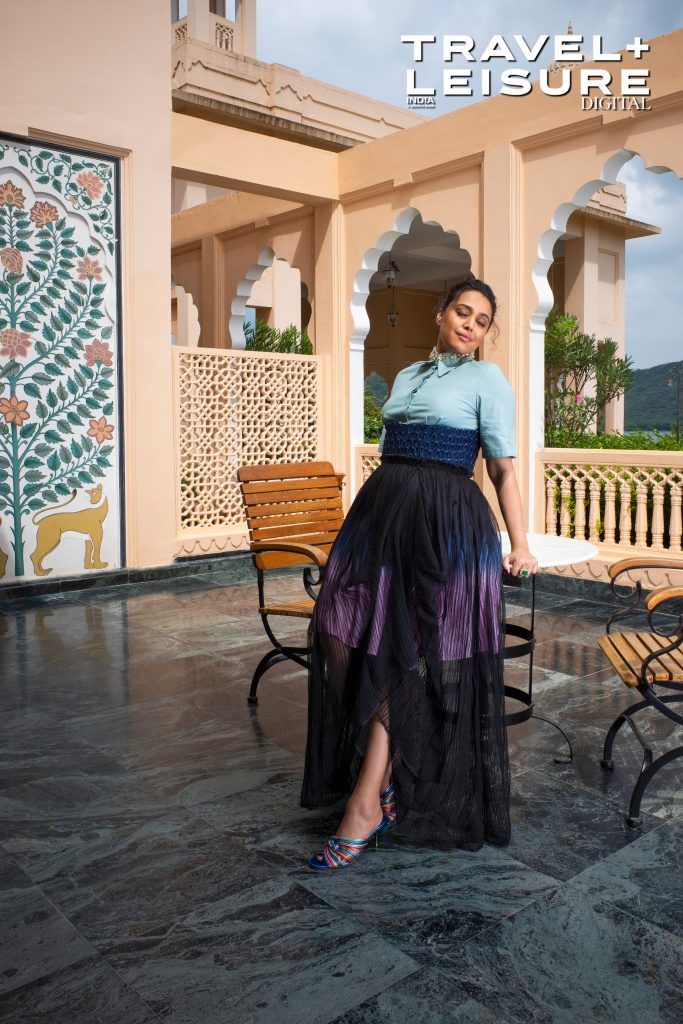 6.
Travel & Leisure is all about going places with people. Tell us about a place where you really felt connected to the people.
The place where I felt the most connected is Pakistan. I have been to Pakistan twice, and it's like going back home. It's like you are going to a world that you know, because there is so much similarity, there's so much of shared culture, language, and food habits. The people are warm hosts. Indians and Pakistanis get along well, especially abroad, because we are so similar. One of my favourite cities in the world is Lahore. There's so much to discover there.  
(On Swara Bhasker: Shirt by Notebook, ​Sheer skirt by Urvashi Kaur, Tie Dye skirt by Raffughar,​Necklace and ring by Isharya​, Heels by Christian Louboutin)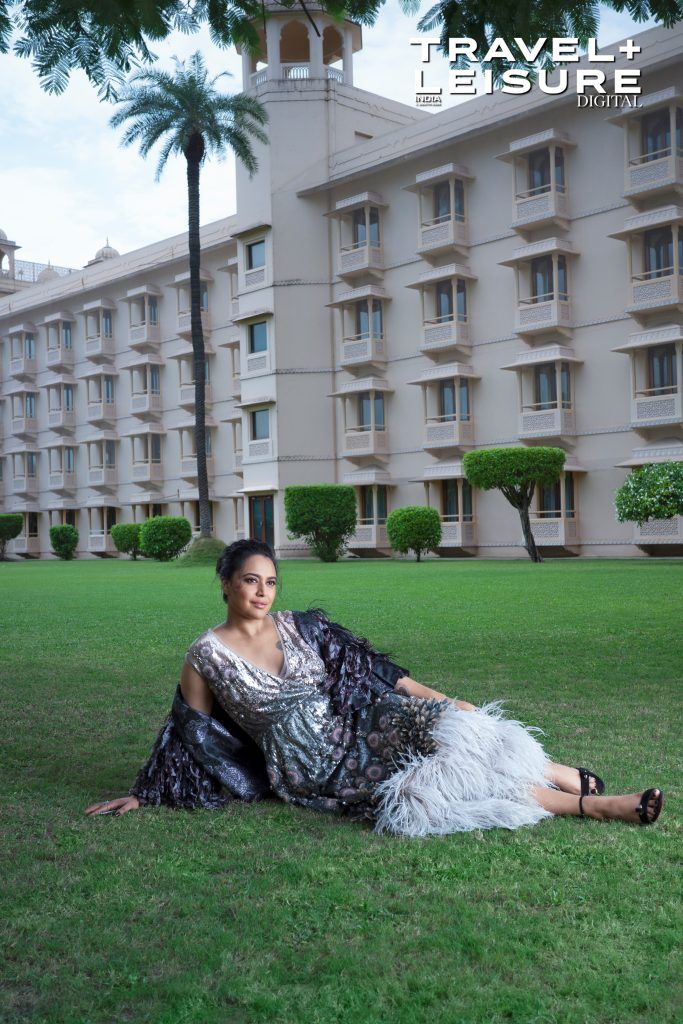 7.
You travel all around the world, which is one of your favourite destinations for leisure?  
London. It's an amazing city. It's a city that's so familiar because we were once upon a time a British colony. There's so much influence of the British on post-colonial India, and it's interesting to go there and realise that it's also a city with a lot of history and diversity. London is also reflective of our globalised world because you find people from every part of the world, yet it is a city that has space for its own history. There are so many shows you can see in terms of plays, musicals and films and it' great for an artist. I wanted to study in London, I had gotten admission in one of the universities but didn't get a scholarship, so couldn't afford it at that point. I've done some short courses there and it's such a great city to be a student.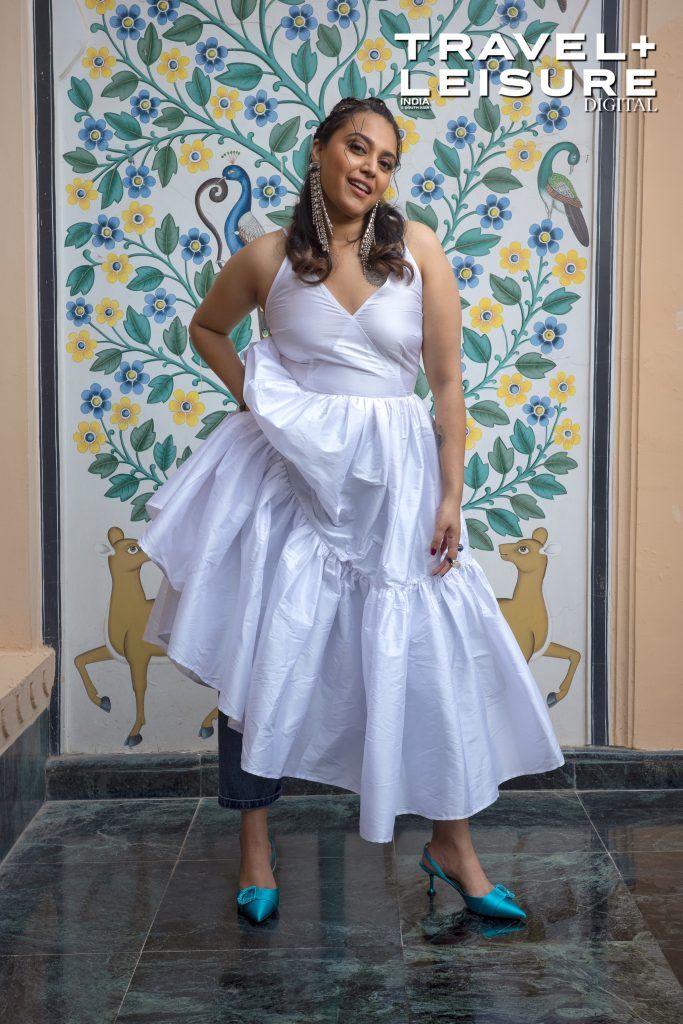 8.
What's on your travel bucket list? 
The only places in Africa I've been to are Morocco and Egypt. So, I want to do Africa properly, because I think that continent has so much to offer. It feels like there's a whole world you don't know anything about. 
I want to see the Kenyan Great Migration. I think that the animal world is beautiful, and we should do more to preserve it. I have been to Bandhavgarh, Gir, Kanha, and Ranthambore wildlife sanctuaries and they are stunning. 
(On Swara Bhasker: Dress by Bloni,​ Jeans by United Colors of Benetton, Earrings by Amama, Rings by Isharya,​ Heels by Charles & Keith)
Related: Into The Metaverse With Kyra' India's First Meta Influencer