Chef Tarun Sibal Shares His Food Plating Secrets And Recipes You Can Dish Up At Home
With lockdowns and curfews in place across the country, cooking has once again become our favourite activity. And with focus back on home-cooked meals, we chat with Chef Tarun Sibal, who shares tips and tricks to plating food to perfection and how home cooks in India are more innovative than one gives them credit for. A bonus? He shares some fun recipes to jazz up your everyday meals! By Anushka Goel
Chef Tarun Sibal has been in the industry for over 19 years, with experience across production, operations, food heritage, and food and liquid culture. His food philosophy is 'Gourmet Casual', which allows guests to experience both the unfamiliar and the familiar exciting, new and inviting.
View this post on Instagram
With the pandemic, most of us have time and again turned to our home kitchens. And countless episodes of MasterChef Australia have ensured us painstakingly putting that one microgreen stem on our plate in the perfect position (looking at your tweezers, George!). In a chat with us, Chef Sibal shares his insights on perfectly plating food, some easy ways home cooks can replicate the same for their family and friends and simple recipes that mix unique flavours for a gastronomical experience at home.
T+L India: Home-cooked food can be tough to plate. How do you suggest one optimises what they have to make their plate look good?
Chef Tarun Sibal: I think more than the plate, I look for the flavour and quality of the food as parameters. Once I've achieved that, the aesthetics will make a huge difference. I keep hearing this 'dal chawal', but we don't need to do much (to jazz it up). Changing the colour and shape of the bowl will make a lot of difference. Suddenly, if your dal tadka, which is yellow in colour, is served in a blue bowl with a bit of pickle on the side and white rice, it changes the entire canvas.
Sometimes, you don't need to do much to food. The more you keep it simple, the more aesthetically pleasing it becomes. Having said that, there's obviously the opportunity that arises today to make your dishes Instagrammable – but not at the price of quality and taste. You should start with getting a good quality dish on a plate rather than make a fancy-looking dish that falls flat the moment you taste it.
T+L India: Do you have any tips that home cooks can use when it comes to plating food?
View this post on Instagram
Chef Tarun Sibal: The size of the plate will matter a lot, as will its colour. Leave some negative space on the plate to create an impact. Sometimes, working linearly or geometrically will make a plate look good, and at times, abstract plating can create magic.
When it comes to plating food, a lot of personal aesthetics will come into play. There is a lot of science and art when you look at plating, especially Indian food as most of it is served in bowls. The choice of the bowl and the choice of the accompaniments will come into play. And like I said, every person has their own aesthetics — if I give the same canvas and colours to five people, they'll paint it differently.
Another tip is that you can look at things and people you like and try to imitate those styles of plating. You don't have to be creative on Day 1.
Also, think about colour combinations — black and black is also a combination, black and white is also a combination. Sometimes complementary colours work well, and at times, contrasts look beautiful. Your mood is also important, as if you're in a jovial mood, you'll pick brighter colours, and if you're in a sombre state and want nothing more than a hearty soup, pastel hues will work for you.
T+L India: Since you mentioned colour, what are your favourite shades to play with when it comes to plating food?
View this post on Instagram
Chef Tarun Sibal: Black or a cream shade that accentuates the colour of the dish, always comes in handy. I like stone black, which is slightly matte so that the sheen of the food can create a contrast.
T+L India: Any tips you have for home cooks to jazz up simple recipes and make them more wholesome and healthy?
Chef Tarun Sibal: I think home cooks today have lapped up the internet, YouTube and Instagram so much that at times, when I'm speaking to people cooking at home, they are well-versed with how to accentuate a dish. Be it the choice of beetroot in a simple parantha, filling it up, using various kinds of flour to bring in a variety or simply changing its size and shape — they know how to do it.
Also, I feel that home cooks, especially vegetarians, have a brilliant talent — they understand the nuance of spices and how they work together extremely well. Sometimes, we learn from them!
And I think kids are a basic subset (when it comes to experimenting and offering variety). Many households worry about how to make food appealing for them, but I think changing the shape of, say, pancakes or serving them with some fruit or whipped cream or even Nutella can do the trick.
And to make your desserts healthier, you can use jaggery, brown sugar or coconut sugar as an alternate. You can also use dates or fresh fruits to enhance the flavour of the halwas that you're making. However, I don't recommend sweetening halwas with natural or artificial sweeteners. I'd suggest you eat a spoonful less, but prepare it the way it's meant to be. Don't overconsume it, but don't alter the experience of eating a halwa.
Similar is the case with fried stuff. One of the most pleasurable experiences in the culinary world is to eat something deep-fried or pan-fried. If you have dietary restrictions, air-fry the dish or use a non-stick pan to use less oil, or opt for something grilled or braised. But if you want to eat fried food, make smaller portions or consume a bite or two less.
Recipes that home cooks can try out
Winter pumpkin Risotto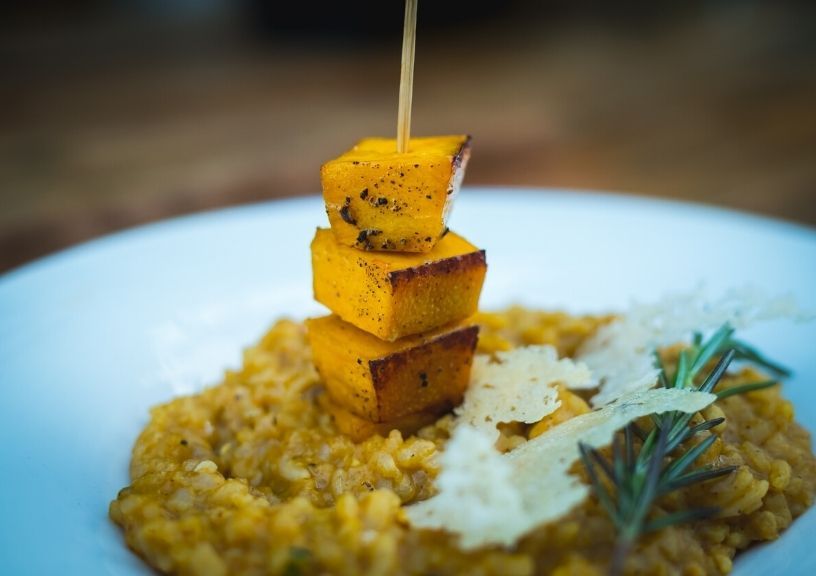 What you need:
1 cup Arborio rice
½ onion
Four tablespoons cream
1/4 cup white wine
Four tablespoons parmesan cheese
250 gm rosemary-scented roasted pumpkin puree
Salt and black pepper to taste
Two cloves garlic
Two cups vegetable stock/water
Two tablespoons extra-virgin olive oil
1 sprig Rosemary
A pinch of cinnamon
A hint of nutmeg
Method:
Put your stock in a pan and bring it to a simmer.
While your stock is simmering, heat a heavy-bottomed pot. Reduce heat to medium-high and add your olive oil.
Saute onion and garlic until the onion begins to soften. Then, add your rice and stir well.
Add white wine and cook until the liquid has evaporated. Now, add one cup of the stock with nutmeg and cinnamon to the rice and reduce the heat so that the mixture simmers. Stir often and cook until most of the liquid has been absorbed by the rice. Repeat with the remaining stock until the rice is almost tender but has some bite to it.
Stir in the pumpkin puree, salt and pepper.
Remove from the flame, add your cream and cheese and stir well. Garnish your risotto with pumpkin cubes and parmesan slices and serve hot.
Ananas Halwa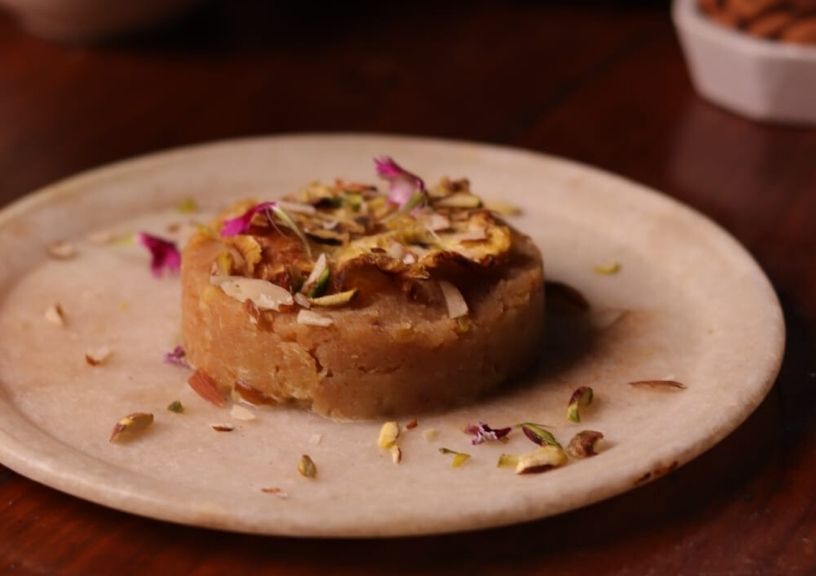 What you need:
Fresh ripe pineapple (grated) – 200 gms
Semolina 100 gms
Ghee 100 gms
Hot full cream milk – 100 ml
Sugar – 100 ml
Almonds and pistachios (finely chopped) – 2 tbsp
Khoya – 100 gms
Method:
Dissolve the sugar in hot milk and keep it aside.
In a heavy-bottomed pan, add ghee and pineapple and cook for five minutes on medium heat.
Add semolina and sauté on medium heat till light golden.
Stir milk slowly into the pineapple and semolina mix and cook till the consistency is right.
Add khoya and sauté for two minutes.
Add the almonds and pistachios.
Transfer halwa onto the plate, garnish with dried fruits, grilled pineapple and edible flora.
Balsamic Macerated Strawberries, Whipped Vanilla Mascarpone, Chocolate cookie crumb
View this post on Instagram
10 to 12 Fresh ripe Strawberries
five tablespoons sugar
10 tablespoons balsamic vinegar
1 teaspoon vanilla extract
300 gm mascarpone cheese
2 tablespoons chocolate cookie crumb
A few mint leaves
Method:
In a bowl add the strawberries and sugar. Add balsamic vinegar and let it sit for two hours.
Whip the mascarpone with vanilla and little sugar to lightly sweeten it.
Place a big blob of mascarpone on a plate and cover it with a generous heap of marinated strawberries. Add some of the juice as well. Finish the dish with a scattering of the chocolate cookie crumb and fresh mint leaves.
Avocado Papdi Mousse
View this post on Instagram
What you need:
One ripe avocado
25 gm cream cheese
Six pieces papdi
25 gm cream
25 gm hung curd
Salt and pepper to taste
One tablespoon chopped dill
One tablespoon lemon juice
Two tablespoons tomato salsa
One tablespoon raw mango chunda*
One tablespoon ripe mangoes, diced
One tablespoon imli chutney
A few sprigs of coriander
microgreens
Method:
Blend the avocado, cream, cream cheese and hung curd with salt, pepper, lemon juice and dill.
Using a round mold, add the avocado paste at the bottom of a plate.
Place the papdi on top, and drizzle the imli chutney. Top it with tomato salsa, and raw mango chunda and diced mangoes.
Garnish with micro greens and Coriander Sprigs
*To make the raw mango chunda, finely chop raw mangoes without skin. Add salt, red chilli, and a hint of saunf (fennel) powder, and refrigerate.
Related: #TnlTasteOfTheWorld With Chef Tarun Sibal – Learn How To Make An Immunity-Building Kickstarter Soup