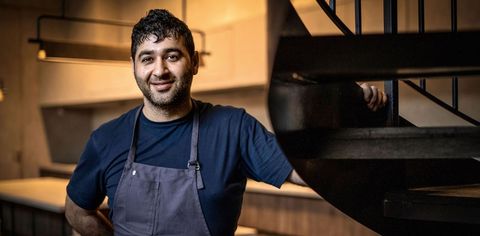 Kashmir-born chef Prateek Sadhu is the co-founder and executive chef of the five-year-old award-winning restaurant Masque in Mumbai. The 35-year-old visionary talks to us about stumbling upon elusive Indian ingredients, his love for yakhni, and prioritising his employees in the wake of the pandemic. By Adila Matra
You once said that 'rediscovering Indian ingredients' is one of the missions of Masque. Tell us about some of the Indian ingredients that chef Prateek Sadhu cannot live without.
While people around the country have a keen knowledge of hyper-regional produce, not a lot of it gets translated into the F&B space—that became the ethos at Masque since its inception. Each ingredient brings something new to the table, so it's hard to pinpoint [one], but sea buckthorn has been a mainstay on our menu from day one. Jalpai (Indian olive), which I learnt about recently, was a total revelation. On a personal note, two Indian ingredients I can't live without are millets and haakh (Kashmiri collard greens). You recently launched an organic spice brand called Paushtik. Tell us about it.
My wife, Aashina Kaul, and our business partner and close friend Zainab Burmawalla are at the forefront of Paushtik. Paushtik works closely with a community of women and local farmers to directly and sustainably source high-quality spices, with minimum environmental impact.
Which cuisine do you favour the most?
Any kind of rice dish, which was a staple for me growing up, ideally with a yakhni or meat curry. Indian [food] aside, I love any and all cuisines across Southeast Asia. They are so layered and hit all the right notes.
Which is your favourite dish on the Masque menu?
The morel miso rice with lamb neck yakhni that we introduced last year and have been serving in various iterations since. For one, it reminds me of home, but it also perfectly represents the restaurant's journey since 2016. We cook Ambemohar rice with morel miso that we developed at the Masque Lab, and serve it with the lamb or morel yakhni, accompanied by cured yolks, celeriac XO, and a fiery habanero chutney. They're not flavours you would expect, but the dish is a great example of a blend of experimentation, comfort, and soul. Destinations that you keep revisiting?
Two places that always call me back are New York City and Mexico. NYC, because I've spent a lot of time in the city studying and working, and I find that the food space there is constantly evolving; there are always new spaces pushing boundaries. Mexico, because it is such a vibrant country, bursting at the seams with culture, food, and hospitality. It reminds me of India in many ways.
What's in the pipeline for Masque? (according to chef Prateek Sadhu)
Primarily, [we're] focussing on our team and making sure they remain safe and taken care of mentally, physically, and financially. It's tough to plan [while] not knowing when restaurants will open again, but we do have a few exciting things coming up on Masque's delivery calendar soon!
Follow chef Prateek Sadhu on Instagram.
Editor's Note: Keeping the current situation of the pandemic in mind, T+L India recommends every reader to stay safe, and take all government-regulated precautions in case travel at this time is absolutely necessary. Please follow our stories on COVID-19 for all the latest travel guidelines.
Related: Exclusive: Chef Hari Nayak On Leading Priyanka Chopra's Restaurant SONA In NYC
Written By