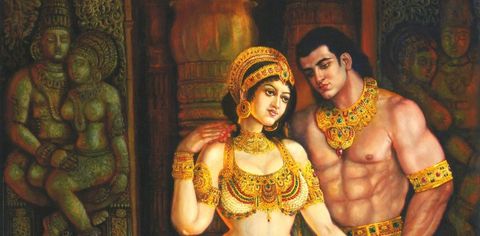 India's foremost artist Raja Ravi Varma's works are going places. The Digital NFT versions of two of his most famous works, The Coquette and Reclining Nair Lady will be auctioned online between February 17 and February 20. Artist Rukmini Varma, great great granddaughter of Raja Ravi Varma and Chairperson of Raja Ravi Varma Heritage Foundation, talks about her take on digital art, memories of the great artist, and her creative process. By Adila Matra
T+L India: If there is one thing that connects you to your great great grandfather (be it artistic style or a character quirk), what would you say that is?
Rukmini Varma: It would have to be his artistic style. I feel deeply connected to Ravi Varma through my art. Much of what I learnt and know is based on his style of work. Ravi Varma based his work, or his style of work, on classical masters. However, he was also inspired by the Victorian style of painting and hence often mixed these two styles to give life to his own unique and personalised style of art.
It's been much the same for me. I use a palette similar to what my great great grandfather did, I also use similar mixing and painting techniques. However, where Ravi Varma used his imagination to create the scene on his canvas, he often verified his imagination by incorporating things to suit real life situations and people.
My work differs there – I paint solely based on what I see in my mind's eye. Often there is no connection to reality in my paintings, not the characters, the figures, the architecture or the scene. It's purely based on what I imagine and visualise.
T+L India: Who are your favourite women artists? Rukmini Varma: Definitely my great great grand aunt Mangalabayi Tampuratty, who was also Raja Ravi Varma's younger sister. She was one of the first women artists who painted (as an assistant to her famous sibling) in the late 1800s. Something unthinkable at that time, and she was an extremely good artist, though sadly, less recognised. I also love the work of Amrita Sher-Gil.
T+L India: Your art exhibition caused a furore in 1981, for depicting 'mythological characters in a state of dishevel'. Do you think something like that would happen now or have we come a long way in accepting creative freedom?
Rukmini Varma: I think people were not ready for my work in 1981, though most of the work that I showed was extremely well accepted and was purchased by many art lovers and patrons. My show in 2016 was completely different. The entire collection was purchased outright by one person even before the show opened. Times are different now and people have had a lot more education and exposure to art. Patrons are very accepting and appreciate the originality of work and style more than ever. This is a great time to be an artist and I would like to encourage more youngsters to express themselves creatively and freely now.
T+L India: What is your creative process like? How do you keep the artist in you alive as you get older? Rukmini Varma: Like I said earlier, I paint what I imagine and visualise in my mind. I continue to paint to date, though not as much as I used to earlier. But I am building a new body of work which I hope will be ready to show sometime next year.
T+L India: What are your personal favourites among Raja Ravi Varma's paintings? Any lesser-known works that you would like to recommend to art lovers?
Rukmini Varma: There are several paintings by Ravi Varma that I had the good fortune of seeing as a child, but I have no idea where they might be today. I especially remember a work of his called 'Kadambari' – he painted two or three versions of this heroine (one which was auctioned recently) and another version that I saw when I was very young. I have no idea where that painting might be today, but it was beautiful.
Also, some of Ravi Varma's paintings of family members that remain with the family to date are stunning and unlike his other works. Some have appeared in books and documents, others have never been exposed.
Of his popular works I have two favourites – 'Ravana Carrying Off Sita and Opposed by Jatayu' or Jatayu Vadha as it is popularly called and 'Indrajith Presenting to his Father Ravana the Trophies of his Conquest of Swarga' or Victory of Indrajith as it is commonly known as. Both these works are in the collection of the Mysore Royal Family at Jaganmohan Palace. They are both brilliant in form and composition.
T+L India: What are your thoughts on digital art? Does it take away from artistry or is it the way forward? Rukmini Varma: Raja Ravi Varma Heritage Foundation took steps to digitise Ravi Varma's art several years ago when it became one of the first partner institutions to show the artist's work on Google Arts & Culture. Since then, the foundation has done a lot in the digital space in the form of lectures, film, podcasts, and webinars. Taking the artist's work onto another new digital platform is just another step forward.
When an artist like Ravi Varma has left behind such a rich legacy of art, it becomes the onus of foundations such as ours to do everything in our power to popularise his work and make it accessible to everyone. We've never wanted to lock Ravi Varma's art and preserve it behind closed doors. Instead, we have consciously made an effort to make his work, our research, and information available to anyone who may wish to use it.
Art is art – whether it is physical, digital, performance based, or otherwise. One must learn to respect that and support art and artists of all forms.
T+L India: Many of us have read a lot about Ravi Varma, heard many stories through novels and movies. What is the one anecdote or tale from his life that has inspired you or stayed with you?
Rukmini Varma: I have always been inspired by Ravi Varma's generosity and his concern for fellow human beings. I grew up listening to stories (from my grandmother Maharani Sethu Lakshmi Bayi who was his granddaughter) about the things he did and how generous he was. Even on his deathbed, when there were several well-wishers and family gathered around to bid adieu, he was concerned about their well-being and wanted to know if they had been looked after. For someone who achieved his level of fame, that is a remarkable trait and one that I most admire.
T+L India: If you had to pick one of your paintings to survive until the end of humanity, which one would that be and why? Rukmini Varma: Not one, but two paintings is what I would choose. I have painted my version of Ravi Varma's Jatayu Vadha in my own style and as I visualised the scene. That work is with a private collector but it remains very special to me.
The second is a massive work (10 feet X 6 feet) that I have done of a Hoysala King and his consort. Every detail in that work is imaginary — from the temple architecture you see to the figures' features and garments. I have a vivid memory of visualising that entire scene in a dream before I recreated it on canvas. That work belongs to Gallery G now and is on display there.
T+L India: Your art has travelled to nooks and corners of the world. How do you think travel influences an artist?
Rukmini Varma: Travel is essential in widening one's world view. Ravi Varma travelled extensively across India, though he never went abroad (as his religion did not permit it). Much of what he saw during his travels eventually translated into imagery on his canvas. Travel enriches your life experiences and provides inspiration, especially for artists. I think it is essential to travel to be creative.
T+L India: Which destinations inspire the artist in you?
Rukmini Varma: I travel a lot to Australia and Europe as members of my family live there. I am deeply inspired by the natural beauty of these places and often incorporate elements like trees, flowers, and birds that I see there into my paintings. It allows me to be creatively free.
Explore the first ever NFT drop of Raja Ravi Varma's paintings here. Auction begins at 12:00 IST on February 17.
Related: Iconic Street Artists Of Our Times
Written By