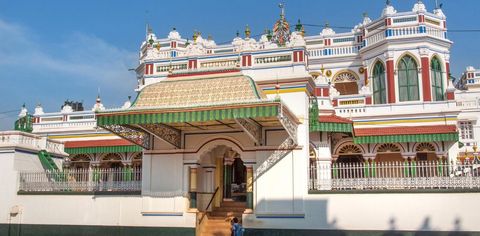 Going for a holiday just after you have lost your mother to COVID-19 may not be the most popular idea, but it was the only way for our contributor and her family to escape the agony they were living with. They headed to the Chettinad region of Tamil Nadu in search of peace and recuperation. By Anubhuti Krishna Long before it was fashionable for Indian women to travel, my mother was traversing the length and breadth of the country. From trudging alone in buses across states to travelling in delayed trains with three kids in tow, to getting a broken car fixed in the middle of a jungle, she had done it all. Even when her ageing body restricted her mobility, she continued to travel in ways only she could—in sleeper trains, tempo travellers, local buses, rickshaws, and what not. It was only fitting then that I chose to celebrate her life and grieve her death by travelling to a far-off land despite the pandemic that took her. I lost my mother to COVID-19 in October 2020. Her passing was not entirely unexpected but was as hard to come to terms with as anything can be. She had been the pivot around which our entire clan was centred, and now that she was gone, we all felt orphaned and abandoned. That we were infected with the novel coronavirus just weeks afterwards meant losing the little emotional strength left in us. As days turned into weeks and I saw grief engulfing the family, I knew I had to do something. And so, after our quarantine periods were seen off and the infection dealt with, I decided to take a road trip with my two daughters, husband, and father to the Chettinad region of Tamil Nadu from our home in Bengaluru. Road trips have never been my idea of fun. I hate the logistics involved, the inconveniences en route, and the long arduous hours of doing nothing in the car, but I was determined to make this one happen. It helped that the drive promised glimpses of quaint villages, lush coconut groves, tiny colourful towns, and visits to local tiffin centres. We set off on a beautiful December morning. As most journeys go, we took a while to get settled. The girls, who had been miserable without their grandmother and unhappy to travel so soon after her passing, started opening up; my father, who had not spoken in weeks, began to converse; and we, my husband and I, felt lighter just watching the family loosen up. Road trips, however inconvenient they may be, are great conversation stimulants, and this one was no different. A series of trucks carrying gigantic windmill wings became the fuel that ignited long discussions on engineering marvels, weather conditions, and recollections of our journeys that had led to such discoveries. Tiny towns with colourful houses, busy streets and smiling faces, our favourite music playing on the car stereo, and a steady supply of banana chips, pound cake, and murukku created the perfect setting. We were normal—and dare I say, happy—after what felt like ages. My mother grew up in a family of civil servants and spent most of her childhood in colonial bungalows. Stories of her youth often featured homes with long corridors, wide verandahs, manicured lawns, and an army of butlers. Perhaps that is why I had chosen to stay at The Bangala in Karaikudi, a place I know she would have loved. We loved it too. The girls adored the verandahs adorned with family portraits and cane sofas, the husband was thrilled to find cosy reading nooks and an exceptionally well-stocked library, and my father, a man of few words, seemed at home. To me, meanwhile, every little detail was a reminder of my mother. Brown paper sheets lining rosewood cupboards, hand-knitted blankets nestled inside bedroom drawers, copper water bottles sitting over hand-painted coasters, handstitched half curtains tied to iron grills—these were all mundane yet beautiful things that mother had taught me to appreciate early in life. Had she been around, we would have marvelled at every tiny detail together. The lack of a person who shared my interests made her absence even bigger. Anywhere else, this void would have made me miserable, but at The Bangala, I found myself exceptionally calm and comfortable. If The Bangala was akin to my mum's home of the 1970s, Karaikudi was a town straight out of a storybook. With busy bazaars and narrow, dusty lanes lined with exquisite mansions and dotted with small, old-fashioned shops, the place was just how I had imagined it—stuck in a time that no longer existed anywhere else. We split our days between visiting smaller towns around Karaikudi to witness the grandeur of Chettiar mansions, temples and tanks, and lazing in different nooks of The Bangala, reading, chatting, eating, or just watching the rain fall on its lush tropical gardens. Evenings were spent exploring the narrow streets of Karaikudi, scouring antique stores, picking up random stuff like baskets, bags, chillies, and garlic, sampling vanilla drops, macarons, murukkus, and thattais at bakeries, and trying to communicate with locals who knew neither English nor Hindi. In just two days, we seemed to have found a rhythm. Father, meanwhile, had finally picked up his camera to take pictures of fellow guests at the mansion, flowers in the garden, children on the street, and sometimes the food he was eating. Having spent a lifetime as a banker, moving from city to city, my father had been a man of moderate means but big dreams. He had taken mother—and us—to remote corners of the country, exposing us to new cultures, customs, places, and people. However, the traveller in him had died a quiet death with the responsibility of my mother's treatment for her chronic kidney condition. In the past few years, I had seen him live only for her and retreat further into himself after her passing. Seeing him open up gave me more joy than anything had in years. We didn't know when a week of lounging, strolling, exploring, eating, and just being ourselves passed. Our days effortlessly transitioned into evenings and evenings into nights. Sleep, which had evaded me for weeks, became my best friend, and anxiety, that had lived with me for months, retreated, even if for these few days. My girls, who would cry to bed every night at home, slept long restful hours in their grandfather's embrace, and my father, who hadn't smiled in months, was talking, laughing, and eating. The husband, meanwhile, had forgotten the worries of work and wife and was engrossed in reading. The only thing missing from this perfect family setting was my mother. But we knew she was in a better place, and that, for now, was enough.
GETTING THERE
Karaikudi is the main town in the Chettinad region. Located deep inside Tamil Nadu, the region is connected to the rest of the country by Madurai Airport and Tiruchirappalli International Airport. Regular trains connect Karaikudi to all the major cities of the state. You can also make it a road trip from
Bengaluru or Chennai.
STAY
The first and finest heritage stay in Chettinad, The Bangala is set in a property that has been with the same family for 100 years. Located in Karaikudi, it offers the best of traditional Chettiar hospitality with modern amenities and scrumptious food. Tariff starts at INR 5,000
Visalam, located in the town of Kanadugathan (also spelt Kanadukathan), is set in a century-old Chettiyar mansion that has preserved its original architecture and character. It offers the quintessential Chettiyar lifestyle and access to many small villages. Tariff starts at INR 6,000
Related: Discover Some Old-World Charm In The Mansions Of Chettinad
Written By