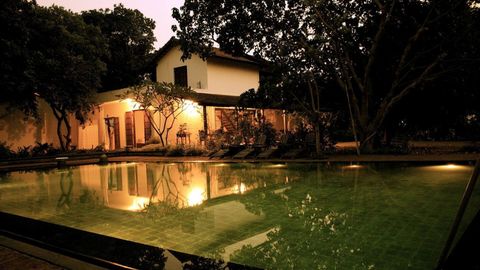 Wouldn't it be nice to conclude 2020 with a memorable vacation? Something spectacular to set the tone for 2021? And what better way to do that than heading out for the perfect year-end getaway with your family and friends. Check out these Airbnb homes across India to make your year-end an extraordinary one! By Team T+L
December is one of the best months to travel. Whether you're a beach lover or a snow seeker, this is the only time of the year when no matter where you are, the air is filled with good vibes and festive cheer. Kerala is home to tropical beaches, shimmering backwaters and an alluring tropical climate, making God's Own Country perfect for a year-end holiday. When in Kerala, be one with the locals. This includes indulging in the native cuisine, exploring the diversely scenic landscape, experiencing local artworks, and—best of all—living on a traditional houseboat on the infamous backwaters. Wondering where you can find a houseboat on a budget? Check out Airbnb's unique Dona House Boats. Goa is already a preferred destination at this time of the year. And the Striking Penthouse doubles as the cherry on top! When here, don't expect Goa's usual fanfare, apart from the calming Nerul river, surrounding paddy fields, and open skies. The minimalist, clean, and modern design of the retreat is a treat for the eyes. The best part? A large pool that is all yours! Fancy a swim under the stars, anyone? A treehouse is a great way to spend the holiday season, especially if you'd like to be away from the crowds. This log house is a beautiful rustic escape equipped with all the facilities one needs to make it an extremely comfortable stay. With cosy bunk beds, a lovely little patio, and a kitchenette, this Airbnb home offers the perfect glamping experience. And what better way to bring in the New Year than under starry skies? This 200-year-old house is a piece of heaven in Puducherry replete with flawless beaches, pink skies, and gorgeous promenades. With traditional architecture made using wooden beams, the large open spaces, bright yellow walls, antique beds and desks of the house are a sight to behold. Ring in the New Year at this blissful home for a truly memorable stay. Situated in the pink city, Jaipur, this beautiful home with a pink door features bright blue walls and a cheerful mix of colours that serves as a friendly reminder of how flamboyant the city is. With many things on offer for the entire family, this home has a lovely lawn and a beautiful rooftop where you can light up a bonfire, and gather your loved ones to usher in 2021. Dwelled in the upper locale of Madikeri in Coorg, this homestay meets all your expectations for a great holiday. While in Coorg, you can enjoy a ton of activities like trekking or mountain biking in the forests; rock climbing and rappelling; visiting an ancient fort and monastery, or simply relaxing at this peaceful abode. Just a few hours from Mumbai in Alibaug, head to the gorgeous pool at Kapadia Bungalow to spend New Year's Eve. Upon entering, the positivity is apparent, with nature interwoven into every element of the home. The enormous courtyards full of trees; their lovely, lush lawn; large rooms; and vintage designs are sure to get you into the spirit of the season.
View this post on Instagram
Spend the holiday season in perfect harmony with nature. Built with zero-waste building materials and renewable resources, and contributions from local and international artists, this home is sustainable in its very essence. While here, you can also learn about permaculture, composting, and sustainable architecture, all while indulging in the best of South Indian fare. And as the ball drops, give yourself the gift of staying in and watching the stars light up the sky!
Related: You Can Now Spend A Night At Shah Rukh & Gauri Khan's Delhi Home, Thanks To Airbnb!
Written By