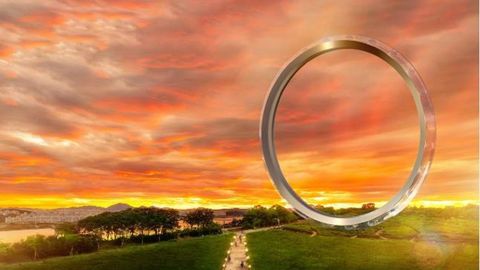 On March 8, 2023, the Seoul Metropolitan Government announced plans to construct the world's tallest spokeless Ferris wheel.
Temporarily named 'Seoul Ring Zero,' the giant wheel will be set close to the World Cup Stadium, along river Han, in northwestern Seoul.
It will not just be the tallest of its kind but the second-tallest Ferris wheel in the world. The tallest is the Ain Dubai (250 metres), which is located on Bluewaters Island, United Arab Emirates.
More about the tallest spokeless Ferris wheel
The structure of Seoul Ring Zero
As per Seoul City, the wheel (180 metres) will have no hubs. To be built on an eco-friendly grassland (previously a landfill), atop a hill in Haneul Park, it is all set to beat the current tallest hubless Ferris wheel (145 metres). It was built in 2017 in Shandong province, China.
One of the key features of the Seoul Ferris wheel — it will be designed in a way to generate solar power.
Seoul Ring Zero is to be equipped with 36 carriages, each capable of holding 25 passengers. This means it can accommodate around 12,000 people every day. Each carriage will be in the shape of a capsule with glass walls featuring tourism-related information in many languages. This will be made possible using technology based on augmented reality. Visitors can get a panoramic view from 276 metres above sea level while riding it.
Additionally, a 'dine in the sky' facility is on the cards too. Seoul City also revealed plans of creating an underground tunnel, a gondola lift and an elevator, to improve the reach. These will connect the park to the wheel.
Other details about the Ferris wheel
During a meeting with diplomats on March 3, the mayor of Seoul, Oh Se-hoon, first shared this plan.
Work on the spokeless Ferris wheel will begin in June 2025, and it is expected to be completed by December 2027. Quoting government sources, a report by The Korea Herald stated that the cost of making the Ferris wheel will be around USD 303.3 million (INR 2,488.7 Crores approx).
The director general of the Future Urban Spaces Planning Bureau of the Seoul Metropolitan Government, Hon Sun-ki, said at a briefing, "(Seoul) has long reviewed the feasibility of Ferris wheels given the millions of tourist visits expected and jobs created, but the fundraising challenges and safety regulations have left plans in disarray."
He added, "Now is the time to wipe out concerns and build the Ferris wheel under a feasible plan to reveal the true value of the Han River and open the way for the era when some 30 million tourists visit Seoul."
(Main and Featured Image Credit: Seoul Metropolitan Government via The Korea Herald )
Related: A Huge Air-Conditioned Bike Path Is Coming To Dubai
Written By