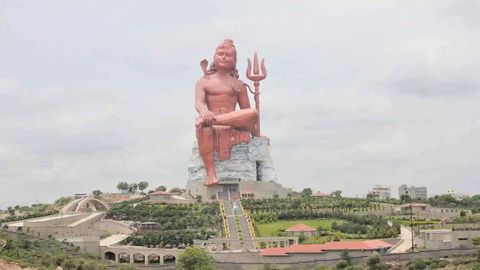 After the Statues of Unity and Equality, both immensely tall structures, India is home to yet another record-making statue. The Shiva statue which was unveiled in Rajasthan on October 29, 2022, is claimed to be the world's tallest Shiva figurine. Here are the details. By Anushka Goel
A new Shiva statue was unveiled in Rajasthan's Nathdwara on October 29. The structure, also called the Statue of Belief (Vishwas Swaroopam), is said to be the world's tallest Shiva statue. Located about 45 kilometres from Udaipur, it will be visible to the naked eye from 20 kilometres away, reports state.
The world's tallest Shiva statue inaugurated in Rajasthan
The majestic statue of Lord Shiva in Nathdwara, also known as the 'Statue of Belief', will mesmerise you every time you see it. 📸: Vishnu Gaur #shiva #statueofbelief #mesmerise #nathdwara #explorerajasthan #travelrajasthan #padharomharedes #rajasthantourism #rajasthan pic.twitter.com/y1gqzDrxWB

— Rajasthan Tourism (@my_rajasthan) October 4, 2022
The statue was opened to the public after it was inaugurated by Rajasthan Chief Minister Ashok Gehlot, assembly speaker CP Joshi, and others. The figure has been built by Tat Padam Sansthan, and a series of religious, spiritual and cultural events will be held at the location until November 6, to celebrate the structure. This is not all – spiritual guide Morari Bapu is reciting the Ram Katha here throughout the nine days, to attract more devotees.
The massive statue consists of amenities such as lifts and stairs to allow ease of movement for visitors. The idol is built on a hilltop over an area of 51 bighas. It has used over 3,000 tonnes of steel and iron, and 2.5 lakh cubic tonnes of concrete and sand, reports media. Over 300 artisans have worked hard on the statue for more than 10 years to build this massive figurine. The statue is in a meditative posture, exuding a sense of calm. That is not all – the statue is expected to last 250 years, withstanding a wind speed of up to 250 kilometres per hour, reports add.
The statue is expected to bring an influx of religious tourism into the state. Rajasthan is already known for its hill forts and various palaces, and now, visitors will be able to get a whole new experience while they go on their usual journey in the state.
Hero and Featured Image: Courtesy of Rahul Jha/@JhaRahul_Bihar/Twitter
Related: Maha Shivratri 2022: How Many Of These Iconic Shiva Temples In India Have You Visited?
Written By