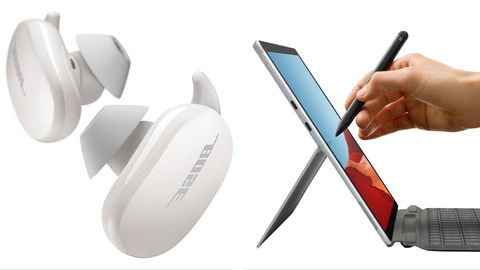 Working from home can be a terribly distracting exercise. As hotels and resorts start to offer workation packages, we've listed some gadgets and apps that will help you set up the ideal remote workstation. By Vaibhav Sharma
1. LAPTOP
Microsoft Surface Pro X 2020 This is the ultimate laptop for the road warrior, and it doubles up as a proper tablet for when you're done with work. A 7.3mm profile and a weight of 774g make it astonishingly portable. Inside, the new Microsoft-Qualcomm SQ1 processor keeps things moving, and with 8GB RAM and 128GB storage, it's just as capable as devices that are far less luggable. From INR 98,999.
2. WIRELESS EARBUDS
Bose QuietComfort Earbuds Possibly the best noise-cancelling earbuds out there, Bose's new QuietComfort help you focus on that Excel sheet even with a truckload of distractions around. Adjustable ANC helps you block out as much of the world as you like, the case can be charged on any Qi-compatible wireless charging mat, and there's IPX4 water resistance for that stroll outdoors. INR 26,900.
3. WI FI RANGE EXTENDER
TP-Link RE450 The balcony has great views, but the Wi-Fi is stronger inside. What do you do? Try this range extender. Dual-band networks let your newest devices gulp down data faster, while the external antennas enable better range. The addition of a Gigabit Ethernet port means you can hook up devices directly as well, and there's an intelligent signal indicator for optimum placement. INR 6,999.
4. SMART SPEAKER
Google Nest Audio Strike up a conversation with Google Assistant. Ask it to play your favourite song. Place calls to your colleagues. Check the weather before you head out. The Nest goes a long way in making your hotel room feel like home. It's also a great home automation gadget, letting you control a host of smart devices with voice commands. INR 6,999.
5. MULTIPORT HUB
Belkin USB-C Multimedia Hub Got yourself a sleek new laptop but missing all the tech comforts of the office? This USB-C
hub brings in plenty of expandability, with enough options for peripherals. With support for 60W charging, a Gigabit Ethernet port, an SD card reader, 4K HDMI output, and a selection of USB-A and USB-C hubs, it's just what you need to get work done. INR 9,999.
APPS TO HELP YOU WORK
Toggl is a time-tracking tool perfect for freelancers who would like to observe how much time they're spending on each project. But we can also see it being handy for anyone who finds it hard to resist the many temptations of a workstation away from the office. Backblaze, meanwhile, is a speedy backup service that keeps all your data safe in the cloud—including any external drives connected to your laptop.
Related: These New Gadgets Will Make Your Festive Month Even More Exciting. Find Out How!
Written By