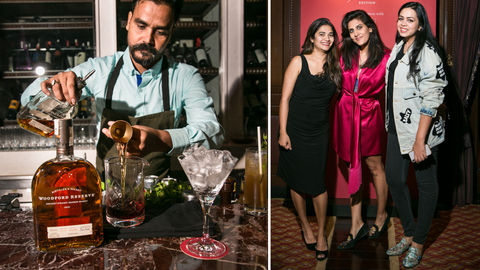 Woodford Reserve and Baccarat's latest collaboration is bottled elegance. By Team T+L When two pioneers in their respective fields come together to produce a specimen of art and craftsmanship, it needs a celebration that's worthy. A complex, full-bodied Kentucky bourbon from Woodford Reserve finds a home in an equally full-bodied crystal decanter from Baccarat, resulting in a creation that is dynamic yet elegant. In order to commemorate this, Woodford Reserve partnered with acclaimed host and personality Ambika Anand to launch and unveil the bottle, and introduce its finer details
to the Indian audience. Philip Eckles, Chief Executive Officer of Delhi Duty-Free, said, "We are honoured to partner with Brown-Forman in unveiling an IMENA first and Indian subcontinent travel retail exclusive from Woodford Reserve at Delhi Duty-Free. Woodford Reserve Baccarat Edition is a welcome introduction for our customers who are seeking exclusive luxury expressions of their favourite brands, especially in the super premium bourbon category." Physically, the bottle is enough to draw people in. The heritage of the iconic French house comes through immediately in a distinct shape that still stays true to Woodford Reserve's silhouette. Once inside, the liquid is more than enough to keep people in. Commenting on the work put in, Daniela Riccardi, Global CEO, Baccarat, said "We are proud of the work done together and of the beautiful decanter that our artisans have crafted, which is inspired by the excellence and savoir-faire that both our maisons cherish." Held at Le Cirque in The Leela Palace, New Delhi, on September 20, guests were guided through the premium edition's crisp American and French oak notes, complex fruity character, subtle elements of spice, and so much more that you'd be permitted to guess any other flavour—of which there are over 200. The elixir was paired with a four-course menu curated by Chef Matteo Fontana in order to let its various layers come through: think salmon fillets, cured with beetroot; Chianti wine braised Australian lamb; sous-vide pork belly; and a dark chocolate fondant, served with Woodford Reserve ice-cream. To match the strong personality of the bottle and the cognac-finished Kentucky bourbon, Delhi's very own personalities from the realms of fashion, business, and lifestyle attended the launch. Some of them included Anand Bhushan, Suneet Varma, Rahul Arora, Mandira Lamba, Rajiv Makhni, Ruchitra Makhni, Kanika Goyal, Vidushi Mehra, Avantika Bakshi, Anuj and Anchal Talwar, and Pavleen Gujral. Speaking about the unveiling of the bottle and the luxe collaboration, Siddharth Wadia, General Manager, IMENA, Brown-Forman, said, "We are thrilled to introduce the Woodford Reserve Baccarat Edition, a new luxury expression of our super-premium bourbon, to the IMENA Region starting with India, the first being in Delhi Duty-Free."
Related: New Buzz: Coca-Cola To Launch its First-Ever Alcoholic Beverage
Written By