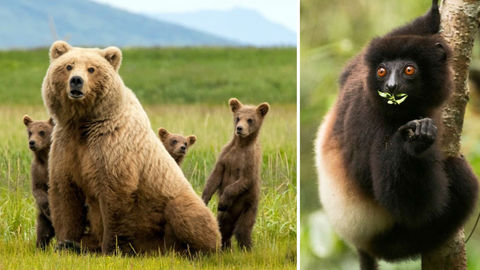 Animal lovers, you can now go on virtual nature escapades with Natural Habitat Adventure, a US-based ecotourism company's wildlife webinars. Covering nature photography, Madagascar's unique biodiversity, and even the annual monarch butterfly migration — there is something for everyone. By Manya Saini
View this post on Instagram
If you are a nature-starved traveller or just someone who would like to experience the great outdoors to beat the lockdown blues, Natural Habitat Adventure's Daily Dose of Nature series is the perfect recipe to enjoy wildlife from the safety of your living room.
Over 150 naturalist guides of the tour company have come together in this one-of-a-kind virtual series to bring educational yet entertaining programming with field reports, animal insights, conservation measures and much more from across the world. The destinations covered span continents and oceans, each taking you up close to animal habitats.
View this post on Instagram
There is something for everyone here; you can explore the wild panda habitats of China, the Cetaceans of Alaska, or even dive closer home with Indian tiger habitats. The extensive repository of the conservationist company is sure to keep you entertained for days!
But that's not all! You can watch naturalists Annie Van Dinther and Sophie Mazowita give an insight into the historical background of the Yellowstone National Park with an emphasis on women involved in the conservation efforts undertaken there through the years. You can even find inspiration in the story of the first female naturalist who worked there and wrote a field guide on the flora of the park in the 1930s – a story that remains relevant to date. While browsing through the company's repository of videos, leave no stone unturned to make your next hike all the more adventurous with their lessons on nature photography for amateur photographers. Make the most of your time in quarantine to hone your skills with new tips, tricks and tools before returning to capture your post-corona escapes with your camera.
View this post on Instagram
However, don't fret if you can't tune in live for the webinar. The episodes are available to stream later as well. The sessions are available to stream for free on the company's website and YouTube channel. A new episode is uploaded every day at 12:30 am IST. So give your Netflix a break, and unwind with experts as they take you around the world's most beautiful natural wonders and enchanting wildlife.
Related: Tune In To These Live Cams And Let Wildlife Be Your Guest During Quarantine
Written By