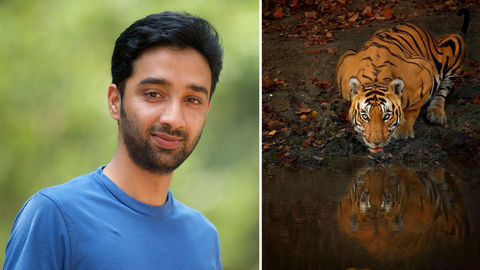 This International Tiger Day, we get in touch with wildlife photographer, Mithun H. Having shot to fame with his iconic panther and leopard couple photograph, titled The Eternal Couple, this big cat specialist has long been involved with the animals. The 31-year-old comes backed with a 12-year-long experience of photographing the majestic cats, and even offers personalised private safaris for those interested. Today, he tells us more about protecting our feline friends.
By Bayar Jain
1. Why did you choose big cats as your muse for photographs?
View this post on Instagram
Although I love every form of wildlife, including birds, I've always been fascinated by big cats. Leopards, in particular, were my first love. The agility and the grace of this feline on the trees fascinates me to no end. I can spend hours watching them lazing on a tree with their little ones. In fact, I have named and followed their individual journeys in Kabini for the last 12 years.
2. A lot of your work shows animals in human-like candid moments. How do you capture the same?
View this post on Instagram
It is all about waiting for the right moment and being ready for it. Studying animal behaviour over the years has helped my photography as I can now anticipate what the animal might do next.
3. As a wildlife photographer, which are some of your favourite forests and natural parks to shoot in India?
View this post on Instagram
Kabini is definitely home! Then Bandipur [National Park], Dandeli, and BR Hills [Biligirirangana Hills] in the south. Apart from that, Pench [National Park], and Kanha [Tiger Reserve] in central India; [Jim] Corbett in the North; and Kaziranga [National Park] in the east are other places I love to explore.
4. Wildlife photography requires immense patience. How do you cultivate the same?
View this post on Instagram
Patience is a virtue, without which wildlife photography is definitely not possible. If you have passion and dedication towards the art-form, it is not difficult to develop it. The more time you spend in the wild, the more you adopt its pace.
5. How can one be more mindful of wildlife when travelling, especially in the post-COVID-19 world?
View this post on Instagram
Post-COVID-19 protocols are going to be the 'new normal' now. We will need time to adjust to the fact that travel is no longer hassle-free, and we will have to take these limitations in our stride. Masks, sanitisers, and distancing will be the new way of life. Choose places which are less explored.
6. Did the lockdown hinder your art form in any way?
View this post on Instagram
While it hindered my travels to be in the wild, it gave me time to complete my pending image processing and data management; a task that would otherwise have been impossible in my busy schedule.
7. What is your take on wildlife tourism, and how do you think it will change after COVID-19?
View this post on Instagram
In recent times, wildlife tourism has shown huge potential. In COVID times where distancing is a mandate, visiting places rich in wildlife and being one with nature to breathe fresh air will be the new go-to choice. While there will be mandates and restrictions in terms of wearing masks, temperature checks, the number of people in a vehicle, etc., the demand will surely increase.
8. If you had to come up with a slogan for International Tiger Day this year, what would it be?
View this post on Instagram
Be a true gentleman in protecting the gentlemen of our jungles.
9. India has undertaken many initiatives for saving tiger populations. This International Tiger Day, are there any additional measures you wish to introduce as well?
View this post on Instagram
As you rightly said, India has grown by leaps and bounds in terms of tiger conservation, especially in the last decade. The ever-increasing tiger numbers are proof of that. Right now, the problem is not increasing the population, but it is increasing the number of tiger habitats. Most places have achieved the maximum tiger-carrying capacity, but these animals are territorial and need their own space. The way forward is protecting their corridors where they can move freely, increasing their habitats, and bringing awareness to local communities about the importance of these majestic cats in the ecosystem.
Related: This Touching Photo Instills Hope About India's Rising Tiger Population
Written By