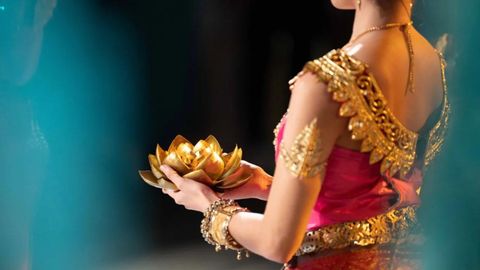 Loy Krathong is an occasion to float away all your problems — but don't float yourselves away just yet, here's where to celebrate this special day in Bangkok this 2023.
Certainly, one of the most picturesque events in the Thai calendar, Loy Krathong is celebrated annually when the full moon appears. It's a chance to pay respects to the Goddess of the River and to apologise for polluting the waters. People use this occasion to float away their problems along with their krathong, to let go and start anew.
Let's see where to bring some company and celebrate Loy Krathong in Bangkok.
Where to celebrate Loy Krathong 2023 in Bangkok
Anantara Riverside Bangkok Resort It's a full-on culinary celebration at all of the Anantara Riverside Bangkok Resort's venues. Riverside Terrace is holding a big international buffet with flavours from all over the world. Trader Vic's is combining the Thai tradition with a sense of Polynesia as they present a special four-course menu and Thai-inspired signature cocktails. Longtail by the River is having free-flow drinks with street food selections. Lastly, Manorah Cruise is available to be booked for an exclusive seven-course dinner as you float along the Chao Phraya River.
You can find more information at Anantara Riverside Bangkok Resort.
Siri Sala The gorgeous Thai private villa is collaborating with The Little Pea from The Commons Thonglor for an event that's perfect for the whole family. Embark on a cruise along the Chao Phraya River, participate in workshops that will teach you how to make your own Krathong from sustainable materials, and watch interactive performances that will make your little ones' day. You'll get the chance to loy your krathongs after a grand Thai buffet.
You can find more information at Siri Sala.
Mandarin Oriental, Bangkok Mandarin Oriental, Bangkok is offering a special dining experience that will elevate your usual Loy Krathong event to a whole new level. Riverside Terrace is hosting a buffet with over 100 selections of Thai, Asian, and Western dishes with live performances. Lord Jim's has curated a special seafood-focused dinner. Le Normandie by Alain Roux features a special set dinner with clear views of the fireworks display. Lastly, every dining guest is entitled to a complimentary Krathong.
You can find more information at Mandarin Oriental, Bangkok.
Capella Bangkok You'll feel your problems float away at Capella Bangkok, even before your krathong is loy'd. Chef de Cuisine Kannika Jitsangworn will be showcasing various Thai favourites and international delights through a grand feast, served sharing-style from live stations. After all, who can say no to some chu chee curry poured over pan-fried salmon? Make sure you arrive early for a special Loy Krathong-themed high tea that you can enjoy in the resort's beautiful garden.
You can find more information at Capella Bangkok.
Sirimahannop Dine on the gorgeous Sirimahannop ship as they offer a limited edition Loy Krathong celebration dinner including delectable seafood selections, live stations perfect for your Instagram stories, and a variety of international dishes. Thai-style Australian wagyu beef brisket, spaghetti pad khee mao talay, baked whole Atlantic halibut, and more, all awaiting to be enjoyed by you and your company. Each booking is entitled to a complimentary Krathong.
You can find more information at Sirimahannop.
The Sukhothai Bangkok Chef Rosarin Sriprathum is celebrating the occasion with an exclusive set menu perfect for a family gathering. Wok-fried morning glory, grilled river prawns, green curry — it's the taste of Thailand, cooked to perfection and spiced to heaven at Celadon. The meal also includes a complimentary krathong for you to loy.
You can find more information at The Sukhothai Bangkok.
Shangri-La Bangkok People regularly visit Shangri-La during Loy Krathong for a clear view of the fireworks, and you can do so as you enjoy the various culinary delights this riverside retreat provides. From international buffets to gorgeous Thai dishes, treat yourselves as you watch traditional Thai dances over the main stage. The krathongs offered are also eco-friendly.
You can find more information at Shangri-La Bangkok.
The Peninsula Bangkok Guests of The Peninsula Bangkok will be treated to a plethora of experiences and special deals they can choose from. Dine like royalty at the gala dinner buffets at River Cafe & Terrace and The Peninsula Lawn, or enjoy gorgeous set courses at Thiptara and The Lobby Terrace. Those who book a room package will be entitled to a variety of complimentary items, from wellness activities to international breakfasts.
You can find more information at The Peninsula Bangkok.
The Siam Tea Room, Asiatique The Riverfront There's nothing more Loy Krathong-y than a succulent selection of seafood and quintessential Thai dishes. Surround yourself with the Ayutthaya-inspired interiors and classic Thai music set in a traditional two-storey building, as you savour chargrilled river prawns, boat noodles, fish cakes wrapped in banana leaves, and many more treats to please your taste buds.
You can find more information at The Siam Tea Room, Asiatique The Riverfront.
Sala Rattanakosin Bangkok It doesn't get much more romantic than dining by the riverside with Wat Pho in the background. They're offering a special curated menu as you wine and dine, watching the boats go by. You can also go up to their rooftop bar for another type of vibe. The live jazz will certainly bring something new to your Loy Krathong experience.
You can find more information at Sala Rattanakosin Bangkok.
Royal Orchid Sheraton Hotel & Towers If food is a major point for you, Royal Orchid Sheraton should be on your radar. Thara Thong is serving a seven-course Thai dinner accompanied by a cultural live performance. Giorgio's is having an Italian buffet with a clear view of the river. Feast is offering a BBQ seafood buffet right by Chao Phraya river. Each couple will receive a complimentary krathong.
You can find more information at Royal Orchid Sheraton Hotel & Towers.
Shop the best travel experiences here
This story first appeared here.
(Hero image credit: Mandarin Oriental, Bangkok)
Related: 7 Best Neighbourhoods In Bangkok For Solo Travellers
Written By