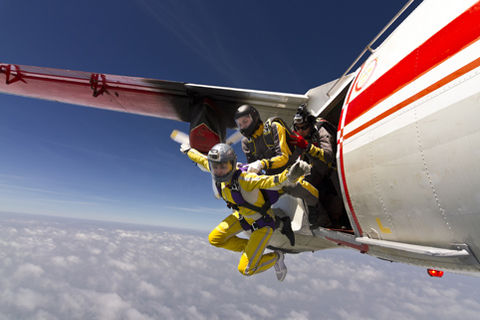 For most of us, the start to a new year includes a quick look at our stars. Even if we don't believe in astrology, it is sometimes just for fun to see when Saturn Retrograde will be over or what will your love life this year look like, or when you're likely to be promoted. But, what does your travel horoscope for 2016 predict? To answer this as authentically as we could, we tapped celebrity astrologer Tania Sharma for her advice on how to travel according to your sun sign. Read on to see where your sign will take you in 2016. Aries (March 21-April 19)
You are the first to venture into new lands and experiences. You have a need to conquer fear and show courage.

The trip: As an Aries, you're likely to go to places that are unexplored, promise adventure and thrills—it could be jumping out of an airplane for the first time, or going on a nature expedition and learning how to survive in the wilderness for a night. It could also be going on a gourmet journey through South East Asia. Basially, Aries is a hot fire sign, so there needs to be some sort of movement in your trip. But, be sure to stay away from things that are reckless—too dangerous and stupid to try.

T+L suggests: Sky diving in Rio de Janeiro | Bungy jumping in Macau | Hiking Mount Bromo in Indonesia | Skiing in Switzerland

[gallery type="rectangular" size="medium" link="file" ids="7027,7030,7029,7028" orderby="rand"]

Taurus (April 20-May 20)
You are earthy by nature, affectionate but stubborn. Oh you love the good life!

The trip: If any sign loves a resort spa, it's Taurus. You seek that soothing, relaxation time—lying in a hammock on the beach with a piña colada, enjoying the sounds of waves and the rustle of palm trees, isn't that just heaven! Get a massage, or take a boat out to fish, catch one and enjoy a picnic grill on the beach. Try a plantation stay or a vacation on an organic farm where you can learn how to grow things in the day and spend your evenings with a long iced drink and someone playing the saxophone.

T+L suggests: A wellness programme at an Ayurvedic spa in India | Staying at an eco-retreat in Thailand | Learning about sustainability on an organic farm in Coorg

[gallery type="rectangular" size="medium" link="file" ids="7035,7034,7033" orderby="rand"]

Gemini (May 21-June 20)
With your childlike curiosity guiding you, you are ever eager to try and taste new things all the time. And don't you love the feeling of discovery and movement. You're also a big-time storyteller.

The trip: You'd love things like the Ringstrasse hop-on-hop-off tram that takes you through historic Vienna, or a Baltic cruise that stops at a different port every day. You need to experience something you've never seen before—basically, you want something that stimulates your mind and has plenty of variety. Above all, you want to get all the experience needed to keep life exciting.

T+L suggests: Tour The old quarters of Vienna | Sail through South Pacific islands | Experience the history of Istanbul

[gallery type="rectangular" link="file" size="medium" ids="7044,7045" orderby="rand"]

Cancer (June 21-July 22)
Emotional, instinctive, sensitive and gentle, you cling on moments with your crab claws. You tend to be a home-body, or at least, spend your spare time with close friends.

The trip: It's a staycation! So, take the week off of work and book yourself into a nice retreat in town or a suite at that new hotel. Another great option is a family or 'just close friends' vacation. A visit to your hometown or family-owned farm with your parents, siblings, grandparents, aunts, uncles, and cousins would be perfect, too. However, some of you Cancers may have an Aries moon; you have to learn how to come out of your shell. If you travel to somewhere new, it's got to resonate with the heart, like a trip to see the Northern lights or places where ancient civilisations took root.

T+L suggests: Visit a UNESCO World Heritage Site in India | The giant forests of Varmland | See the Northern Lights in Sweden

[gallery type="rectangular" link="file" size="medium" ids="7047,7048,7049,7051" orderby="rand"]

Leo (May 21-June 20)
You are strong-willed and dominating but reliable and grounded. You love to live in a world of nobility, grandeur and glamour. And, celebrating large is your style.

The trip: A grand heritage luxury hotel suite with sweeping views and champagne breakfasts served out in the balcony is the sort of vacation a Leo loves. Spare no expense and celebrate. Discovering lands and civilisations of honour, nobility and legend will also be very attractive. Alternatively, you can pick a vacation where you just simply play—rent a jet ski or, drive a Ferrari down Costa Brava or spend a week learning fencing in London.

T+L suggests: Stay in a luxurious Croatian palace | Take the spectacular drive along Costa Brava in Catalunya, Spain

[gallery type="rectangular" link="file" size="medium" ids="7069,7071,7072,7075" orderby="rand"]

Virgo (August 23 – September 22)
You want to be more conservative and reel in excesses after all you have a strong sense of self, and have the gab.

The trip: For you, vacation time is also a time to reboot, re-energise, learn and enrich yourself. Virgo wants to get back to simplicity and introspection. Take a class on how to make stained glass in Venice, or try your hand at pottery or ceramics in Delft. Something like that could be incredibly enriching. A yoga retreat is also a beautiful trip for you. It's also important that you don't get too critical of yourself—everybody needs a vacation, Virgo! But combining off-time with practicality, functionally, and self-improvement is important.

T+L suggests: Try a yoga retreat in Bali | Take a cooking class on the Amalfi coast | Sleep in a houseboat in Kerala

[gallery type="rectangular" link="file" size="medium" ids="7086,7087,7088,7089,7090" orderby="rand"]

Libra (September 23 – October 22)
You represent the sign of relationships and balance. Ruled by Venus, you have refined taste and yearn for romance.

The trip: Your dream vacation is one that you can take with your partner. Ideally, it would be somewhere both of you want to go. You love conversations and art museums, and things that are lovely, and evoke a deep sigh, like going on a garden tour. Think about driving through vineyards in Portugal, staying at a chateau with views over a lavender field in Provence, or looking at contemporary art in Milan. In 2016, vacations that have a component of learning more about what you're passionate about—art, food and photography will be great for you.

T+L suggests: Wine tasting in Yarra valley | Walking through a lavender field in France | Enjoying the garden in San Diego's Balboa Park

[gallery type="rectangular" link="file" size="medium" ids="7102,7105,7104,7098" orderby="rand"]

Scorpio (October 23 – November 21)
This is the most intense sign. Controlling but passionate you like to discover a raw truth and meaning in life. And 2016 is definitely a more free and energetic year for you.

The trip: Starting December 2015, Saturn finally stepped aside from your sign. Making you feel a sort of release, your spirit will be higher and your level of energy, too. Travels this year will be more for professional reasons, although your ideal trip is a very intense and romantic one—the sort where you stay in a tropical jungle retreat and make love with your partner for five days straight. That's what we mean by 'intensity'. While enjoying this romantic time, you're not afraid of uncovering truths. Scorpio is the archetype of the archeologist and detective. So, a trip where you could discover ancient ruins and civilisations would be satisfying. This is a water sign, so anywhere near water would be great too. An alternative wellness retreat will be a pretty good option for you this year.

T+L suggests: Stay in a water villa in Maldives | Discover temple ruins in Cambodia | Clear your mind in the purifying waters of the Ganges

[gallery type="rectangular" link="file" size="medium" ids="7107,7108" orderby="rand"]

Sagittarius (November 22 – December 21)
You are the learner, philosopher and the gypsy. No wonder, you want to pack two, three or four different lives into this one.

The trip: Ruled by Jupiter, the good luck charm and symbolised by the Centaur, Sagittarians are guided by good fortune. The philosopher and learner in Sagittarius likes taking long journeys over water. However, it must be a vacation with purpose. Search for a trip into realms that excite you and seek out experiences that give life meaning and depth. This could be a 40-day hike through Spiti or Ladakh. You're up for the farthest-reaching adventure. You want to experience all the wisdom, depth, richness of this life. Anything that gives you this feeling of breadth and expansion—and that you're living a full, delicious life—gives you meaning. You need to pack in lots of trips.

T+L suggests: Plan a biking trip through Belgium | Drive down Germany | Hike through the Andes

[gallery type="rectangular" link="file" size="medium" ids="7109,7110" orderby="rand"]

Capricorn (December 22 – January 19)
Capricorns are practical and business-minded. You like to plan ahead; are calm, patient and don't like drama and a little hermetic.

The trip: You prefer trips that you can take by yourself or places that offer a sense of quiet and calm. A week in Manhatten won't be your kind of break. A cabin by a lake, or a lodge in the forests of Binsar would appeal to your hermetic tendency. It's not a time for flash and flair, but a time to look inwards and be still: Sit by the sea, and think about the work you have to do when you get back. Yes, it's okay to think about work! You'll be doing it anyway, Capricorn, so you may as well be in a stress-free place. You're also an earth sign, so it'll hugely benefit you going places where there is exposed rock. Go somewhere like the Scottish coast or the Blue Mountains in Australia. 2016 will also be a year when you will mobilise yourself to experience new things—could be something as off-beat as a gourmet tour of Korea or exploring Taiwan's largest fresh water lake.

T+L suggests: Visit Taiwan's largest fresh-water lake | Experience Korea's cuisine | Walk on a boardwalk by Lake Huron

[gallery type="rectangular" link="file" size="medium" ids="7114,7113,7111" orderby="rand"]

Aquarius (January 20 – February 18)
An Aquarian is eccentric but friendly, glamorous but unpredictable. You can be shy, sensitive, gentle or enthusiastic, lively and exhibitionist. You also tend to have a scientific bend of mind. The trip: You love things that are off the wall and unconventional. In a good way! You might want to be the first to do something, or go to that place where nobody else goes to, or some place that is off-beat, eccentric, off the wall, and funky. You might love a stay in a futuristic resort like the Tubo Hotel in Mexico, or take an insider's tour of Hokkaido, or the Neon Museum in Vegas. While, scientific Aquarians would love a factory tour of Airbus facilities in Toulouse, France, or see the Leonardo Da Vinci exhibit at Louvre.

T+L suggests: Visiting Las Vegas' Neon Museum | Stay in a futuristic tent while on Safari in Africa | Take an insider's tour of Hokkaido

Pisces (February 19 – March 20)
A dreamer, the spiritual and mystic—you feel deeply, you can be suspicious by nature but loyal in love. You are also lovers of art, poetry and architecture.

The trip: You'd love anywhere there's water or a broad, expansive view. Somewhere like Glacier National Park where there's plenty of mountains, but you can see for miles—somewhere you can dissolve yourself in the interconnectedness of all things. So places like the deep woods, the ocean, mountains, or the desert work well for you. This feeling of vastness stimulates the poetic and mystical side of Pisces. But, there's also the romantic side. To have that epic experience with another person can be romantic and spiritual. But the best thing you can do? Go to a place where you can ditch your phone and laptop. Sometimes, we have to disconnect with everything to feel connected to everything.

T+L suggests: Camp along Sagsai river in Mongolia| Hike up to Machu Picchu | Experience a sunset on a volcanic beach in Chile

[gallery type="rectangular" link="file" size="medium" ids="7117,7120" orderby="rand"]
Written By