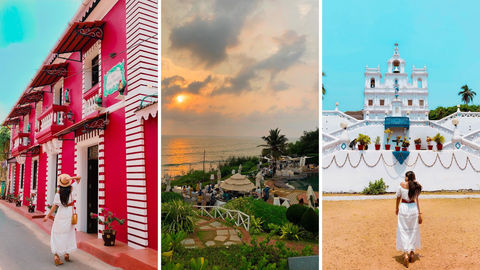 Revel in luxury while you connect with yourself, the local culture and food. Here's a perfect weekend guide to Goa for you. By Karishma Sakhrani
If there's a place that could be called a home away from home, it's the stylishly designed villas at Vianaar. It's luxurious without being stuffy. While they have multiple projects dotting the archipelago for sale or for rent, I stayed at the Vianaar La Maroma. With the beach and several dining options in close proximity, it's well-located in the heart of North Goa — useful information only if you'll feel like leaving the comfort of these homes! Our villa was beautifully designed, was spacious, had natural light streaming through the day, and had a private plunge-pool and friendly housekeeping staff to pamper us. My favourite part was the breakfast spread that we enjoyed in the comfort of our own villa.
Mahé is a beautiful confluence of old-world charm and new-age excellence in every which way possible. A century-old Portuguese house in Anjuna is painstakingly but not intrusively redesigned to give it a touch of discreet opulence. You'll still see old cross symbols etched on the roofs and still find the original tenant living here. The food is fresh, unique and packed with flavour. It draws inspiration from the coasts of Kerala, and yet manages to manifest a modern face and freshness. This creates a sense of comfort through familiarity, and of course excites! I couldn't get enough of the small plates and the Mallu Mai Tai. The preserved aubergine recheado and poie, crispy okra, chèvre stuffed morels and tapioca bravas were incredibly delicious. And if you're pescatarian, you'll undoubtedly love the hearty fish curries and the delicate, modern plates like the mahi-mahi ceviche.
W hotels worldwide embody a fun, carefree nature that resonates so well with Goa that you can't come to Goa and not visit this luxurious resort that spans 25 acres set against a backdrop of a 500-year old Portuguese fort. Spice Traders at the W puts up a delectable spread of the best of Pan Asian cuisine on Sundays for brunch. Fresh sushi, delicately crafted dim sum and salads are laid out and you can order appetisers and hot mains straight to the table. They have some good value for money deals for a bottomless brunch that you can't ignore. Brunch without alcohol is just lunch, correct? All this while you enjoy a luscious view of the sprawling tropical resort and Vagator beach. The live band kept us enthralled and going well past the afternoon.
DO explore Fontainhas

Take a trip back in time in Fontainhas, an old Latin quarter in Goa and be charmed by the quaint streets and brightly coloured homes that are nestled behind the church. During Portuguese rule, colourfully painted houses were a sign of economic well-being and the owner of the house was fined if his house was not painted. Owners of these homes still regularly paint their houses and so every time you visit, it looks different! While you're there, you might also want to stop by the Our Lady of the Immaculate Conception Church and absorb its grandiosity and peaceful aura. A touristy day out, and wonderful exercise to beautify the gram.
Related: Here's How You Can Drink For Free In Goa
Written By