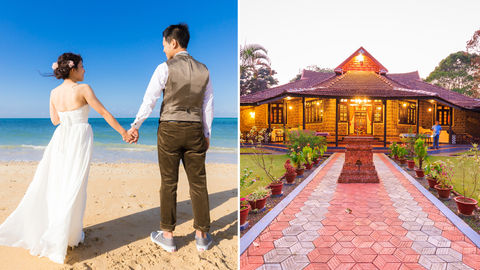 Mainland weddings are now mainstream and it takes some serious efforts in making yours unique. Now, living in a country of diverse landscapes, it makes perfect sense to take advantage. Plan your big day in a way that will make people ogle at your drool-worthy weddings pictures on Instagram? Wed yourself good with the man/woman of your dreams in the backwaters of God's Own Country, Kerala. If elegant is the first adjective on your list for your wedding plans, grab yourself a cup of tea as here's a list of five best resorts in Kerala to tie the knot in. By Shubhanjana Das
The LaLiT Resort & Spa Bekal is a perfect setting if tying the knot in presence of your friends and family in a resort surrounded by river on three sides suits your aesthetic sensibilities. The hotel staff takes care of everything from the DJ to catering. Multiple weddings, indoor and outdoor parties or even a Pinterest-like beach wedding — you ask for it, they will plan it. Ambient, spacious, lush and dream-like The LaLiT Resort & Spa Bekal is definitely one of our pins for the perfect beach wedding in Kerala.
Vembanad Lake is the longest lake in India, and The Zuri Kumarakom, Kerala Resort & Spa is located right beside this beauty. Apart from the all-accommodating banquet and super luxurious rooms, The Zuri Kumarakom has an ambience that is reflective of the perennial calm and serenity that Kerala is known for.
When in Kerala, do it the traditional way! The Raviz Resort and Spa in Kollam on the shores of the Ashtamundi Lake is built in the stunning Nallukettu style of architecture and is a journey back in time. Custom-made wooden cottages, private islands, a large houseboat known as 'Randhal' and traditional Kerala Ayurveda Spa strike the perfect balance between traditional and contemporary in here.
Some people like their weddings grand and unmissable, while some find joy in private, intimate gatherings. How does travelling to an island by boat sound to you, for the latter? The seclusion of Poovar Island Resort is of the kind that allows greatest level of privacy so that you can be surrounded only by the dearest. Moreover, who wouldn't like to wake up in a floating cottage! A boat cruise along the palm-lined shores after an authentic Kerala Spa is just what the bride-to-be needs to calm her pre-wedding stress down.
Related: A Wedding On The Beach Is Incomplete Without These Accessories. Are You Taking Notes?
Written By