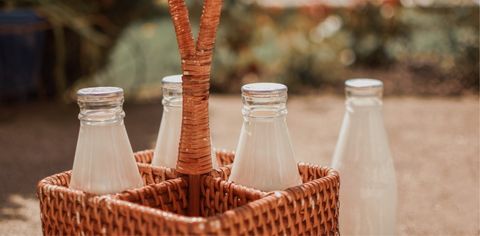 As every frequent flyer knows staying hydrated on flights is the most crucial part of your travels. However, if you're sitting there thinking you're doing your best by chugging bottles of water throughout your flight some scientists have news for you: Water isn't the most hydrating drink after all. It turns out that honour goes to milk. By Stacey Leasca
Scientists say milk is the most hydrating drink
A 2015 study from Scotland's St. Andrews University looked at various beverages to find out exactly which one is the most hydrating, and which ones humans should skip altogether when trying to quench our thirst.
While the team found water — both still and sparkling — does a great job of hydrating people, they also found that it's missing a few key ingredients to really make it work efficiently in the human body. Namely, plain water is missing just a touch of fat, salt, and sugar. As Ronald Maughan, a professor at St. Andrews' School of Medicine and the study's author, explained to CNN, the reason water isn't the absolute most effective beverage is because of the way our bodies digest beverages.
He explained, when we drink water it empties almost immediately from the stomach and absorbs into the bloodstream. A lot of times, we end up just peeing out the access liquid.
"If you're drinking water and then, within two hours, your urine output is really high and [your urine] is clear, that means the water is not staying in well," David Nieman, a professor of public health at Appalachian State University and director of the Human Performance Lab at the North Carolina Research Campus, told TIME about a previous hydration study. "There's no virtue to that kind of consumption."
However, other drinks sit and absorb more slowly thanks to their nutritional content. And that's where milk comes in. According to the team, milk's fat, protein, salt, and sugar content helps to coat the stomach when a person drinks it. This then allows the water to be absorbed at a slower rate, thus keeping people hydrated for longer.
"This study tells us much of what we already knew: Electrolytes — like sodium and potassium — contribute to better hydration, while calories in beverages result in slower gastric emptying and therefore slower release of urination," Melissa Majumdar, a registered dietitian, also shared with CNN.
In total, the team was able to rank 13 different beverages after tracking the urine output of 72 healthy, physically active male volunteers ages 18-35. Skim milk came in first followed by "oral rehydration" drinks like Pedialyte. Next came full-fat milk, orange juice, soda, diet soda, cold tea, tea, sports drinks, still water, sparkling water, lager, and finally, coffee.
So, next time you're on a long-haul flight ask for a tall frosty glass of milk. It may just help you stay hydrated until landing.
Related: Beat The Heat With These 8 Delicious Sake Cocktail Recipes
Written By