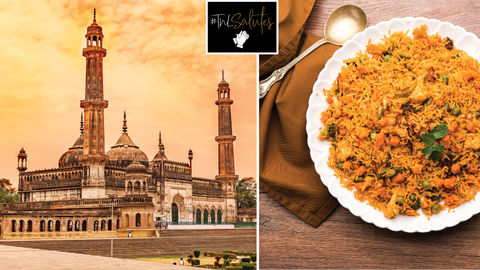 Editor's note: The global COVID-19 crisis has left each one of us deeply affected and we want to help. Burda Media India has organised a fundraising campaign to #FightBackWithTesting and donating RT-PCR test kits to the worst-affected areas in India, which will be secured from our testing partner Mylab Discovery Solutions. You can help these kits reach many more by donating for the cause or by adopting a kit. Click here to join the fight.
Decadent biryani from Lucknow is a world-famous delicacy and a historic cultural marker that is a must-have. One of the most famous stalls selling biryani in the city has gone vegetarian to feed migrant workers through the pandemic. By Manya Saini
A global crisis like the outbreak of the novel Coronavirus has wreaked havoc to many lives. Yet, the stories of unlikely heroes emerging to help the hardest hit are plentiful. One such similar account is of the famed Wahid Biryani stall in Lucknow that has started serving vegetarian food to migrant workers in the city during this difficult time.
View this post on Instagram
The Awadhi Biryani has been rechristened as Navratna in its new avatar, replacing meat with vegetables and cottage cheese. The popular joint has been serving approximately over 1,500 migrant workers daily for the last week.
Adding to the appeal of the initiative, once the lockdown was announced, the restaurant's chefs went home, and now the owner, Abid Ali Quraishi, and his family have started cooking for the migrant workers. All members of the family and the staff are observing the fasts during the holy month of Ramzan. As per reports, Quraishi has expressed his commitment to continue the initiative after Eid as well. He has also said, "We hope that labourers reach their homes safely and we can help them on the way."
View this post on Instagram
The joint has set up stalls in four corners of the capital city's outskirts—Chinhat, Polytechnic Crossing, Sitapur Road, and Agra Expressway. Each stall receives four cauldrons of biryani weighing almost 15 kg daily. Every cauldron can serve up to 400 people, and the platter is completed with fruits, biscuits, juice, and water bottles.
The stall is a 65-year-old institution in the city and forms an integral part of its landscape for both tourists as well as locals. The first cart in Lucknow was opened by Abid's paternal grandfather, Aladdin back in 1955. The name was changed to, Wahid Biryani after his father took over the operations of the stall. Today, the small cart has evolved into a thriving business with seven outlets, which are lending a helping hand to the country in the time of need.
Related: #TnlSalutes: The Khichdi Project Has Been Feeding Over 30,000 People A Day In Mumbai
Written By