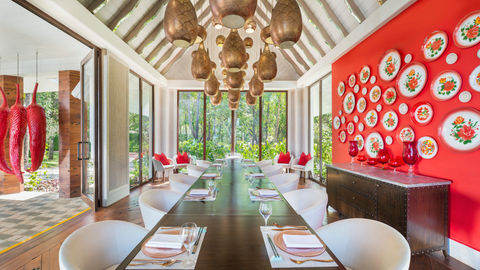 Located on Vagator beach, W Goa epitomises luxury, local style, and contemporary sophistication. By Priyanka Chakrabarti
For the last 10 years, Goa has been my preferred getaway for some coastal tranquillity. And as I packed my bags for my sixth visit—a two-day stay at W Goa—I wondered if the state could surprise me after all this time.
As I reached the hotel after an hour's drive from the airport, I was greeted by a huge W totem. Its grand, golden, and mosaic-inlaid reflective geometry represented what guests were signing up for—entertainment, adventure, and sheer luxury. The totem could have easily passed for modern art in a gallery. And indeed, art seemed to be a strong undercurrent in the design aesthetic of the property. For instance, the entrance doors of W Goa are gigantic and pale blue, and they depict the phases of the Moon—created by celebrated Goan artist Subodh Kerkar. The doors are always kept open. Inside the hotel, I was enveloped by a bohemian vibe right from the reception—pops of colour, flashing lights, hippie decor, and eclectic murals inspired by Goa. Amidst all this, Cher crooned, "Do you believe in life after love?" Classic! You'll know if you are a 90s child.
My room screamed vintage with hints of refined minimalism. W Goa is known to do 'sexy' well. Think pristine white walls, chandeliers that flip colours at dusk, lilac furnishing, silver doors, comfy beds, antique wallpapers, and a huge chocolate stiletto (entirely edible). To top it all, my room opened to the cutest balcony ever overlooking a pool that was contoured with fairy lights. W Goa caters to all kinds of travellers. If your agenda is to party till you drop, head to Rock Pool, a stunning amphitheatre-style beach club overlooking the Arabian Sea. With the 500-year-old Chapora Fort soaring above and a crescentic beach below, this club has the best DJ line-ups and theme parties. Sit back in a cabana or grab a poolside seat, watch the sunset while sipping exotic cocktails, and binge on seafood.
If you like to lounge on holiday, hit Woobar and let Vaid Niraj, head mixologist, take care of your cocktail cravings. I absolutely loved the Beach Tonic—a concoction made of gin, tonic, kokum syrup, and ginger. To satiate your taste buds, you can explore the Kitchen Table, an all-day diner that comes with a pool and a cool sun deck. I recommend their lamb croquettes, lemon chilli coriander chicken with poi (local bread), and sea bass and fried mushroom. But my favourite was the traditional Goan thali that comprised mutton vindaloo, fish rawa fry, poi, fish curry, tamri bhaji, and mooga ghati. If you lust after Peruvian and Asian-inspired food, have dinner at the Spice Traders, where chef Dawa Lama whips up magic. I loved the truffle tuna pizza and the sushi assortment. While so much more remained to be explored in Goa once again, I departed with a bag full of happy memories.
Related: Relax, Revive And Repeat At The Spa By Clarins In W Goa
Written By