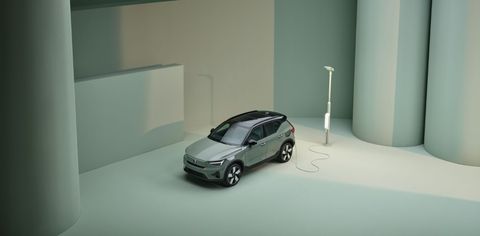 Taking another step towards a more sustainable future, Volvo Car India announces local assembly of its pure electric offering XC40 Recharge. With this, the Swedish automobile brand becomes India's first luxury brand to offer locally-assembled Battery Electric Vehicles (BEV). By Bayar Jain
After the announcement of the soon-to-launch XC40 Recharge, Volvo Car India's all-electric offering, the luxury automobile brand has now announced that the sustainable car will be assembled locally for the Indian market. The assembly of the car will take place at the company's Hosakote plant near Bengaluru, Karnataka, with deliveries of the same slotted for October later this year.
Going Green and Local According to the Worldwide Harmozied Light Vehicles Test Procedure (WLTP), the XC40 Recharge ranges up to 418 kilometres per charge. With this assurance, Volvo Car India hopes to build a future that is largely electric. "We will be an all-electric car company by 2030," promises Jyoti Malhotra, Managing Director of Volvo Car India.
Going local is another step in this sustainable direction. Malhotra explains, "We are committed to grow the Indian market and our plans to assemble our latest offering—the XC40 Recharge—at our plant in Bengaluru is a reflection of this resolute." Notably, the company's local initiatives aren't new. In fact, the company started local assembly in India in 2017, and has since focussed on adding more models to this line-up. Currently, the flagship SUV XC90, the mid-size SUV XC60, the compact luxury SUV XC40 and the luxury sedan S90 are being locally assembled at the Bengaluru plant. XC40 Recharge Pure Electric becomes the latest one to join the locally-assembled portfolio in India.
"Our current range of internal combustion engine cars are already being rolled out from Hosakote plant to the exacting safety and quality global benchmarks that Volvo is known for," Malhotra adds.
Sustainability at the Heart of Volvo Car India Going forward, Volvo Car India is committed towards introducing a new all-electric model every year commencing 2022. Volvo has announced to produce only electric cars by 2030.
Last year, Volvo introduced the XC60, S90, and XC90 petrol with a 48V mild-hybrid system. This is to support the brand's transition to an all-petrol portfolio and phase out all diesel models. Notably, the Volvo XC40 SUV, Volvo XC60 SUV, Volvo S60 sedan and Volvo S90 sedan were among the bestselling models sold by Volvo Car India.
Related: Exclusive: Maharawal Chaitanya Raj Singh Takes The Soon-To-Be-Launched Volvo Electric SUV For A Spin In Jaisalmer
Written By