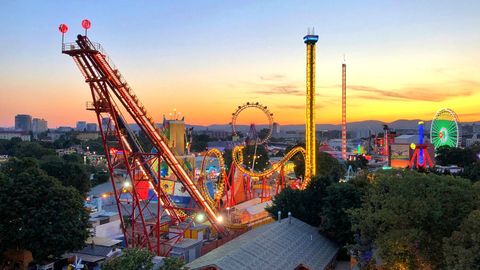 Andhra's Vizag is set to get India's latest entertainment city, complete with a floating restaurant, giant wheel, and a host of other activities. Here are all the details. By Anushka Goel
According to latest media reports, Vizag (Visakhapatnam) in Andhra is set to become the latest hotspot for travellers, owing to a new entertainment city that is slated to be built there. The place is likely to be built close to a beach, and offer expansive views, delicious food, amusement park rides and more to all visitors.
Vizag to get an entertainment city soon The Vizag tourism department is launching several projects to boost travel to the city. Focussed on two-three key areas in the city, these include many attractions, including this entertainment city. The new centre for fun and games will have amenities and facilities to lure a variety of tourists – be it diners, adventure lovers or more. According to reports, Mangamaripeta beach was the initial site of the entertainment city in Vizag; however, not a lot of the beachfront is available due to a shift in the sea levels.
The entertainment city will be among the main attractions in Vizag. It could make the city among the most sought-after travel destinations in the state upon its launch, says Srinivasa Pani, Regional Director of the tourism department, according to media reports. The features here will include sights such as a giant wheel (reminiscent of the London Eye), a tunnel aquarium, a floating restaurant, water bus, games and fun, a garden inspired by Gardens By The Bay in Singapore, a beach rant, dinosaur park, outdoor skydiving, snow world and a lot more such activities.
The park is well underway, with work having begun on a lot of elements already, reports add. And with the park coming in, the city will also see an influx of restaurants, five-star hotels and more for guests to unwind and relax at.
Hero and Featured Image: Courtesy of Thomas Stadler/Unsplash
Related: Welcome Summers With A Splash At These Amusement Parks In Delhi-NCR
Written By