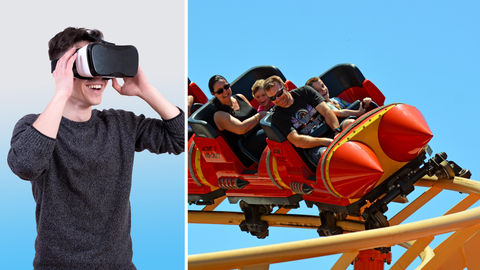 Theme park lovers, you can now ride some of the world's fastest, steepest, and renowned roller coasters from the comfort of your homes. With no waiting queues and a front-seat point of view, cruise on these virtual roller coaster rides from your couch via YouTube. By Upasana Singh
1. Space Mountain at Disney World in Orlando, Florida
This indoor, space-themed roller coaster in Tomorrowland will take you to one of the coolest rocket ships on Earth. If you want to relive your childhood dream of being an astronaut and travelling into space, this is the ride for you.
2. Kingda Ka at Six Flags Great Adventure in Jackson, New Jersey
Get ready to scream out loud as this steel roller coaster is the tallest in the world. At a height of 456 feet, the hydraulic launch mechanism of the coaster will take you from 0 to 128 miles per hour in 3.5 seconds. So, take a deep breath and hold on tight.
3. Steel Vengeance at Cedar Point in Sandusky, Ohio
The roller coaster capital of the world, Cedar Point has 18 official virtual coaster rides. Steel Vengeance is the newest addition to the amusement park. It is the world's longest hybrid coaster that packs in almost 30 seconds of airtime. You really can't go wrong with this one.
4. Hagrid's Magical Creatures Motorbike Adventure at the Wizarding World of Harry Potter in Orlando, Florida
For all the Potterheads—muggles can ride this Harry Potter-themed, immersive roller coaster without enduring the massive crowds at the Wizarding World. On Hagrid's motorcycle, experience the journey through the Forbidden Forest, the Magical Creatures class with Ron and Harry, and so much more.
5. Takabisha at Fuji-Q Highland in Japan
Many of us probably wouldn't be able to visit the Fuji-Q Highland amusement park amidst Japan's countless attractive tourist spots. Take this opportunity to ride one of the steepest coasters with a drop angle of 121 degrees.
The ride's slogan says—dive deep, fly high. In a manta ray-shaped train, this flying roller coaster allows guests to encounter numerous species of ray. It truly feels like you have magical powers as you soar high up in the air with no track beneath you.
If you wish to accomplish a feat only a few have overcome until now, take a ride of this roller coaster that loops 160 ft up in the sky, not only once, but twice. The Full Throttle is the tallest and fastest looping roller coasters in the world. With three separate launches, you will never know what's next on this ride.
Coney Island has postponed its 2020 opening date, but you can still experience a bit of classic summertime Americana. The Cyclone, famously known as the Big Momma, tops everyone's lists of what to do in New York City. So, what are you waiting for? Now's your chance to take the ride of a lifetime.
Related: #SomeGoodNews: Now You Can Explore The Empire State Building Through This Virtual Tour
Written By