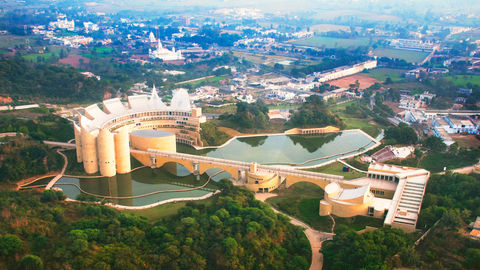 The vast stretch of land, culture, and diversity that India is, it keeps on raking and establishing records in one forum or the other. Adding yet another feather in the cap, this time the record maker is Virasat-e-Khalsa museum in Punjab. The museum has registered in the Limca Book record for witnessing the greatest number of footfall this year. By Kumar Shree
The Record
Virasat-e-Khalsa museum from the holy town of Anandpur Sahib in Punjab has entered the Limca Book of Records. The museum registered the record for witnessing the highest number of tourist footfall in the country. The Limca Book also mentioned the Museum's name as India's top-ranked museum in terms of tourist footfall.
The History
The tenth Sikh Guru, Guru Gobind Singh established Khalsa Panth around 319 years ago in 1699 AD. The Virasat-e-Khalsa Museum was built to commemorate the 300 years of Khalsa Panth.
Number of Visitors
As per the tourism department officials, an average daily of around 5000 people visits the museum. The latest news reports also claim that the museum has seen a total of 97 lakh visitors till date. The outstanding fact about this number is that the museum managed to achieve this feat in just over seven years.
The Insight
The enormous spread of the museum laid over more than 6,500 acres of land narrates the story of Sikkim and Punjab. The use of latest technology and hand-crafted artifacts add all the shades of reality to its storytelling of the past.
The Design
The grand museum was designed by the celebrated Israeli architect Moshe Safdie. Moshe Safdie is a world-known architect whose career has spanned for more than 50 years. He has designed the National Gallery of Canada, Salt Lake Public Library, National Art Museum of China, Jewel Changi Airport, and many more marvels of architecture to his credit.
Why You Must Visit
Virasat-e-Khalsa is one of the world's largest museums dedicated to depicting the journey and history of a single community. You will truly be transported back in history as you wander across the lanes of 550 years of Sikh history via the 27 galleries.
Next time you are in Anandpur Sahib in Punjab, do make sure to pay a visit and get soaked in the richness of Sikh history.
Related: This New Corridor To Give Sikh Pilgrims In India Easy Access to Pakistan
Written By