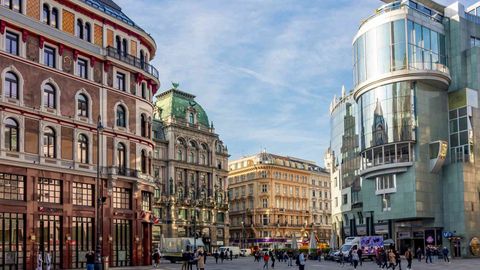 Vienna was once again named the world's most livable city today. According to the newly released Economist Intelligence Unit's Global Liveability Index, the City of Music retained the spot it has held for eight of the last 10 semi-annual surveys, while Copenhagen also held onto its title as the runner-up.
The best city to live in 2023 "The Austrian capital slipped down our rankings in 2021 when its famous museums and restaurants faced restrictions to contain the pandemic, but this was a rare slip-up," the report said. "The city continues to offer an unsurpassed combination of stability, good infrastructure, strong education, and health care services, and plenty of culture and entertainment." The only major setback for Vienna: no major sporting events.
Following the pair of European capitals were a set of Australian cities, Melbourne at No. 3 and Sydney at No. 4. Three Canadian cities also ranked high, with Vancouver in fifth, Calgary in seventh, and Toronto in ninth. Rounding out the top 10 were cities like Zurich; Geneva; Osaka, Japan; and Auckland.
The biggest gains were seen in the Asia-Pacific region. Wellington, New Zealand, flew up 35 places to No. 23, and Auckland shot up 25 spots to 10. Meantime, Perth, Australia, and Bucharest, Romania, both soared 21 spots to 12 and 99, respectively. Hanoi, Vietnam also saw a big leap, up 20 spots to 129.
These cities witnessed a steep drop in the rankings! On the other end, the UK's Edinburgh sank 23 spots to 58 and Sweden's capital of Stockholm went down 22 spots to 43. Two US cities also fell significantly, with Los Angeles and San Diego slipping to 57 and 61, respectively. Both Manchester, England, and the Netherlands' Rotterdam fell 16 spots to tie at 44.
To determine the rankings, 173 cities were studied from February 13, 2022, to March 12, 2023, and given a rating for 30 factors in five categories including stability and health care; infrastructure; and culture and education. A team of expert analysts and contributors in each city also helped parse out cultural innuendos and subtleties. Pandemic impacts were also accounted for, such as restrictions on theatre, concerts, sporting events, restaurants, and educational institutions.
"The removal of COVID-19-related restrictions has overall boded well for global liveability in 2023," said Upasana Dutt, the head of EIU's Liveability Index, in a statement. "Education has emerged stronger with children returning to schools alongside a significantly reduced burden on hospitals and health care systems, with some notable improvements in cities across developing economies of Asia and the Middle East. As the world's political and economic axis continues to shift eastwards, we expect the cities in these regions to move slowly up our liveability rankings."
Find the full results of the Global Liveability Index 2023 here.
Hero and Featured Image credit: Vladislav Zolotov/Getty Images
This story first appeared on travelandleisure.com
Related: 9 Best Places To Live In Your 30s, According To Real Estate Experts
Written By