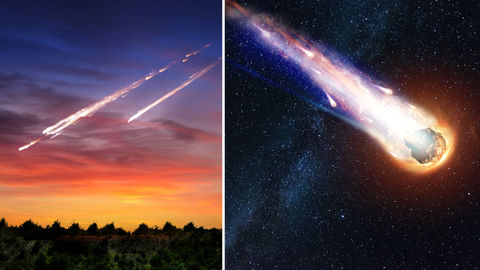 While we spent most of this year in quarantine or lockdown, we were blessed with one too many celestial events and it doesn't seem to be slowing down. The latest to join the bandwagon is Comet Neowise, which will be visible from India for the next 20 days and this spectacular 4K video of the comet rising above planet Earth is all the motivation you need to clear your evening schedules! By Amitha Ameen
Comet Neowise, the latest celestial event to grace our skies will be visible for the next 20 days and be getting brighter each day as it approaches the sun for the first time in 4,500 years. And we cannot keep calm because this 4K video of the comet rising above planet Earth is literally giving us goosebumps!
Nasa astronauts living aboard the International Space Station witnessed the comet rising above the Earth and took a series of timelapse photographs on July 5, 2020. A UK-based artist collected those photos and created a 4K video out of them that has left the internet speechless.
View this post on Instagram
Astronomers are hopeful that Neowise, the third comet will be successful in gracing the Earth's skies after the previous two comets prematurely fizzled.
"From July 14, C/2020 F3, a comet discovered on March 27, will be clearly visible in the north-western sky. It will be visible after sunset for around 20 minutes for the next 20 days. People can observe it with naked eyes," Subhendu Pattnaik, deputy director of Pathani Samanta Planetarium in Bhubaneswar told the Orissa Post.
The reason there is more excitement around Neowise is that the previous two comets Atlas and Swan vanished before being visible. Atlas shattered into pieces and Swan, made of gas, presented a dim view.
View this post on Instagram
According to astronomers, Comet Neowise will shine brightly as it passes by before disappearing for another 6,800 years. According to Scientists at the Planetary Science Institute (PSI), the comet has a sodium tail that has previously only been observed in brighter comets, and since the tail is long and narrower and points directly away from the sun, it will be difficult to catch it on camera.
We know what our evening plans for the next 20 days are going to look like — trying to spot the rare Comet Neowise streaking past Earth.
Related: You Don't Want To Miss These Celestial Events In 2020!
Written By