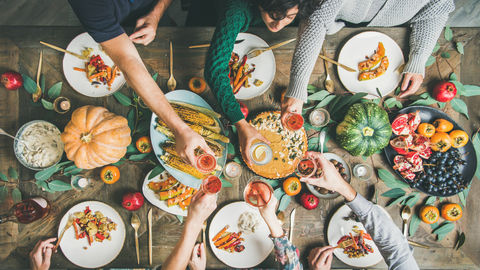 Refusing to compromise on health even while on a holiday, more and more globetrotters are choosing vegan-friendly destinations for their adventure trail. With love for vegan food spreading worldwide, vegan vacation seems to be an emerging trend in 2020. By Tanvi Jain
Veganism has emerged as one of the most popular millennial trends. Many prefer to give up not just non-veg but even dairy products for the betterment of health. And now, it has entered travellers' must-do list as well. Diet conscious youth is going on vegan vacations so that even on a holiday they don't have to compromise on their food preferences. Many countries have lately emerged as vegan-friendly destinations, and now top the travel list of every #veganatarian. Think of vegan cruise and tours organised across the globe that witness large number of travellers every year!
For those who want to learn vegan cooking, a visit to countries like Costa Rica, Spain, Italy, France is a must as they offer various programmes through which not only do you explore the organic markets but also learn the art of vegan cooking under expert guidance.
Similarly, countries like Belize, Guatemala, Thailand, Malaysia and even India hold vegan tours where along with the breathtaking sites, you also get to enjoy local vegan cuisines.
From restaurants to road trips to adventure trails, vegan food is everywhere, and not just as a part of the trip but as a whole theme defining the tour. There are vegan cruises as well covering places like Miami, Puerto Rico, Antigua, and etc. where one can participate in health-centric programmes and activities led by experts in plant-based living.
Few of the most vegan-friendly destinations that deserve to be on every vegenatarian's must-visit list include:

1. Singapore
Imagine sushi, dumplings, curry, noodles, and more mouth-watering dishes. Feeling hungry already! Now imagine these same dishes but vegan. Yes, Singapore has it all and breaking myths about vegan food being boring and tasteless, the country has a wide variety of vegan dishes that fall under the category of both tasty as well as healthy. There is a range of restaurants and cafes across the country that serve delicious vegan food and are flocked by vegan tourists in huge numbers. Some examples include Loving Hut, Herbivore, Brownice, Genesis, The Living Café, and VeganBurg near Changi Airport.
2. Taipei
, Taiwan
Named by PETA as the most vegan-friendly city in Asia, Taipei is often termed as heaven for vegans or vegan Mecca of Asia. Its wide variety of food options will easily surprise every vegan lover. When in Taipei, don't forget to try vegan burger at Miss Green, or risotto and sweetcorn waffles at Soul R Vegan Café. There is also Mianto where you can get homemade vegan cheese. There are various vegan supermarkets and vegan-friendly luxury hotels and resorts like Grand Hyatt Taipei, Le Meridien Taipei, Mandarin Oriental Taipei, and Regent Taipei.
3. Thailand
Most traditional Thai dishes are generally plant based and can easily be explored through their vegan food adventure tour. During the tour you get to eat your way through places like Kanchanaburi, Bangkok, Ayutthaya, and Chiang Mai. Along with some lip–smacking vegan dishes like tofu red curry, sweet sticky rice, and traditional Thai banana cake, travellers also get a chance to take cooking course and learn to mix local flavours.
4. Ireland
When on a vegan vacation in Ireland, do take their Vegan Dublin Food Tour and experience delicious plant-based foods at some of Dublin's best dining restaurants. Some places also offer facilities like tailor made vegan-friendly itineraries and even vegan honeymoon and anniversary packages. Some restaurants that you can check out on your vegan tour are Nutbutter, Cork, Cornucopia, Lighthouse Café, and etc.
Written By