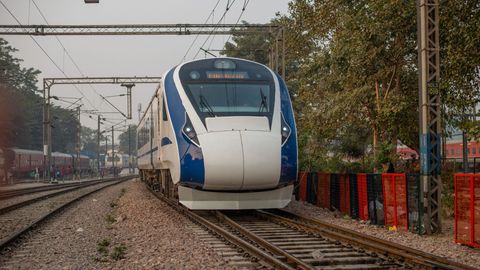 The Vande Bharat Train is all set to venture in South India. A total of four Vande Bharat trains have been launched till now and the fifth one will be running on the Chennai-Bengaluru-Mysuru route. The train will commence on November 10 and On November 7, it completed its first trial run successfully. Here's all you need to know. By Nishtha Grover
Vande Bharat train to be launched in the South India region and the trial run is a success
The Vande Bharat trains were launched as a part of the Make In India campaign and these are one of the most successful outcomes of it. Addressing the nation on August 15, 2021, Prime Minister Narendra Modi had said that 75 such Vande Bharat trains will be flagged off during the 75 weeks of Amrit Mahotsav in order to connect every corner of India with these fast-running trains.
India has one of the largest railway systems in the world and the addition of the fast-running Vande Bharat trains is just the cherry on top. On February 15, 2019, the first Vande Bharat was flagged off on the New Delhi-Allahabad-Varanasi-Kanpur route. The latest train which is also the fifth one is said to get on the tracks on November 10 and it will cover the Chennai-Bengaluru-Mysuru route. South India has one of the most serene railway routes and the Vande Bharat trains running on it will give railway tourism a boost.
On Monday ( November 7), the aforementioned train completed its trial run from Chennai to Mysuru via Bengaluru. The train commenced from Dr MGR Chennai Central Railway Station at 5:50 am and reached its endpoint in Mysuru at 12:30 pm. The stoppages were at Katpadi and KSR Bengaluru. This trial run was done to familiarise the crew operating the new trains with the interiors and the routes.
The train returned to Chennai from Mysuru where it started at 1:05 pm and reached the last station of its journey at 7:35 pm.
On October 13, PM Modi also inaugurated the fourth train running on the Amb Andaura, Una to New Delhi route. From October 19, the train 22447/22448 New Delhi- Amb Andaura- New Delhi Vande Bharat Express will start its regular service and run six days a week, except Friday.
More about Vande Bharat Express
The newly launched fast-running trains in India have 16 coaches which include executive class and chair car coaches. These trains can go up to 100km/hr in just 52 seconds which makes them much more faster and comfortable than the other trains.
Main and Feature Image Credit: Shutterstock
Related: New Vande Bharat Express To Cut Travel Time Between Chandigarh-Delhi To 3 Hours!
Written By