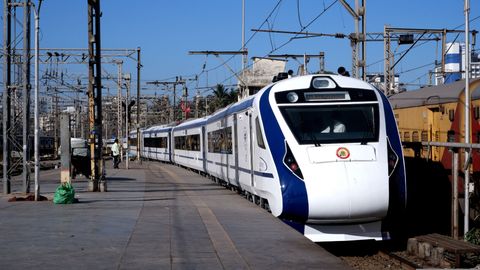 India's diverse and exotic land of the northeast will soon get its first Vande Bharat train, as Indian Railways is preparing to launch at least five of these blue and white rakes across the country by the June end.
Vande Bharat trains are all set for back-to-back inauguration as the Ministry of Railways has streamlined the production of these semi-high speed trains, News 18 quoted an official as saying.
The official said, "While we do have a number of routes in the pipeline, we also have to see if running a Vande Bharat train on a selected route will be feasible."
New Vande Bharat train routes Assam has been chosen as the first state in the northeastern region to get the most sought-after train. It will ply between Jalpaiguri and Guwahati, with the launch likely to take place by May end. After the launch, this train will become the third Vande Bharat to serve the Northeast Frontier Railways zone.
Odisha, Bihar and Jharkhand to get their first Vande Bharat Train
Well, Assam is not the only state where Vande Bharat will be debuting. Odisha, Bihar and Jharkhand too are on this list, where the express train will begin its operations for the first time. It is all set to be inaugurated in Odisha this month after getting launched in Madhya Pradesh, Rajasthan and Kerala in April. This train is expected to run less than six days a week and cover a distance of 500 kilometres in around six hours.
Revealing details about the launch, an official shared that the train will be inaugurated on May 15 and will ply between Howrah and Puri.
The official said, "The trial run of this train was successful. Now, it is all set for launch." However, the ministry has yet to announce the timing and routes.
With this launch, Odisha will get its first Vande Bharat while it will be a second one for West Bengal.
Presently, Shatabdi Express runs through the Puri-Howrah route. The train takes eight hours from Puri and 7 hours and 35 minutes from Howrah to complete the journey.
Vande Bharat train is also expected to run between Patna and Ranchi. However, there is no official confirmation regarding the date of launch, but according to the News18 report, it is likely to happen this month or by the end of next month.
Existing train routes
There are almost 15 Vande Bharat trains running across India with five routes from Delhi – Ajmer, Varanasi, Vaishno Devi in Katra, Bhopal and Una in Himachal Pradesh. Three trains are operational from Mumbai to Gandhinagar, Shirdi and Solapur and two from Chennai to Mysuru and Coimbatore.
Vande Bharat trains are also operational on Bilaspur-Nagpur, Howrah-New Jalpaiguri, Secunderabad-Tirupati, Secunderabad-Visakhapatnam and Thiruvananthapuram-Kasaragod routes.
(Hero and featured image credit: Ramesh R Nair/Shutterstock)
Related: 7 Boozy Train Rides Around The World That Offer Specialty Sips And Stunning Views
Written By