"Being stuck in Shanghai for the past four months has not been easy, especially because I'm a father-to-be and my wife is all the way back in New Delhi. Hoping for a miracle to help me return was my best bet." Our reader, Abhimanyu Ghosh, shares a first-hand account of taking a Vande Bharat repatriation flight. By Bayar Jain
1. How did you learn about the rescue flight? Take us through the journey of booking your ticket for the same. I was in touch with the Indian Embassy in Beijing, specifically the Indian Consulate General's (CG) office in Shanghai to learn of any upcoming flights out of China to India. My wife and I were expecting the birth of our baby in the first week of June and considering my wife was in Delhi, I was desperate to make it back in time for the delivery.
The CG's office was incredibly helpful throughout. I got a call within half an hour of my first email to them! The Indian Embassy in China had asked Indian citizens who wanted to travel to the country to fill up a form with various details, including a mention of the reason to return. However, in the initial two phases of the Vande Bharat flights, there were no flights to China. By the end of May, I was starting to lose hope. I would regularly follow Air India's and the Indian Embassy's Twitter handle for updates on these Vande Bharat flights. One day, out of the blue, I got a call from the CG's office enquiring whether I would like to take a flight from Hong Kong to Mumbai on June 3. Although my final destination was New Delhi, I agreed, seeing this as my only opportunity to get back to India. This meant that I would now have to fly from Shanghai to Hong Kong, then Hong Kong to Mumbai and then finally to New Delhi.
Due to the travel restrictions, only three flights were flying between Shanghai and Hong Kong. The first two I booked to Hong Kong got cancelled, while the third one would reach at 10 am – the same time the flight from Hong Kong to Mumbai was scheduled to take off. Moreover, the airline's flights on this sector had been getting cancelled for two weeks! This is when the Indian Embassy sprung back into action. First, they ensured that the Shanghai-Hong Kong flight would take off, post which they allowed me to book the Hong Kong-Mumbai flight. Next, they arranged for Air India to delay the flight to Mumbai by an hour and a half to allow the 30-odd passengers coming from Shanghai – such as me – to board as well.
Now, the booking was the easy part. A day before flying, Air India emailed me a booking link. Due to Hong Kong's travel restrictions, it was imperative that I don't cross through immigration, and thus, could carry only one carry cabin baggage. In Hong Kong, the Consulate General of India and Air India together guided me through immigration, ensuring no quarantine steps were imposed upon since I was merely transiting. Adding to this, upon landing in Hong Kong, my fellow passengers and I found out that cyclone Nisarga had made its landfall in Mumbai. This meant that our connecting flight to Mumbai was now delayed by 26 hours!
With a minimal number of flights operating, the Hong Kong International Airport looked like a ghost town where only two-three restaurants were open, a duty-free shop partially open, and a lounge available till midnight. It felt like I had the entire airport to myself. I spent my time sleeping on the chairs at the departure gate.
2. How different were these rescue flights compared to any regular ones for this route? Since there were only a handful flights and passengers at the Hong Kong airport, the procedural aspects of the journey didn't take time. Inside the aircraft itself, the middle seats were left vacant, except those who were travelling as a part of a family. Everyone on the flight had a range of protective gear like masks and gloves. Some even wore the full PPE kit and face shields. All flight personnel were in full PPE kits.
As I boarded, I was given food packets consisting of chips, juice and chocolates, along with a sanitiser and face shield. No other food was given throughout the flight. The entertainment systems were disabled, and blankets and pillows were not provided either. The Mumbai to New Delhi flight was different in some ways though. I had to show my status on the Aarogya Setu app while entering the airport, and compulsorily do a web-check in or visit the kiosk check-in. Here, only one cabin baggage was being allowed on which passengers had to stick the baggage tags themselves. The security checks were also as contactless as possible. I found it very impressive that the trays at the security checks were sanitised after every use.
The protection level in the flight was similar to the Hong Kong leg. Vistara, the airlines I was flying in, was also providing a full body kit, face shield and a sanitiser at the time of boarding. No food was provided during the flight, and some middle seats were also full.
3. Was there any sense of anxiety or heightened worry among your co-passengers? From Hong Kong to Mumbai, there definitely seemed to be a sense of heightened anxiety mixed with enthusiasm. Being on a repatriation flight, the passengers had a compelling reason to go back. Moreover, this was only the second flight out of Hong Kong since the lockdown had been imposed in India, and the first where there were travellers from mainland China as well. When the plane took off, the sense of euphoria was more than that of anxiety.
On the other hand, for the Mumbai to Delhi flight – considering both are high-risk zones at the moment – everyone seemed to be adequately prepared and aware of the precautionary measures to be taken. Apart from that, there didn't seem to be any additional anxiety or worry among the passengers.
4. What were the security protocols like during boarding and de-boarding? For the international flights, I had to sign an undertaking for the Embassy of India stating that I am willing to pay the airfare, and would not be carrying any cabin baggage. The undertaking also required me to assure that I would be undergoing institutional quarantine for seven days after landing in Mumbai, and another seven days of home quarantine thereafter – the costs of which would be borne by me. Apart from that, I had to download the Aarogya Setu app to clear immigration. Temperature scans were done at various stages of the travel, including during take-off and landing.
The domestic sector flight had similar protocols. The boarding and de-boarding were strictly as per seat numbers to maintain social distancing.
5. When preparing for this flight, what were the various thoughts that ran through your mind? I was just happy that I could take this flight. At a time when returning home on time for the delivery of our child seemed impossible, I took things one flight at a time. Therefore, I had to mentally prepare myself to not let my guards down in India as I was returning from Shanghai where things have started to improve.
6. Were there any additional steps you had to go through upon reaching Mumbai? Upon landing in Mumbai, I had to download the Aarogya Setu app and fill a questionnaire on it. I also had to fill in a declaration form listing my personal and health details. Immigration, itself, was very quick. I had to show the 'green' status on the app, and submit the declaration forms.
People coming from overseas are required to mandatorily quarantine at a centralised facility for a week, during which each person is tested. After crossing immigration,I was given a list of hotels doubling as quarantine centres in the city. The hotels are in various localities of Mumbai and include five-star hotels as well as smaller hotels, all at different price points. Each hotel provides a flat tariff that includes staying and three meals for all seven days. Once I chose my hotel, I needed to notify the authorities at the airport. They then allowed me to leave for the hotels in designated hotel cars available at the airport. For those who were from neighbouring cities or states had the option of applying for an e-pass that would permit them to travel by road to their destination where they are required to self-quarantine for 14 days.
7. What was your quarantine period in Mumbai like and what were the various facilities available to you? I chose a hotel that was closest to the international airport and I was pleasantly surprised by the hotel's management. The quarantine itself was quite boring since I was locked up in a room for seven days continuously. In retrospect, the view from the room and the room's size is critical for a comfortable stay during this quarantine period. Once I checked into the room, no hotel staff entered. The hotel I stayed at was quite basic. They would drop my meals in a railway-like meal box outside my door with a thermocol plate and plastic cutlery for easy disposal. There was no mini bar facility, nor the option of ordering any alcohol to the room. The hotel had allocated a staff member for each floor. I could step out of the room to ask him for water, change of linen, etc. All the supplies were then provided in a separate area for me to pick up to ensure minimal contact.
A private agency came to take my COVID-19 test on the third day, and my results – which were negative – returned the next day. However, I still had to complete my mandatory seven-day quarantine. On the morning of the seventh day, I was issued a 'travel pass' which served as proof of me completing my institutional quarantine, testing negative, and allowed me to travel within India again.
8. This was a once-in-a-lifetime experience. What are some of the lessons you'd take with you?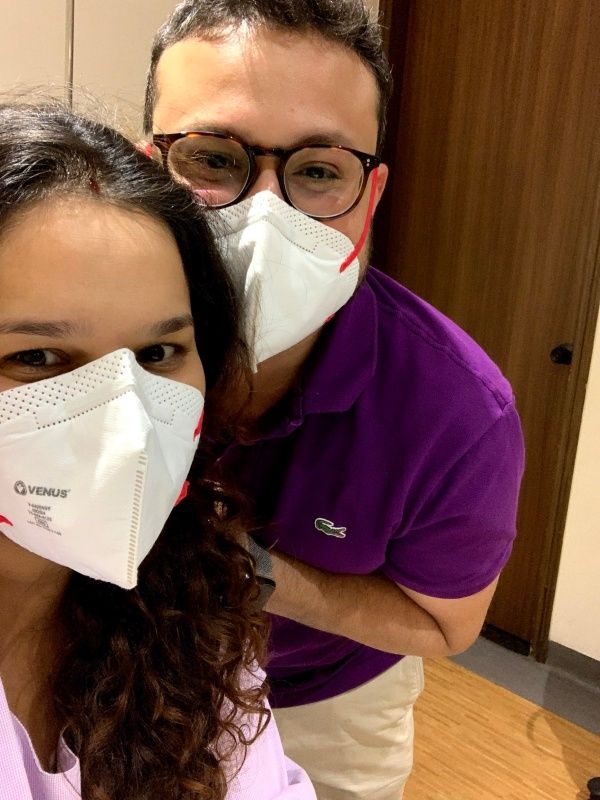 It's more precious for me since I could make it back in time for my child's delivery. I realise, now, that we tend to take travel for granted. My takeaways from the trip is that although travelling has become more difficult now, it has led to airports, hotels, and authorities around the world to become more innovative and cautious. My biggest lesson would be to travel only if it's absolutely necessary until the pandemic diminishes.
Related: Wondering What A Rescue Flight Is Like? Our Reader Shares Her Experience