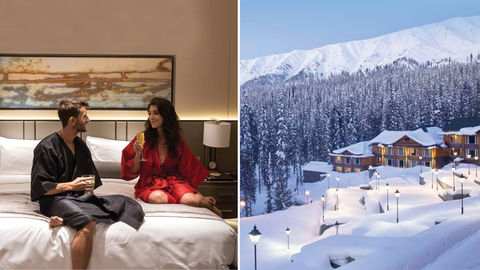 These 7 hotels have done the grunt work of curating the perfect Valentine's Day experience for you and your partner. All you have to do is show up. By Gayatri Moodliar
With offers spread across the hotel, you and your partner won't be left wanting for the ultimate Valentine's celebrations. At AnnaMaya, the two of you could indulge in world-class European cuisine at this award-winning foodhall. Take the experience home by availing their vouchers that entail you to purchase some of their artisanal products. For the couple seeking relaxation, the Andaz Spa pampers guests with nothing less than chocolate scrubs for the festive occasion. When you're ready to turn up the volume, the Hong Kong Club will ply couples with delectable cocktails in an immersive dining experience.
AnnaMaya: INR 5,000 plus taxes per couple
Andaz Spa: INR 5,000 plus taxes per person
Hong Kong Club: INR 10,000 plus taxes per couple
Need a snowy break? Perhaps a ski break would do? Well, it just happens to be the best time to hit the slopes, so why not take your Valentine to Khyber? It has been ranked as one of Asia's best skiing destinations and continues to mesmerise guests with its winter wonderland-esque setting. There are other snow activities that take place as well, and the Khyber spa is known all across for its extensive line of treatments.
Rooms start at INR 21,500 plus taxes.
There are special dining offers being put forward for Valentine's Day, and we recommend you book in advance:
Le Cirque
Special Valentine's Day set menu at INR 6,000 plus taxes
Al fresco tables at INR 30,000 plus taxes per couple
Jamavar
Royal Indian set menu at INR 5,500 plus taxes
The Qube
Valentine's-themed dinner buffet at INR 2,950 plus taxes
The Library Bar
Exclusive à la carte menu and a special Champagne menu
Megu
Minimum spend of INR 6,000 plus taxes per person with a complimentary Bellini for the couple
This year, however you want to treat your Valentine, Le Meridien will help make it happen with #Valentiners2019AtLM. Whether it's a candlelit dinner, or a limousine pick-up and drop, everything will be especially curated for you and your loved one. The hotel is offering 19 ways to win over your Valentine and each one of them works out to be the perfect date.
Substitute the cheese this Valentine's Day with salt—literally. Shangri-La's Eros Hotel is offering an exclusive salt-tasting package, where meals will be prepared in accordance with how to pair them with some of the world's most exquisite salts. To soak in the experience a little more, at Chi, The Spa, opt for the couple's salt scrub.
Sorrento 7-course Valentine's experience: INR 9,995 plus taxes per couple inclusive of select beverages
Sorrento and Chi, The Spa experience: INR 19,995 plus taxes for a couple
Stay experience starting at INR 13,000 plus taxes for the Deluxe room
Right after indulging in a 45-minute couple's massage, dive into a 5-course dinner that comes primped with bubbly by the poolside, under the stars. It's a date for the couple that likes to keep things classy and romantic, with a touch of rejuvenation.
Packages starting at INR 6,000 plus taxes.
The menus at each of the restaurants in The Imperial New Delhi have been designed with ingredients that supposedly fuel romance. Of course, there's only one way to find out: by booking a table.
San Gimignano Dinner: 14,000 plus taxes (per couple) 4-course menu
San Gimignano Canopy: 75,000 plus taxes (per couple) 5-course menu+ 1 bottle of Champagne
Daniell's Tavern: 14,000 plus taxes (per couple) 4-course menu
1911 Lunch: 3,500 plus taxes (per person) buffet
1911 Dinner: 4,000 plus taxes (per person) buffet
1911 Canopy: 30,000 plus taxes (per couple) inclusive of 4-course menu + 2 glasses of Champagne
The Spice Route: 14,000 plus taxes (per couple) 4-course menu
The Spice Route Khantok: 1,00,000 plus taxes (per couple) 5-course menu + 1 bottle Champagne
Related: 5 Homestays In India For The Perfect Valentine's Day Weekend
Written By