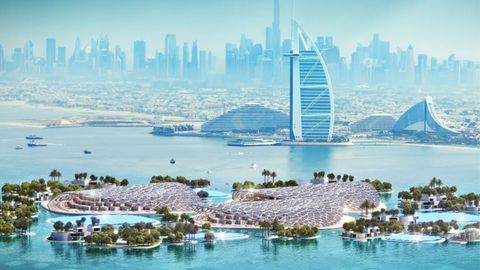 URB, a Net Zero developer of sustainable cities, has unveiled a gigantic and diverse ocean restoration project along the coast of Dubai, spanning over 200 square kilometres. A huge step towards creating a green economy, Dubai Reefs will be home to around one billion corals and 100 million mangroves.
This sustainable floating city is said to house residential, hospitality, retail, educational and research facilities, and create over 30,000 job opportunities.
Here is everything you need to know about Dubai Reefs
Landmark features and unique experiences Besides creating a sustainable environment for the ocean's flora and fauna to thrive peacefully amid all the hi-tech developments in Dubai, the project would offer several unique amenities too.
Other than one billion corals and 100 million mangroves, these include a floating eco-tourism hub, conservation facilities, climate-friendly food production techniques and ocean regenerative farming.
This ambitious project will be totally fueled by green energy. Undoubtedly, the infrastructure of this project is to be quite advanced and innovative.
View this post on Instagram
More about Dubai Reefs Emphasising the global importance of this project, the CEO of URB, Baharash Bagherian said in a statement, "The health of our cities is intrinsically tied to the health of our oceans. The ocean is the source of life controlling everything. Given that everything on our planet is connected, a healthy ocean is a healthy city. Our ocean will be entirely different by the end of the century if we don't take action today."
He added, "We need an entrepreneurial spirit in the planning of coastal cities & the types of infrastructure as well as developments that are linked to the ocean. As an innovative coastal city, Dubai is best positioned to lead such a transformation. Beyond creating a unique resilient destination for ecotourism & marine research, Dubai Reefs aims to become a blueprint for ocean living, whilst mitigating the impacts of climate change."
This story first appeared here.
(Main and featured image credit: URB)
Related: Introducing Rixos Premium Dubai: An Urban Hotspot In The Heart Of Jumeirah Beach Residence
Written By