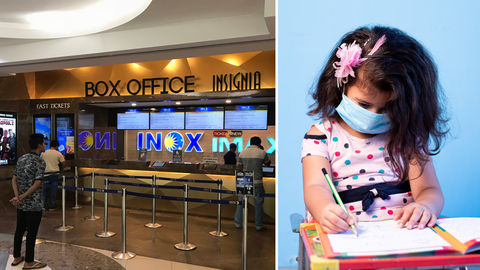 Unlock 3.0 in India: cinemas and gyms likely to reopen while metros and schools might remain shut. PM Modi assures major improvement in COVID-19 recovery rate in Mann Ki Baat. By Tanvi Jain
View this post on Instagram
As India is about to enter its third phase of unlock in August, reports suggest that while metros and schools are likely to remain shut, cinema halls and gyms are likely to reopen, apart from few other relaxations.
The Ministry of Information and Broadcasting has after consulting cinema hall owners, reportedly placed a proposal in front of the Ministry of Home Affairs regarding the reopening of cinema halls. Moreover, while owners have pitched for a 50 per cent seating capacity, the ministry has suggested only 25 per cent capacity, initially.
View this post on Instagram
"New SOPs for reopening theatres in Unlock 3: paperless tickets, automatic seat distancing. Cinemas account for the biggest chunk of earnings for movies and have taken a substantial hit during this pandemic. We are working hard to ensure that audience can enjoy entertainment safely once the theatres open," Multiplex Association of India (MAI) recently said.
Moreover, as per various media reports, industry leaders such as INOX, PVR Pictures and Cinepolis India had earlier this month submitted a set of SOPs drawn by the MAI and its members, stating, regular cleaning and disinfecting of a cinema hall, lobby and touchpoints, regular temperature checks, etc. to various Central Ministries, PMO and Niti Aayog.
View this post on Instagram
Furthermore, Unlock 3.0 might also witness reopening of gyms, however, states will be allowed to set their own rules and regulations based on the current situation of COVID-19 there.
As far as schools are concerned, the HRD Ministry, which earlier had a consultation with states, initially maintained that further decision will be taken after receiving feedback from the parents. However, it later confirmed that parents are not in favour of reopening the schools.
View this post on Instagram
Prime Minister Narendra Modi, in his Mann Ki Baat address on July 26 said, "There is no question of complacency or carelessness when it comes to the COVID-19 global pandemic. Wear your mask. Follow social distancing. Remember 'Do Gaj Ki Doori.' #MannKiBaat."
"At 4:30 pm on Monday, July 27, high-throughput COVID-19 testing facilities will be launched. These high-throughput testing facilities being set up in Noida, Mumbai and Kolkata will help in further ramping up our testing capacity," he tweeted earlier today.
Meanwhile, as per the Health Ministry, "Recoveries outnumber active #COVID19 cases by more than 4 lakh. With total recovered cases reaching 8,85,576 today, Recovery Rate touches new high, nearly 64% today. The sharp decline in Case Fatality Rate to 2.31%."
Related: Restaurants, Gyms & Malls In Maharashtra To Reopen Soon With These New Rules
Written By