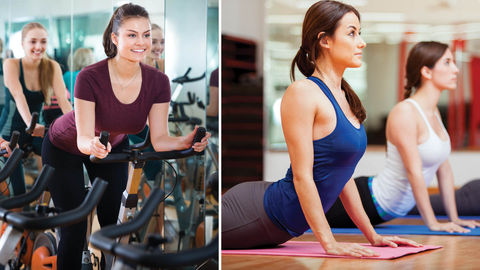 Ministry of Home Affairs issues a new set of guidelines for Unlock 3.0 in India, allowing gyms and yoga institutes to reopen from August 5. Schools and cinema halls to remain shut. By Tanvi Jain
View this post on Instagram
As per the final guidelines issued recently by the Ministry of Home Affairs, this is what the third phase of unlock in India will look like:
While, schools, colleges and other educational institutions will remain shut till August 31, distanc

e

education and online learning will be

permitted

.

Cinema halls, swimming pools, entertainment parks, theatres, bars, auditorium, assembly hall, etc., will

remain closed

.

A separate

SOP

will be issued by the Health Ministry for the reopening of yoga institutes and gyms from August 5

.

International air travel will function as per MHA's permission.
Travelling by metro will have to wait.
Similarly

,

large gatherings such as social, political, entertainment, academic, sports, cultural, religious, etc., will also remain

strictly prohibit

ed

.

Independence Day function at any level will be allowed to be held

only

with proper soc

ial

distancing

and health protocols in place.
All the activities will be permitted only in the non-containment zones, while the containment zones will continue to observe lockdown till August 31, except for essential activities.
View this post on Instagram
8. Movement of people within or outside these zones will be strictly monitored and will be allowed only for medical emergencies or maintaining the supply of essential goods.
9. The containment zones will have intensive contact tracing, house-to-house surveillance, clinical interventions, etc.
10. States/UTs will be responsible for monitoring activities within the containment zones, as well as for identifying buffer zones outside the containment zones where new cases have emerged and hence imposing restrictions accordingly.
11. Movement of trains – regular as well as Shramik — flights, repatriation of Indian nationals stuck abroad, evacuation of foreign nationals stuck in India, and sign on and sign off of Indian seafarers will be regulated by the SOPs.
12. Elders above 65 years of age, children below 10 years of age, pregnant women, people with comorbidities, are advised to stay indoors except for medical and essential services.
13. Employers will have to ensure their staff installs the Aarogya Setu App and updates their health status regularly.
View this post on Instagram
Furthermore, if anyone violates the above-mentioned rules, they will have to face proceedings under provisions of Section 51 to 60 of the Disaster Management Act, 2005, and legal action under IPC Section 188.
Lastly, as per the national directives of COVID-19 management, it is mandatory to wear face masks and maintain social distancing of at least six feet. Large gatherings over 50 for marriage and over 20 for a funeral are strictly prohibited, and so is the consumption of liquor, paan, tobacco, etc., in public places. Spitting in public places is punishable with a fine as per the state's/UT's laws. Offices should ensure maximum work from home provision, staggered working hours, provision of thermal scanning, hand wash facilities and sanitisers, at both entry as well as exit points, frequent sanitisation of the property, and maintenance of social distancing.
Related: Read This Before You Even Think Of Stepping Out Without A Mask!
Written By