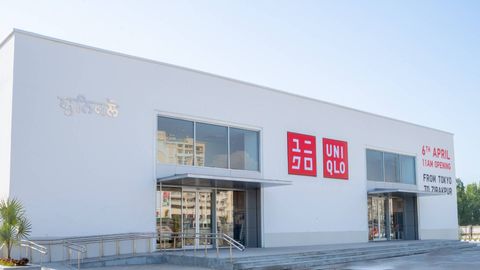 Global Japanese retailer, UNIQLO, has opened its first highway store in India, located at Dhillon Plaza Zirakpur, Punjab. With ample customer parking, travellers along the Zirakpur highway can now conveniently drop in to browse and purchase from a wide array of functional and high-quality clothes.
With the new store, UNIQLO introduces a brand-new shopping experience for customers travelling on the busy route that connects Chandigarh to Delhi, and other regions of Punjab. The Zirakpur highway store will be UNIQLO's 10th brick-and-mortar store in India.
UNIQLO's Highway Store Format Speaking on the launch, Tomohiko Sei, Chief Executive Officer, UNIQLO India, said, "We are excited to launch our first highway store concept at Dhillon Plaza Zirakpur, Punjab. We believe this roadside-type store, which is popular in Japan, will deliver greater convenience to our customers here in India."
The highway store format – which is a standalone store located alongside a highway, with ample parking for customers – is new for UNIQLO in India, and further accelerates the company's expansion in the country.
Mr. Sei also added: "The highway store format brings convenience to the community and serves as a perfect one-stop destination, and is carefully designed to ensure enough space and accessibility for all. Further, this launch also supports our underlying commitment to the ever-evolving Indian market and to make our highly functional, quality apparel accessible to more customers."
Historically, the highway format has played a crucial role in UNIQLO's growth throughout Japan, and the model has also been very successful outside Japan, including in Korea, Taiwan, and Southeast Asia. Highway stores offer a convenient shopping experience for customers, with spacious parking lots and store designs tailored to local preferences. This provides customers with increased accessibility and the freedom to shop at their leisure.
UNIQLO Dhillon Plaza Zirakpur, Punjab The UNIQLO Dhillon Plaza Zirakpur store is spread across one floor and has a total sales floor area of 10,965 sq. ft – making it the largest UNIQLO sales area on a single floor in India.
UNIQLO Dhillon Plaza Zirakpur is a standalone building strategically located on the bustling Chandigarh-Ambala highway. Its large open façade offers a view of the entire store and collections, making it a welcoming destination for residents of the city and nearby provinces.
The store will offer UNIQLO LifeWear: apparel inspired by life's need for a thoughtful and timeless clothing. Customers can find the entire range of 2023 Spring/Summer products for men, women, kids, and babies in the new store, with ranges like AIRism, DRY-EX, and UV protection, as well as products featuring premium fabrics, including linen, Supima cotton, rayon, and many others. The products are available in a variety of colours and styles for people of all ages.
Related: Takahiro Kinoshita Of UNIQLO Talks About What Makes India Memorable
Written By