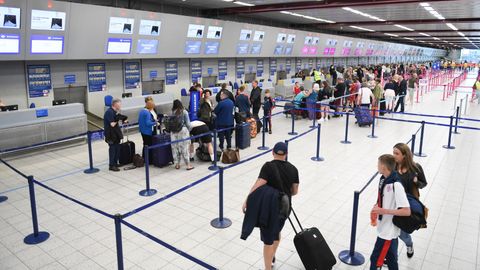 In what may come as a major relief for travellers, the UK airports may be well on their way to scrapping the rule that bans liquids more than 100ml to be carried in flights. Here are the details.
Among the most annoying parts of air travel can be segregating bottles of skincare and makeup, and decide which ones make the cut to be carried with you in-flight and which ones go with check-in luggage. If you're a skincare and makeup lover, you'll relate to this more, since several cleansers, toners and products come in tubes that are larger than 100ml, and have to be checked in (or you end up buying travel-sized bottles for the same, creating more waste).
However, this is an issue that may be solved soon, at least in the UK. The airports there may soon lift the ban on carrying liquids that are more than 100ml in hand luggage, as well as the rule that requires passengers to remove their laptops from their bags and place them separately for check-in, writes The Times.
UK airports to scrap rules on laptops, larger bottles of liquids This move will be made possible thanks to advanced CT security scanners, similar to those used in hospitals, the report states. These need to be installed latest by mid-2024, that is when passengers will no longer have to go through the trouble of taking out their laptops at security check-in as well as stashing away all their liquids in check-in bags. Not only will this help ease travel for passengers it is also expected to reduce queues outside security check counters.
The 100ml rule, reports state, was a temporary measure introduced in 2006 as a response to a possible terror attack using explosives disguised as soft drinks. The rule may soon be lifted now, as the 3D baggage screening equipment is already being tested at Heathrow and Gatwick airports in the UK, reports add. These new machines will show a high-resolution 3D image of the traveller's bags, instead of the current 2D image, allowing operators and security staff to inspect a bag from every angle, without needing to open it.
According to The Times, this new technology has already been introduced at Shannon Airport in Ireland, where security screening time has gone down by half.
Hero and Featured Image: Courtesy of Phil Mosley/Unsplash
Related: Sustainable Travel: These Carbon Neutral Airports In India Make Your Travel Climate Friendly
Written By