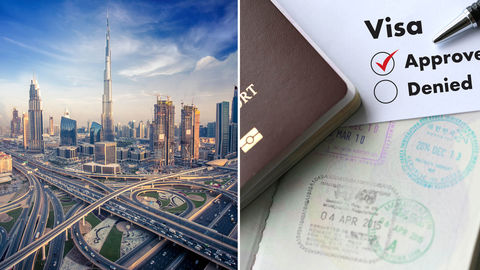 The UAE, an already popular tourist destination, is all set to further solidify its tourism dynamics by offering multiple-entry tourist visa with a five-year validity. These multiple-entry tourist visas will be available for all nationalities. By Kumar Shree
The decision surfaced during a meeting of the Council of Ministers in the UAE, chaired by UAE Prime Minister Sheikh Mohammed bin Rashid Al Maktoum. He spoke about this development in a post-meeting Tweet, and informed that the changes in the tourist visa system in the country were approved. The country attracts more than 21 million tourists every year, and this decision will further strengthen UAE's status as a major global tourist destination.
Before this decision, UAE only issued single or multiple-entry tourist visas that came with a limited validity of either 30 or 90 days. This is not the first of such decisions as UAE has introduced many visa changes in the recent past. The UAE has also introduced many visa-on-arrival schemes in the past.
Visa-on-arrival was issued in the past for the following categories of travellers across three nationalities:
Indians carrying a normal passport with six-month validity from the arrival date
A visit visa or green card issued by the USA with six-month validity
a United Kingdom or European Union residence could get a visa on arrival for a maximum of 14 days against a fee of INR 2,353 (AED 120).
Note: This fee is subject to change.
Sheikh Mohammed bin Rashid Al Maktoum also highlighted that the UAE will be turning 50 in 2021 and 2020 is going to be the year of preparation for it.
Related: Sri Lanka Offers Free Visa-On-Arrival To 48 Countries Including India!
Written By