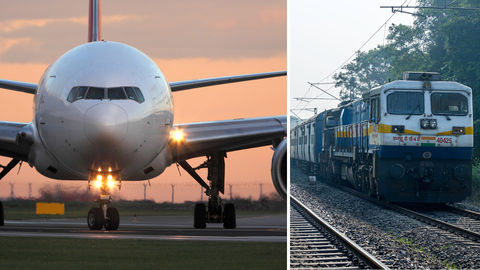 Editor's note: The global COVID-19 crisis has left each one of us deeply affected and we want to help. Burda Media India has organised a fundraising campaign to #FightBackWithTesting and donating RT-PCR test kits to the worst-affected areas in India, which will be secured from our testing partner Mylab Discovery Solutions. You can help these kits reach many more by donating for the cause or by adopting a kit. Click here to join the fight.
You might soon be able to travel again within the country as special trains and domestic flights are likely to resume operations in the coming week. By Tanvi Jain
View this post on Instagram
The Indian Railways is likely to resume some of its passenger trains from May 12. As per reports, as many as 15 special trains will run from New Delhi initially.
"Railways plans to gradually restart passenger train operations from May 12, 2020, initially with 15 pairs of special trains connecting New Delhi with major stations across India. Booking in these trains will start at 4 pm on 11th May," tweeted Minister of Railways and Commerce & Industry, Piyush Goyal.
The train travel, however, comes with certain precautions mandatory for every passenger, such as the wearing masks, screening for Coronavirus symptoms, etc. The authorities are supposed to allow only asymptomatic passengers to board the train.
View this post on Instagram
The Press Information Bureau also confirmed in a Ministry of Railways' press release, saying, "Indian Railways plans to gradually restart passenger train operations from 12th May 2020, initially with 15 pairs of trains (30 return journeys). These special trains will run from New Delhi Station, and will connect Dibrugarh, Agartala, Howrah, Patna, Bilaspur, Ranchi, Bhubaneswar, Secunderabad, Bengaluru, Chennai, Thiruvananthapuram, Madgaon, Mumbai Central, Ahmedabad and Jammu Tawi."
It added that after reserving 20,000 coaches for COVID-19 care centres, and the required number for 300 Shramik Special trains for migrant workers, more special trains will run on new routes with the available coaches.
View this post on Instagram
The tickets for these special trains can be booked at irctc.co.in. However, ticket booking counters at railway stations will remain closed, as only passengers with valid confirmed tickets will be allowed to enter.
Moreover, as per media reports, the domestic flights are also likely to resume operations post the lockdown. Civil Aviation Minister, said in a tweet, "Preparations to restart civil aviation operations are in place. As soon as a decision is taken in this regard we will be able to take off immediately. We also foresee changes in the way people travelled thus far. A calibrated reopening can happen after the lockdown."
However, initially only limited flights will be operated on selected routes that fall under the green zone. Further reports suggest, that unlike earlier, instead of 45 minutes, now the passengers will have to each the airport at least two to three hours prior to the departure. Every passenger will be required to strictly maintain social distancing, both at the airport as well as in the flight, where meals will placed at their seats even before boarding. Moreover, masks, face shields, gloves and the Aarogya Setu app might also be made compulsory for everyone.
Related: Delhi Airport To Resume Flights Only From Terminal 3 Post Lockdown 3.0
Written By