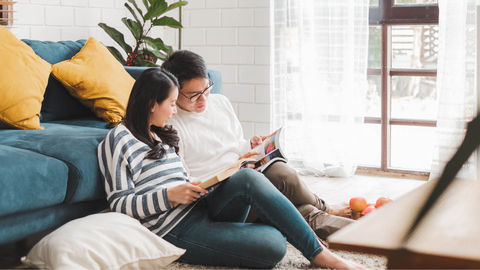 While the world is forced into self-isolation, thanks to the deadly coronavirus outbreak, it's no far-flung fantasy that being confined to four walls could be a total vibe killer, especially if you are wanderlusts like us. With the hopes of keeping the traveller in us alive, we've curated a list of activities you can do at home to satiate your inner wanderbug. By Bayar Jain
1. Watch Travel Documentaries
View this post on Instagram
Who said you can't be lazy and travel the world? Thanks to the television and video streaming platforms, the world is well within reach! Whether it is travel movies such as A Map For Saturday, or even travel documentaries like Sahara with Michael Palin, Baraka, or Antarctica: A Year on Ice, the feeling of being restrained is sure to melt.
2. Read Travel Books
View this post on Instagram
If you're one of those who regrets having lost the habit of reading, then now is the time to make up for it. Consider reading travel stories like Around The World In 80 Days by Jules Verne, On The Road by Jack Kerouac, World Walk by Stevan Newman, or even In A Sunburned Country by Bill Bryson, and many more! Who knows, maybe flipping through the pages could inspire your next vacation?
3. Write Travel Blogs
Chances are you have an abundance of photographs clogging up your system, and a big bank of travel memories crammed into your head. Utilise this time to pen it all and string together your own travel blog, replete with your own tales.
4. Update Your Road Trip Playlist
View this post on Instagram
Nothing lifts your mood as music does and what better way to get into the spirit of travel than by creating your own playlist! Compile all your favourite songs, or discover new ones and get started for your next vacation. Now is the time to make use of all your music streaming platforms!
5. Learn Travel Photography Online
View this post on Instagram
In the 21st century, it's no point hiding the fact that we live for the 'Gram! Enrol yourself in a photography crash course so you can amp the aesthetics of your instagram feed the next time you're on the move. Once the self-isolation is over, you can whip out your camera and take over the digital world!
6. Teach Yourself A New Language
Have you been eyeing a trip to Spain but worried about the language barrier? Fret no more as you finally have the time to learn the basics of a new language. Say hola to free language learning apps like Duolingo, or Memrise and brush up on some terms you would need to know for your foreign vacations.
Related: This Is How You Can Visit These Monuments In India From Your Home!
Written By