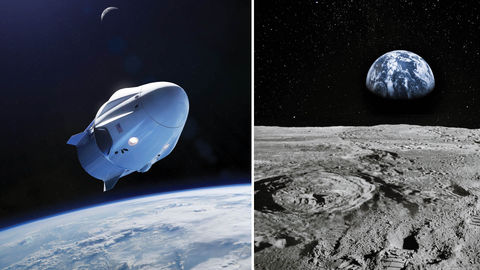 Ever wondered if you could fly to the moon in this lifetime? Once again Elon Musk's SpaceX is making the impossible possible as it is gearing up to send travellers to the moon by 2023. By Amitha Ameen
View this post on Instagram
Just when we thought that there was nothing else to surprise us, SpaceX announces a journey to the moon by 2023. Now, we knew this could be a reality for us commoners somewhere in a distant future, but we never thought that this day would come by in the next three years!
Going to the moon has been a dream for many including us and its no secret that we have always been envious of the many astronauts who have had the unique opportunity of travelling to space. But now, we too can boast about our outer-space adventure to family and friends. If you are lucky to be on the first batch of passengers to the moon, know that the trip around the moon will take a week's time.
View this post on Instagram
And, the mission to the moon already has its first passenger, Japanese billionaire Yusaku Maezawa who signed up for the moon travel earlier this year. The journey to the moon and back will happen through SpaceX's Starship launch vehicle that is currently under construction and can carry a capacity of 100 passengers.
The journey to the moon will certainly be a monumental and historic one and one that generations to come will talk about. Maezawa has even started an initiative called #dearMoon that aims at gathering a variety of artists from different fields like music, art, filmmaking and more in order to garner an array of experiences.
Related: SpaceX Successfully Launches Astronauts In The First-Ever Private Space Craft
Written By