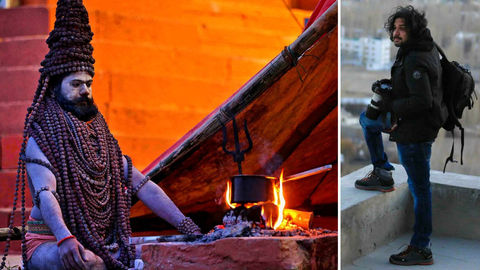 Hari Menon, one of India's finest travel photographers, does justice to the adage: 'A picture is worth a thousand words' with his photography. He brings life to the simplest of subjects. He has more than a decade's worth of experience under his belt, and today Menon shares some tips and tricks for those who love being behind the lens. By Charu Chowdhary
1) Tell us about you.
I am 35-years-old, I am from Kochi but based out of Bangalore. I have been into photography since the past 13 years. I started my career shooting photos for books and magazines. However, today I am basically a travel photographer, and often shoot for a lot of brands and commercials.
2) Your Instagram and Facebook are flooded with gorgeous pictures of India. Is India your muse?
Yes, I love shooting in India, especially during different festivals. The festivals in India have so much colour and vibrancy; they add a lot of life to the images and that's why I shoot India so extensively.
3) How has social media helped you grow as a photographer? What are the hurdles you face in keeping abreast with its demands?
Social media has enhanced and simplified the reach of content to a large range of users. It was a bit challenging to use technology in the initial stages, but now I'm accustomed to it. Travel photography alone is not lucrative, hence I engage with commercial shoots, and social media has aided the reach. There is a considerable following on my social media handles and I receive a lot of support in terms of compliments and queries – it's pretty encouraging.
4) What are the best places in India according to you?
Ladakh and Varanasi are my favourites.
5) What's the recipe for being a great photographer?

Observation alongside imagination is a key factor in travel photography. It's sometime the tiny details that add a story to your image. Be aware of what is happening around and be updated. Reading up is a great way to stay informed and abreast with the current affairs.
6) What are the things that you carry in your travel bag at all times?
My camera and lenses. For long journeys, I carry a tripod and a rain cover during monsoons.
7) What kind of gear do you use?
I use a Canon 1DX, Lenses – 72-100, 17-40, 24-105 and a Macbook.
8) One thing you wish you knew when you started photography?
I wish I knew how to store my images in a safer manner.
9) Which other countries have you loved photographing?
I loved shooting in Nepal for its scenic landscapes and Masai Mara, Kenya for its astounding wildlife.
10) What is it that you want to say with your photographs? How do you keep yourself motivated?
I haven't explored even five percent of what I wanted to explore and the urge to explore more is what motivates me and keeps me going. I love shooting simple things, and it's not always a simple task to shoot them and bring out the desired aesthetics.
I recently did a visual documentation called Invisibles, on 21 lesser-known tribes in India. It was an attempt to bring to the forefront, the existence, tradition, and customs of these communities that exist in the background of the conventional society.
Related: These Cameras Are Guaranteed To Ignite The Travel Photographer In You!
Written By