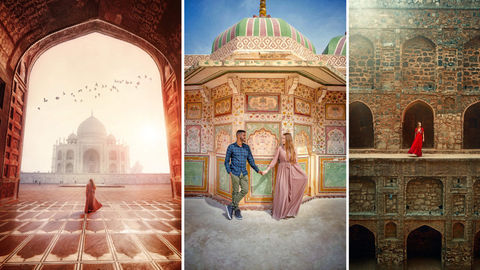 Instagrammers Victoria Yore and Terrence J Drysdale are on a mission—to redefine travel photography. Through their drool-worthy posts on their Insta handle, @followmeawaytravel, the couple is giving us major #wanderlustgoals from across the world, especially India. We find out about their insightful journeys into the hinterlands of India, and why it is important to look past the stereotypes to feel the pulse of the country. By Shikha Pushpan Q. What were your first impressions about India?
Exploring India has been a very special experience for us because everyone we met was so nice! From cab drivers, food hawkers, to the staff at the airport and hotels—everyone was really kind. We have travelled to many beautiful places before, but India easily tops the list. Yes, the big towns can indeed get quite chaotic—but we embraced this fact, and loved being one among the millions.
Q. Did you follow any dos and don'ts while travelling around the country?
A big do we followed and recommend to others is to dress modestly around temples and places of worship. We wore long dresses and carried a scarf in case we needed to cover our heads. If you don't like dresses, you can always wear yoga pants or jeans and a shirt. A big don't we followed was not to ride elephants in India. Places such as the Amer Fort in Jaipur promote elephant riding; however, it is up to you to say no to such an activity, and help educate others why it's a bad practice. Q. Which are the destinations you ticked o"ff your bucket list?
During our time in India we visited Delhi, Jaipur, Ranthambore National Park, Agra, Fatehpur Sikri, Gwalior, Khajuraho, Varanasi, and Lucknow. While it doesn't even begin to scratch the surface of what the country has to offer, it was a good introductory trip, and made us fall in love with India! It would be silly to talk about India without mentioning the Taj Mahal. Though it is touristy and famous, once you reach there, it doesn't even feel like it's real—it's an incredible feeling. In Varanasi, we got to witness the mesmerising Ganga Aarti. Believe it or not, but we also really loved Delhi—while Old Delhi was what you typically think 'India really is like', New Delhi shows the progress and forward-looking nature of the country today.
Q. Any unfortunate incident during the trip?
No! Not a single one. We exercised basic caution like we would elsewhere in the world. We have been robbed on the streets of Paris, but felt very safe the entire time we were in India.

Q. Your message to travellers planning a visit?
Don't be afraid of India! Don't believe what the media tells you—go and see for yourself. Don't try to fit too much in your trip either. Choose a few top destinations, and then let your trip unfold from there. Try and have an open mind, and embrace the sights, smells, and sounds that India has to offer.
Q. Do you plan to return?
Yes! On our next trip, we would love to visit Udaipur and Jodhpur. Exploring the Himalayas and Kerala is also on our list. India is a huge country with so much to see and do. It will take us many future trips to cover everything we really want to see!
Related: What Does It Take To Be A Successful Travel Blogger In…
Written By