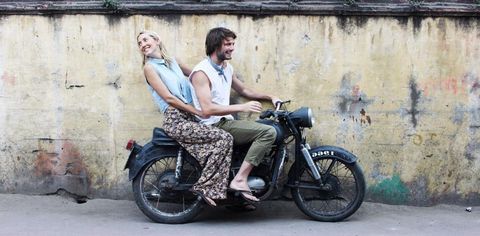 Travel bloggers Charlie and Jess started their blog The Travel Project after their first travel sojourn in India back in 2016. The London-based, 31-year-olds, have just one mantra: they truly believe in exploring a place like a local. They trust local Instagram accounts for finding authentic experiences and strive to do exactly that for the people who follow them. By Charu Chowdhary
View this post on Instagram
1) Having started your blog in 2016, how has the journey been so far?
I would say, it's been an amazing learning curve! When we were planning our first ever trip in 2016 we realised that all the information online was pretty similar and we wanted something different. We started The Travel Project as an experiment to see what would happen if we travelled the world guided solely by local Instagrammers in the hope that this would enable us to gain a unique insight into the places we visited.
2) What are your favourite places and stories so far?
For us it is the people that make travel special and so we decided to make locals the focus of everything we do. From boxing with ex-con and now local legend George in Johannesburg to meeting the Delta Hill Riders in Mississippi, teaching refugee Tibetan monks in the Himalayas to meeting the tattoo faced, nose-flute playing woman in Myanmar, we have enjoyed two years of stories and people that we will never forget!
View this post on Instagram
3) Does blogging pay the bills?
Blogging doesn't pay all the bills at this point, no. We both have backgrounds in digital marketing and so combined with the experience we have gained via The Travel Project we were able to launch a content consultancy working with cool brands of all sizes to help tell their story online.
4) How do you use social media to put yourself out there? Any tips that an aspiring blogger could use?
As our project is guided by the Instagram community, that is our primary social channel and a great way to tell short travel stories. It also helps us connect with people across the world and by using it as a travel tool we are able gain an insight into local life wherever we go.
Our advice for aspiring travel bloggers is — make sure you know what it is about travel that you love; be specific, why do you travel? Ask yourself what motivates you to explore and then really hone in on that and be passionate.
View this post on Instagram
5) What do you think about travelling in India?
India is where we first started our project in 2016 and from the moment we hit the ground in Delhi we fell in love with the country. We find that there is a charm to India that we have not found anywhere else. The warm and extroverted nature of people throughout the country is so refreshing and is something that has allowed us to connect with the country on a much deeper level.
6) Do you have a permanent address? Take us through some of the hardships of being a blogger?
Yes, we live in London when we are not on the road. I suppose one of the main hardships is being at home so little, and not having any sort of normal routine as we are moving about so often. Coming home and being able to wash, fold and put your clothes in a cupboard is a beautiful feeling, sounds a bit silly I know but it's the little things like this that you begin to appreciate after a while.
View this post on Instagram
7) How is it running a blog with Charlie?
Running The Travel Project with Charlie is both amazing and tough. We are both old enough and wise enough (just) to know when to give each other space, which is absolutely crucial when spending so much time together. As with everything there are ups and downs and running a blog with your partner certainly isn't the exception to the rule!
8) Three places in the world you suggest every traveller must visit?

If you like adventure, local experiences and meeting people then our top three recommendations would be: Ethiopia, India and your own country – wherever in the world that might be.
View this post on Instagram
9) What's the recipe for all the breathtaking pictures on your Instagram feed?
Well it's very important to note that our pictures haven't always looked like this, if you scroll back on our feed to our first ever pictures we posted on TTP in Delhi; they are not all that great! And that leads me to the first ingredient, practise. We have been practising using our cameras and evolving our photographic style for two years now and so you'd hope we would improve a bit! Most importantly we really try to not get hung up on the mad world of chasing 'likes'.
10) How do you decide what stories you want to tell?
We try to tell stories that resonate the most with us personally — the ones that leave a lasting impression, connecting us to a country on a slightly deeper level. The ultimate goal of our project is to tell real travel stories through the eyes of locals and by doing so hopefully inspire like-minded adventurers to head out into the world and connect with it on a deeper level.
Related: Mariellen Ward: The 59-Year-Old Travel Blogger On Being Relevant In The Age of Millennials
Written By